Rugged connectors meet the connectivity demands of transportation
Article #4 of Connectivity and Sensing in Harsh Environments Series: Cars, Construction Equipment, Trucks, Buses, Airplanes, Trains, and other vehicles require connectors that withstand vibrations, shocks, humidity, dust, and other unfavorable conditions to perform reliably.
This is the fourth article in a 6-part series featuring topics on Connectivity and Sensing in Harsh Environments. The series will showcase how highly engineered connectivity, and sensing solutions enable advancements in manufacturing, transportation, construction, healthcare, energy generation, and consumer products. This series is sponsored by Mouser Electronics. Through the sponsorship, Mouser Electronics shares its passion for technologies that enable smarter and connected applications.
For decades, tractors, construction equipment, heavy-duty trucks, buses, and recreational marine vessels featured relatively basic electrical systems. In comparison, today's highly productive machines leverage complex closed-loop electronic systems that feature multiple joystick controls, load sensing, fuel-efficient engines with elaborate after-treatment, multifunctional & interactive displays, adaptive lighting, predictive or automated transmissions, and real-time telematics asset tracking.
Cutting-edge technologies are rapidly making their way to personal, commercial, and industrial transport vehicles. There is a dire need for reliable electrical connectors. In this article, we discuss the features that electrical connectors must possess, in order to endure the punishing environments offered by the transport equipment. We take a look at Deutsch connectors by TE connectivity and try to understand how these rugged devices ensure round-the-clock operation of the connected vehicular electronics systems.
The Necessity of a reliable connection system
As features get added to the products, and the number of electronic components present in each product increases, the functioning and maintenance of connected systems get more complex. Electronic equipment requires a substantial amount of money to be purchased, maintained, diagnosed, and repaired.
Harsh environments and punishing conditions can hinder the smooth operation, and cause systems to disconnect, break or fail. Unexpected downtime typically requires mobile field service which is difficult to coordinate and schedule at best. Moving repair equipment from shops and service centers to remote locations for service is often not a viable option. Therefore, prevention is key to maximizing operational uptime, equipment productivity, and safety over the long service life.
Features of connectors that outperform harsh environments
Reliability comes with incremental improvements. By making small but fundamental changes in the way connectors are manufactured, it is possible to engineer them for maximum performance and reliability. Here are some features that make electrical connectors usable in harsh environments:
Reduced number of parts: The number of components in a harsh environment connector should always be limited. As any electronic system gets spread out in different components, the probability of failure increases. The same rule holds true in the case of connectors.

Locking: In harsh environments with high vibration or pressure, it is possible for the connectors to separate from the ports or other connectors they are plugged in. A connection made with a special locking mechanism will not come off due to vibrations or pulls. The lock can help it stay mounted firmly at its place.

Availability in a wide range of sizes: Wires carrying signals and power from one point to another come in different sizes (measured in gauge). Connectors too must be available in different sizes to match with the wire sizes.

Adequate current ratings: Since the vehicular electrical/electronic systems work on low-voltage DC power, they require wires and connectors with high current ratings. Though the exact requirements depend on the vehicle and application, connectors with a slightly higher current handling capacity than the estimated values should be preferred.

Easy to connect/disconnect: Having less number of parts also means that the connectors are easy to assemble. Connectors should ideally be easy to populate/depopulate. The process of connection/disconnection should be simple and must require simple tools like a screwdriver. This is beneficial in the field, as the entire toolkit is not always available to the users at all times.
Deutsch connectors for solving connectivity challenges in the transportation industry
For industrial transportation, commercial transportation, aerospace, defense, marine, and rail, Deutsch product line offers connectivity solutions in the form of wires, connectors, contacts, accessories, and subsea power cables. These connectors offer protection against extreme environmental conditions like dust, humidity, chemicals, Electromagnetic Interference (EMI), and more.
Deutsch HD/HDP Connectors
The HD/HDP heavy-duty circular connector series, as the name suggests, is a family of some of the most rugged connectors used in the industry. In vehicles, this series delivers quick connect and bayonet connectors used on panel and bulkhead applications. HDP and HD series connectors offer identical features, with HDP being a plastic connector and HD being the metal alternative. HD connectors in five common contact sizes are available with 19 cavity arrangements offering a wide array of options for signal and power mixes.
Fig. 1: Applications of Deutch HD/HDP connectors. Source: TE Connectivity
HD connectors are available with various backshells that provide additional protection at the back of the connector with various options for wire routing. Straight and right-angled backshells are available, with caps to protect unmated connectors.
Deutsch DT connectors
The Deutsch DT, DTP, and DTM series connectors are environmentally sealed general-purpose connectors offering reliability and optimum performance at a low cost. The connectors come in a rectangular shape with a body made of thermoplastic, featuring rugged snap-latch Ingress Protection 68 (IP68) sealed housings for power and signal transportation needs throughout the machine or vehicle. DT is an abbreviation for Deutsch Transportation, DTM is the miniature version, and DTP is the power version. Rated operating temperature for the series ranges between -55°C to +125°C.The connectors come with 2, 3, 4, 6, 8, and 12 cavity versions.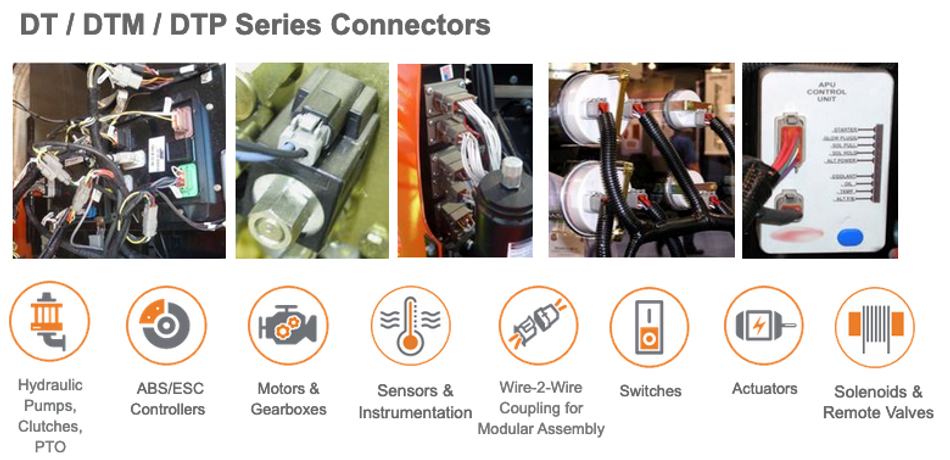 Fig. 2: Applications of Deutsch DT/DTM/DTP series connectors
The DT family relies on an extensive series of modifications that can be made when part configuration changes are done to a basic connector version. Modifiable components include flange adapters, styles, types, keys, colors, caps, and integrated electronic components, such as resistors and diodes. Approximately 300 choices for modifications are available. Many features can be aggregated into a combined modification.
Deutsch connectors by TE offer maximum reliability in the harsh environments
The Deutsch connector portfolio offers many configurations, mounting styles, and material selections to meet diverse application requirements. Since the Deutsch series uses the same common pin, socket contacts, and tooling, it enables wire harness design commonality, simplifies installation, and facilitates easy field repairs.
The Deutsch connection system family of products is used for some of the toughest connection jobs in harsh environments. Trusted by Original Equipment Manufacturers (OEMs), maintenance, repair, and overhaul organizations for more than 40 years, TE is adding capacity in North America, China, and Europe. This greater localization and global availability support customers through all economic fluctuations. Deutsch Connectors are available for purchase on Mouser Electronics: Deutsch Connectors | Mouser.
Conclusion
The increased features and complexity of smart applications in the transportation industry have brought in the need for reliable and rugged connectivity solutions. Minimizing downtime by engineering products that outperform harsh environments is the only way to increase reliability and cut down operational expenses.
This article was initially published by Mouser and TE in an e-magazine. It has been substantially edited by the Wevolver team and Electrical Engineer Ravi Y Rao. It's the fourth article of a 6-part series examining Connectivity and Sensing Technologies for Harsh Environments. Future articles will introduce readers to some more interesting applications of the technologies in various industries.
The introductory article provided an overview of the different harsh environments that electronic circuits and systems are put through.
The first article showcased how improvements in connectors, terminals, splices, relays, and heat shrink tubing enable connected applications
The second article was focused on some key trends and design considerations for automotive connectivity systems.
The third article presented three case studies on how connectors and terminals enable massive power handling in offshore installations.
The fourth article shifted the focus back to the transport industry to explain the necessity of reliable connectors that withstand harsh environments.
The fifth article was about the theory of sensor design for harsh environments.
The final article examined the principles, design, manufacturing, and applications of heat shrink cable accessories in depth.
About the sponsor: Mouser Electronics
Mouser Electronics is a worldwide leading authorized distributor of semiconductors and electronic components for over 1,100 manufacturer brands. They specialize in the rapid introduction of new products and technologies for design engineers and buyers. Their extensive product offering includes semiconductors, interconnects, passives, and electromechanical components.

References
1. Connectors That Out-Perform in Harsh Application Environments', TE Connectivity, [Online], Available from: https://www.te.com/usa-en/industries/truck-bus-off-road-vehicles/insights/connectors-in-harsh-applications.html