New Additive Manufacturing Material Goes Head to Head With Molded Engineering Plastics
COR Alpha offers the quality and strength of an injection molded part with the complex geometry and customization of 3D printing.
Do you have a product, part, or concept that you want to bring to life? Wevolver and polySpectra invite designers, inventors, and engineers from across the world to submit ideas to the Make It Real 3D Printing Challenge. polySpectra will help the winners turn their ideas into reality using production-grade additive manufacturing.
---
What is COR Alpha?
COR Alpha is an entirely new additive manufacturing material that can produce products impossible to manufacture any other way. COR Alpha offers the quality and strength of an injection molded part with the complex geometry and customization of 3D printing.
This article will outline the unique properties of COR Alpha and provide direction on how to design for this material.
Background to COR Alpha
COR Alpha is a material developed from a discovery polySpectra CEO Raymond Weitekamp made during his Ph.D. research at Caltech. COR stands for Cyclic Olefin Resin.
To fully understand the material let's first break down what polymers are. A polymer is a substance or material consisting of very large molecules. They can be both naturally and synthetically derived and play a common role in our everyday life. Synthetic polymers include materials such as polystyrene, while natural polymers include wool, silk, DNA, and cellulose. Both natural and synthetic polymers are created via the polymerization (or bonding) of many small molecules, known as monomers. The unique properties of polymers depend on the type and method of how their monomers bond together. Some polymers are stretchy, like rubber, others are hard like glass.
Cyclic Olefin Resin is enabled by a process called PhotoLithographic Olefin Metathesis Polymerization (PLOMP), which was invented by Weitekamp during his time at Caltech. At the heart of this photopolymerization is a chemical reaction called olefin metathesis. Weitekamp' a PhD advisor Bob Grubbs won the Nobel prize for his contributions to olefin metathesis in 2005.
Using light to selectively initiate the olefin metathesis reaction, polySpectra is able to use commercially-available DLP printers to additively manufacture materials with completely different behavior than those found in traditional photopolymers, which are based on photo-radical or photo-acid chemistry. This chemical innovation unlocks properties that have traditionally been difficult or impossible to access: outstanding durability, high chemical tolerance, heat resistance, and excellent dimensional stability.
A quick introduction to DLP
COR Alpha is printed using DLP 3D printing, widely considered to produce the highest standards of 3D printing in terms of part complexity and precision. DLP 3D printing utilizes a photopolymer resin which cures under a light source. This type of 3D printing is known as 'vat polymerization' and is well matched for designs that require both rapid turnaround and high-quality finish. The printer builds parts by curing the resin one thin layer at a time with flashes from a digital projector. The solid model is slowly extracted from the vat of resin as each layer is cured. Read more about the science of DLP here.
Properties of COR Alpha
COR Alpha is unique among additive manufacturing polymers because of its sheer ruggedness. The chemical composition of COR Alpha is different from polymers of the past and it has a set of qualities that are comparable to injection molded plastics but with the flexibility and complex geometries offered by 3D printing.
COR Alpha has high toughness and ductile failure modes. Ductile failure, also known as the plastic collapse or ductile overload, occurs when a material is loaded to beyond its ultimate tensile strength. A high ductile failure mode indicates ruggedness.
COR Alpha can be used at very high working temperatures and has a robust chemical resistance. This gives it functional diversity - the ability to be applied across a range of applications. It also demonstrates very good durability; the printed materials will maintain their properties over time, even when exposed to extreme conditions, as well as biocompatibility.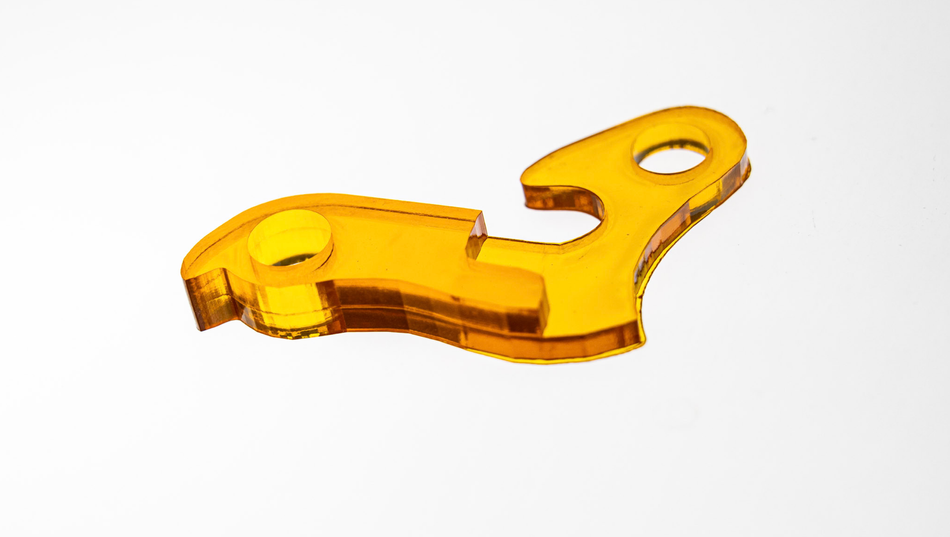 COR Alpha also has very low shrinkage compared to typical additive manufacturing materials, which means that the printed parts are dimensionally accurate. To illustrate this, we can look at the example of the collaboration between polySpectra and RespiraWorks.
Respira Works is working towards solving the global shortage of affordable ventilators to meet the rising need caused by the COVID-19 pandemic. polySpectra have assisted the company by helping them print functional parts for the prototype ventilator. Some of the feedback polySpectra got from was that the Respira Works team was surprised that the parts could be attached with screws into the printed thread - because this part hadn't worked before when they were printing with other materials due to shrinkage issues.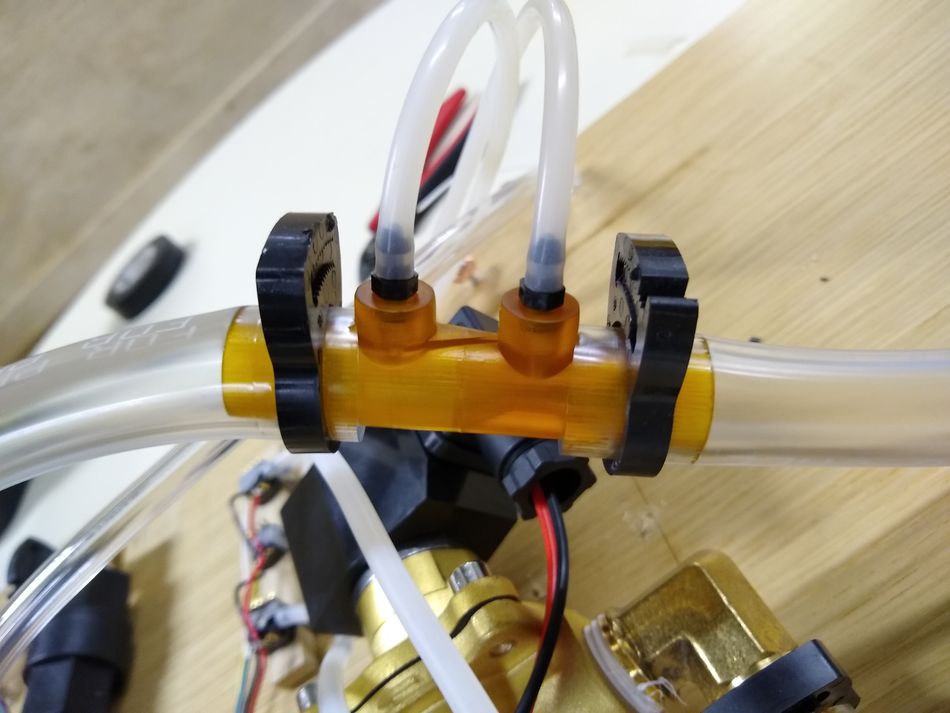 Image: RespiraWorks
Chemical and water resistance
Most additive manufacturing materials have significant property restrictions that reduce their ability to be applied in everyday situations. For example, Fused Deposition Modelling (FDM) is a common form of additive manufacturing where a spool of a thermoplastic filament is fed through a heated printer extruder head and is deposited on the growing work. The computer-controlled arm defines the three-dimensional shape. FDM is a readily accessible form of additive printing but the finished parts, because of the thermoplastics qualities, are often not watertight, making them unsuitable for many real-world applications.
The most commonly available additive polymers have a low resistance to solvents, including water, which can make them difficult to clean and inappropriate for use in many applications. COR Alpha has significant resistance to common solvents which provides the opportunity to make fluidic components or to simply sterilize the parts. It also has very low water absorption, making it suitable for use in a range of applications such as labs, outdoor environments, pumps, and medical devices.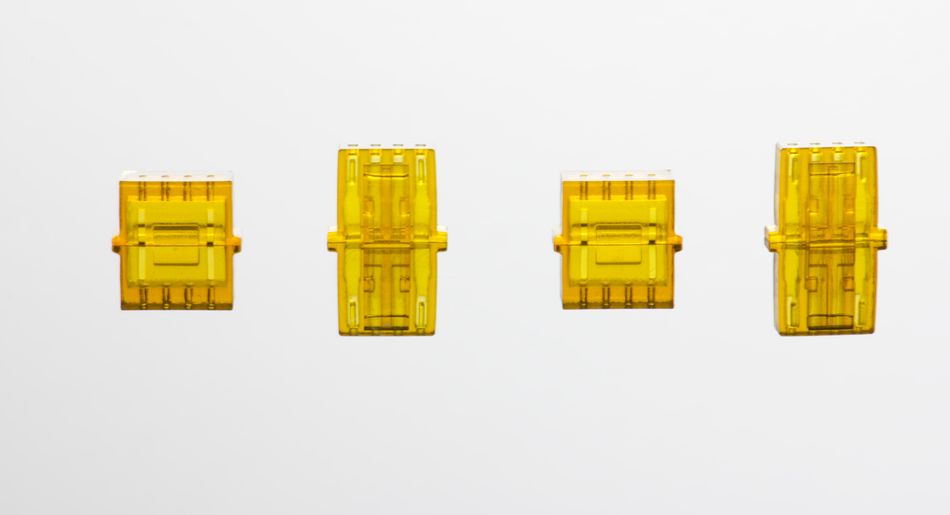 Thermal properties
Depending on the load applied to the material, COR Alpha has a working temperature between 100 and 140 degree celsius range. Without a load on the material, this working temperature is expected to be slightly higher. polySpectra has also completed some thermal cycling testing and the material can maintain many of its core properties even down to minus 50 deg celsius.
Toughness
We take for granted the toughness and heat resistance in plastics in our everyday life. If you look around your desk, you'll see a range of products that you wouldn't want to wouldn't want it to melt or deform if it got too warm, you wouldn't want it to just snap. The challenge of polymer additive manufacturing is getting both of those at the same time. High heat deflection and high elongation at break.
For example, a product that has a heat deflection of 150 degrees is great, but useless if it shatters if you accidentally drop it. The same goes for a product that has a 100% elongation of break, if it will melt if you leave it in your car on a sunny day.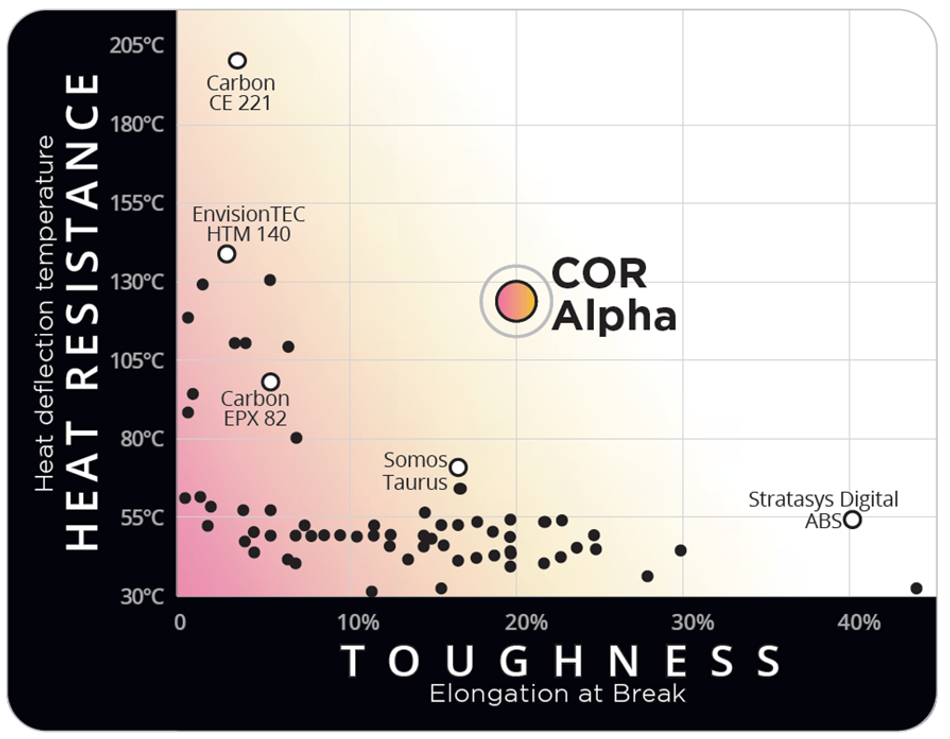 Quick Facts:
Robust Chemical Resistance: aero, auto, and medical fluids
Very Low Water Absorption: 0.08% at 24 h
Working Temperature: 100-140 °C / 212-320 F
Thermomechanically Rugged: Retains 80% impact strength from -50 to 120 °C
Biocompatibility: Grade 0 Cytotoxicity 10993-5
Dielectric Properties (TE measured): Dk = 2.5, Df = 0.005 @ 15.2 GHz
Tensile Modulus: 2 GPa / 290 ksi
Ultimate Tensile Strength: >50 MPa / >7.3 ksi
Elongation at Break: 10-50% depending on needs
Designing for COR Alpha
There are several important considerations when designing with COR Alpha. These primarily relate to the thickness and placement of supported and unsupported walls, overhang, and engraved and embossed details. This guide to printing with an SLA 3D printer provides a good introduction to the basics that can be applied for the DLP printer used by polySpectra.
Quick Facts:
Current Maximum polySpectra Build Envelope: 190x120x200
Printer Resolution: 30-75um printers in house
Webinar
On Friday, September 4th at 9 am PDT, polySpectra founder, Raymond Weitekamp will be hosting a deep dive discussion with Respira.Works. Respira.Works has set out to create a ventilator that is affordable and easy to build in countries with developing economies and low-resource communities. They are designing a low-cost ventilator that is still capable of providing advanced support regimes like Pressure Regulated Volume Control (PRVC) ventilation. In this webinar, Respira.Works will take us behind the scenes of their design, prototyping and scale-up process. We will discuss some of their manufacturing hurdles and key lessons learned, and share how COR Alpha played a role in making this life-saving invention real. Register here.
On August 18th, polySpectra CEO spoke about the Make it Real Challenge and the properties of COR Alpha in a one hour webinar. You can watch the replay here.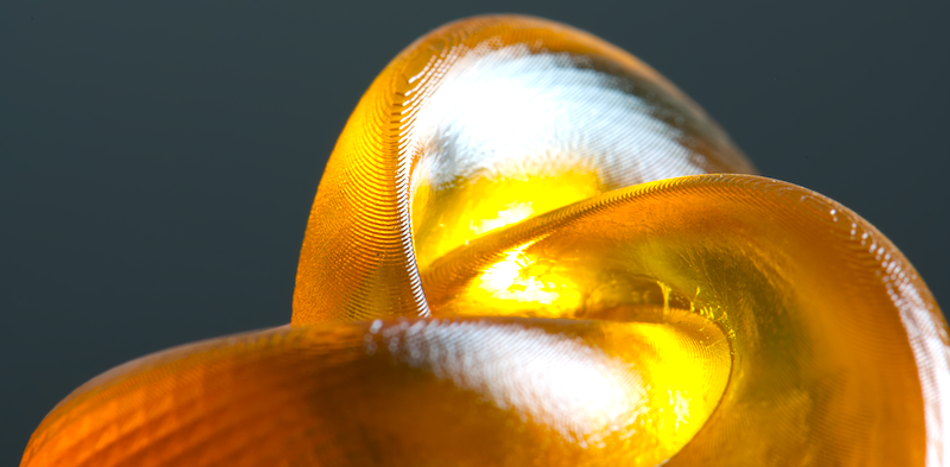 How will you use COR Alpha?
Together with Wevolver, polySpectra is launching a global design challenge to search for innovative applications of COR Alpha.
Wevolver and polySpectra invite designers, makers, and thinkers from across the world to submit ideas to the Make it Real Design Challenge and make their ideas real.
We are looking for design teams, engineers, inventors, startups, and fledging companies that are designing products and ideas that can be amplified by COR Alpha printed parts.
The brief:
Submit a design for a stand-alone product or a component of a larger design. The winner should be able to provide a compelling explanation of how they are utilizing the characteristics of COR Alpha and demonstrate how COR Alpha can make their ideas real. Judging criteria will also include creativity and fit for additive manufacturing.
Parts must fit into a 190mm x 120 mm x 200mm build envelope.

Teams must be available during the challenge to collaborate with polySpectra and Wevolver.
Read more about the challenges prizes and background here.
To enter the challenge, fill out this short form by September 28 2020 before 12pm (PT).
Check out some of the recent submissions to the challenge here.
Do you know someone with a great idea?
Nominate them for the Make it Real 3D Printing Challenge and they could win $25,000 of additive manufacturing services.
If you nominate the winner you'll receive a $300 Amazon gift card.
Nominate them here.
Need anything else clarified?
Feel free to get in touch with us: Email: Jessica (at) wevolver.com
---
About the sponsor: polySpectra
polySpectra is an advanced materials company on a mission to transform polymer 3D-printing from a prototyping aid into a production manufacturing tool. polySpectra has developed a new class of modular light-activated resins, unlocking a broad spectrum of tailored engineering properties for production-grade additive manufacturing. We call this new family of additive materials COR, for Cyclic Olefin Resin. polySpectra's first material, COR Alpha, demonstrates an unmatched combination of thermal, mechanical and chemical properties that enables additive manufacturing to compete with injection molding. polySpectra's technology is based on more than five years of chemical research and development at two leading research institutions: Caltech and Lawrence Berkeley National Laboratory. Based in Berkeley, CA - polySpectra helps inventors, designers and engineers make their ideas real.