Make it Real 3D Printing Challenge: Entry Highlights
With just under a week before submissions close we share two very different ways to use COR Alpha from some of the incredible designs entered in the challenge.
The Make it Real Challenge has now closed. We'll be announcing the finalists shortly! Stay tuned to our social media for updates.
---
Do you have a product, part, or concept that you want to bring to life? Wevolver and polySpectra invite designers, inventors, and engineers from across the world to submit ideas to the Make It Real 3D Printing Challenge. polySpectra will help the winners turn their ideas into reality using production-grade additive manufacturing.
---
Make It Real 3D Printing Challenge
polySpectra, a Berkeley-based startup, has developed a family of functional materials for advanced 3D printing that have comparable properties to molded engineering polymers. Their material, COR Alpha, offers the quality and strength of an injection-molded plastic part with the complex geometry and customization of DLP 3D printing.
This entirely new material provides the possibility for engineers and designers to design with a super rugged material with agility, high customization, and lower costs. Read more about the qualities of COR Alpha here.
How will you use COR Alpha?
Together with Wevolver, polySpectra is searching for innovative applications of COR Alpha as part of the Make it Real 3D Printing Challenge. We are looking for design teams, engineers, inventors, startups, and fledging companies that are designing products and ideas that can be amplified by COR Alpha printed parts.
The challenge is open for submission until September 28. We have already received a large number of innovative designs from across the globe. Today we share two of those entries.
Isolation inspires new yacht design
For many of us, socially distancing to help stem the spread of the coronavirus, meant putting our hobbies and passions on hold. This was certainly true for a fifteen-year-old, Italian high school student, Simon Tirapelle, who had to take a break from his passion for sailing while the quarantine played out. However, the time inside provided an unexpected opportunity to start to design his own solo yacht.
Inspired by the speed and agility of hydrofoils, Simon began his foray into naval architecture and design studying the physics of super-fast boats. While the technical aspects of the hull are still some way off, Simon has also begun to develop methods for building every aspect of the boat, down to even the smallest details. Simon's entry to the Make it Real Challenge is for a COR Alpha 3D printed pulley. The small but essential part of a boat would usually be produced with stainless steel. COR Alpha has several unique properties that make it a possible candidate for this demanding application.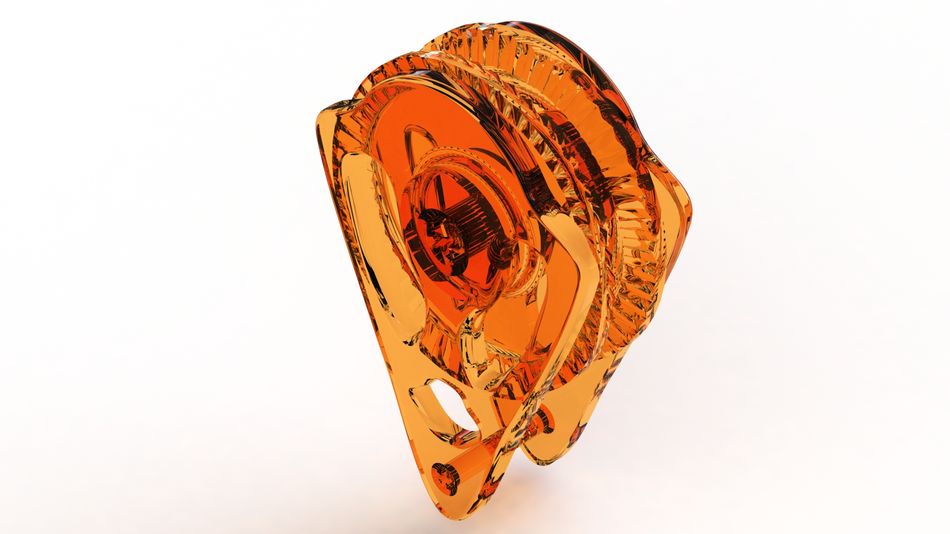 Image: Simon Tirapelle
Printed COR Alpha parts maintain their properties over time, even when exposed to extreme conditions such as heat, light, and load and unlike most other additive manufacturing materials, COR Alpa has very low water absorption. The pulley would undergo several types of stress and be exposed to long periods of time to sunlight and saltwater.
Simon says he is still at the beginning of a long learning journey to design his perfect one-person sailing boat but that his discovery of COR Alpha opened his mind to the exploration of non-traditional materials for other parts of the yacht too.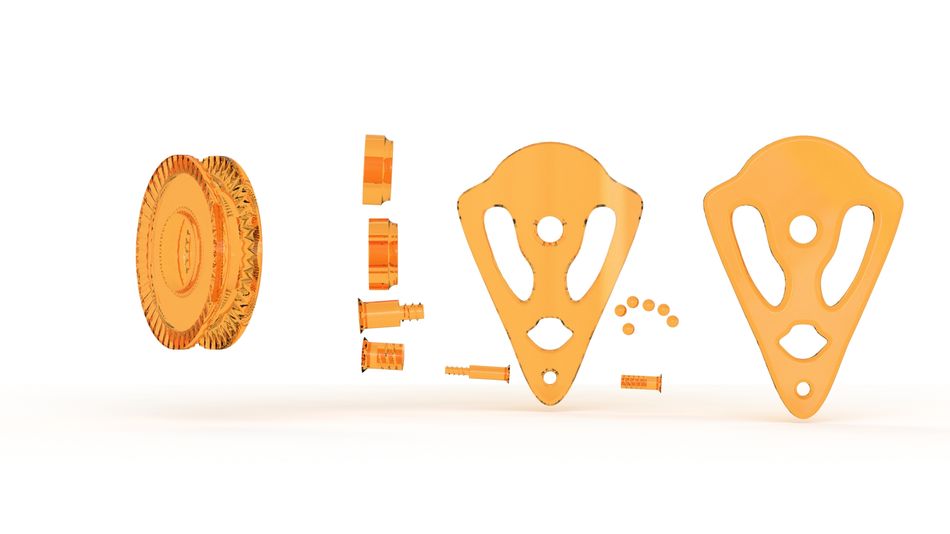 Image: Simon Tirapelle
Drone Ship
Andrzej Reinke and his team from the Robotics Association SKALP, have entered their combination of flying drone and the airship into the challenge. There are several key parts of the flying ship that they believe could be manufactured out of COR Alpha that would optimize the shape, weight, and size of the gondola. These include support elements for the photovoltaic cells, as well as joining elements for the drone's frame.
The team believes their design will be able to fly for up to 30 days without interruption and be used for a variety of surveillance applications in agricultural, mining or construction industries where constant surveillance of a wide area is required. The current iteration uses a helium-filled balloon topped with lightweight photovoltaic panels. The drone ship is capable of accepting a significant payload - up to 7.5 kg which could be used by sensor or camera equipment.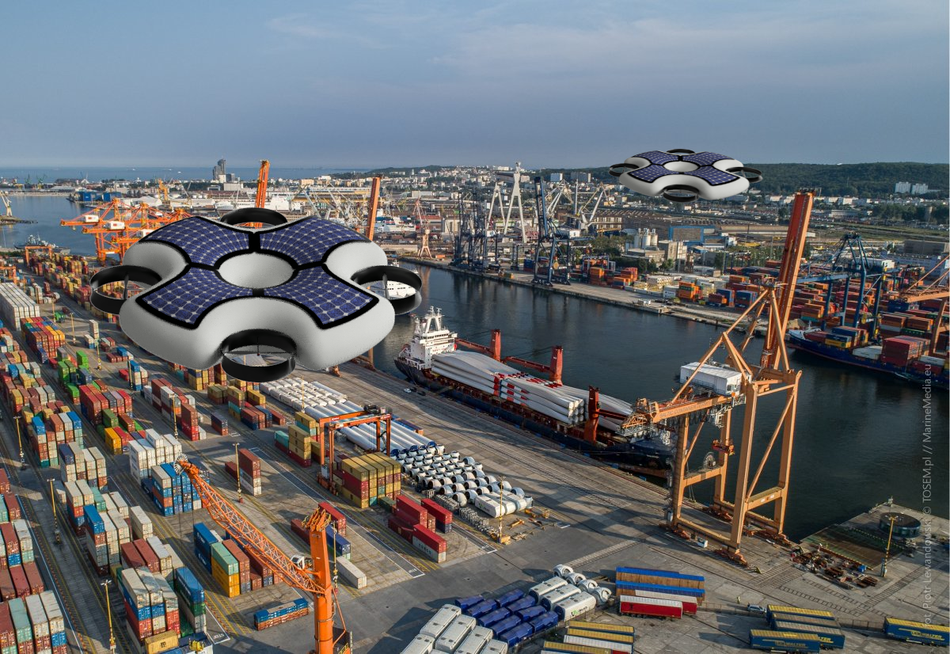 Image: Mateusz Dyrda
The drone design is additionally equipped with motors that mitigate the effect of the typical airships - the lack of dynamical control.
Reinke and his team believe the addition of COR Alpha printed parts will help solve some ongoing design problems they encountered. Their current challenge is to try and reduce the weight of the drone while ensuring it maintains the required strength for flight. They are utilizing generative design methods or tools for topology optimization to create new shapes for their design but then face the problem of having no way to manufacture the parts. Additive manufacturing with COR Alpha would allow the drone to have rugged strength of injected molded parts with the geometries gained from 3D printing.
---
How will you use COR Alpha?
Together with Wevolver, polySpectra is looking for design teams, engineers, inventors, startups, and fledging companies that have products and ideas that can be amplified by COR Alpha printed parts. Submissions close September 28. Submit now to make your idea real.
The brief:
Submit a design for a stand-alone product or a component of a larger design. The winner should be able to provide a compelling explanation of how they are utilizing the characteristics of COR Alpha and demonstrate how COR Alpha can make their ideas real. Judging criteria will also include creativity and fit for additive manufacturing.
Parts must fit into a 190mm x 120 mm x 200mm build envelope.

Teams must be available during the challenge to collaborate with polySpectra and Wevolver.
Read more about the challenges prizes and background here.
To enter the challenge, fill out this short form by September 28 2020 before 12 midnight (PT).
Need anything else clarified?
Feel free to get in touch with us: Email: Jessica (at) wevolver.com
---
About the sponsor: polySpectra
polySpectra is an advanced materials company on a mission to transform polymer 3D-printing from a prototyping aid into a production manufacturing tool. polySpectra has developed a new class of modular light-activated resins, unlocking a broad spectrum of tailored engineering properties for production-grade additive manufacturing. We call this new family of additive materials COR, for Cyclic Olefin Resin. polySpectra's first material, COR Alpha, demonstrates an unmatched combination of thermal, mechanical, and chemical properties that enables additive manufacturing to compete with injection molding. polySpectra's technology is based on more than five years of chemical research and development at two leading research institutions: Caltech and Lawrence Berkeley National Laboratory. Based in Berkeley, CA - polySpectra helps inventors, designers, and engineers make their ideas real.