Large-Format Printers Use Gel-Based Extrusion to Create Full-Scale Parts
UV curable gel reduces production time while creating large-format prints
3D printing technology has innovated rapidly over the last decade, but one thing that has stayed relatively the same is the size of printed pieces. Super large-scale 3D printing for engineering and design applications is now possible thanks to a new Gel Dispensing Printing (GDP) technology. GDP is fast curing and can create large, support-free parts.
GDP is a proprietary product of Massivit 3D who produce their own printer and associated software. The Massivit 3D 1800 can print truly massive models up to 5' 9" x 4' 9'' x 3' 7" ( 1.8m x 1.45m x 1.1m). Big enough to print an average height human in full-scale. To put this into perspective, the largest FDM printers top out well under 5' in build height. GDP isn't just about having an enormous build volume. The technology's real strength is its impressive speed.
How Does it Work?
While it may look similar to Fused Deposition Modeling (FDM), it is quite different. FDM uses solid filament, generally some formulation or plastic, that is melted and then extruded from a nozzle. The GDP process uses a resin-based gel and no melting or heating of the gel is required for extrusion.
Massivit 3D's proprietary UV curable gel, called Dimengel, is propelled from the dispenser by an auger-type screw and extruded from the nozzle. The gel is extruded layer by layer from the dispensing head, much like melted plastic is in FDM. As it is extruded the gel viscosity varies to ensure adhesion and bonding. UV LEDs affixed around the dispensing head cure the gel almost instantly, reducing the need for infill and supporting structures. This creates very strong prints, quickly.
Dimengel comes in two specifications, Dimengel 100 (DIM 100) and Dimengel 90 (DIM 90). DIM 100 is a photo polymeric acrylic gel that has a shore hardness of scale D 80 – 85 (akin to a hard hat) when cured. It is translucent and can be illuminated. DIM 90 is a derivative of DIM 100. Unlike DIM 100, DIM 90 cannot be illuminated.
Software
Massivit 3D 's SMART slicing software also allows the wall thickness and resolution to vary throughout the print. SMART is an integrated proprietary software that optimizes .obj and .stl files for Massivit 3D printing. Its micro-support algorithms, allow the production of hollow models with vertical angles, in order to minimize printing time, material waste and support structures. Massivit 3D printers have a dual head option. SMART can leverage the dual heads to print multiple parts simultaneously, thus saving even more time.
The Printers
The base printer, the Massivit 3D 1800, has a build volume of 5' 9" x 4' 9'' x 3' 7" ( 1.8m x 1.45m x 1.1m) and a single dispensing head. Resolutions range from a layer thickness of 0.8mm, 1.0mm and 1.3mm. It can print vertically 14" per hour in the Z axis. The Massivit 3D 1800 Pro comes equipped with a dual head and allows variable layer resolution through the print. This is set up in the upgrades Pro software.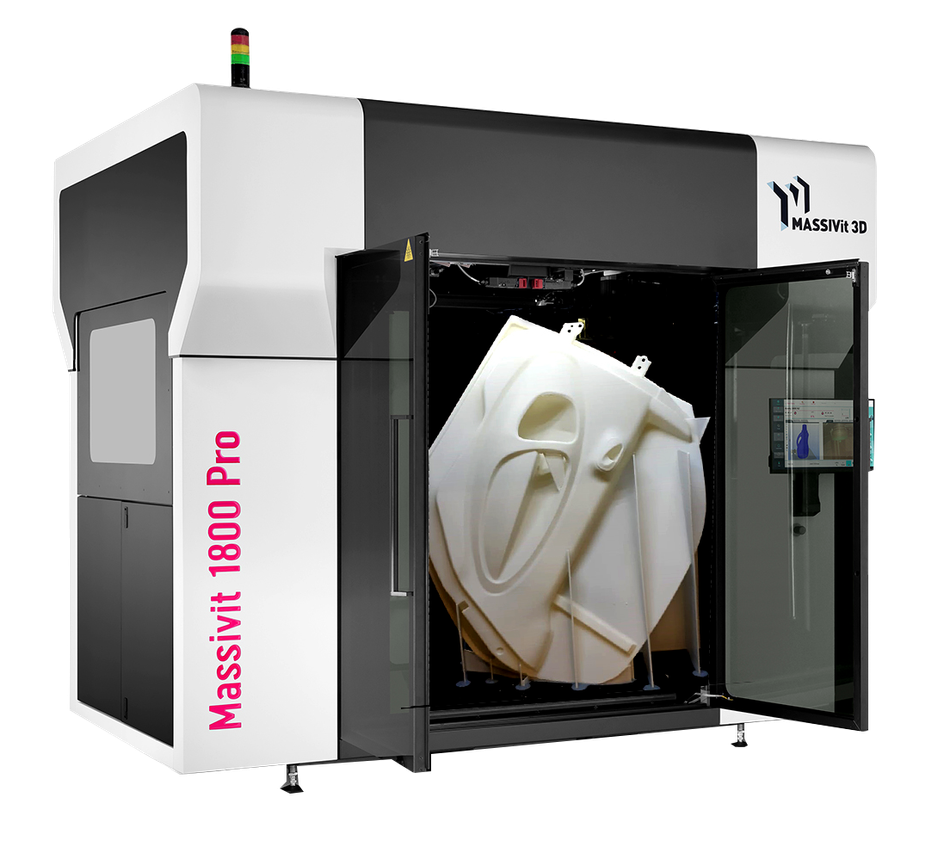 What is it Good For?
GDP is well suited for a variety of commercial applications. It is primed for tooling and molds, as certain materials, like concrete don't bond with Dimengel. Due to its speed, it is a good candidate for large-volume prototyping. Furniture and appliance facades can be quickly printed in a single piece. Automotive customization and nautical design benefit from GDP's consistent print quality and the inherent strength of the resin.
There's potentially a large market for props, dimensional signage and displays created with GDP. The technology has been used to create 3D channel letter signage for businesses. Since the GDP resin is translucent, it can transit light. Which naturally, is a useful quality for custom displays and signage. It also makes it possible to use it in light fixtures.
Automotive
Wide body kit and auto part producer, STREETFIGHTER LA used GDP to create the STREETHUNTER DESIGNS 2020 Supra MK5 Wide Body Kit. Unveiled at SEMA 2019, the kit was a collaboration between car aficionado, TJ Hunt, and car designer, Jon Sibal. Hunt was drawn to GDP, because it could deliver the kit within a very tight timeframe. The project incorporated 16 different parts and was printed in just 16 hours.
The David Bowie Tribute Car was a collaboration between Massivit 3D, Paris-based 3D printing specialists at Marie 3D, and car designer Takumi Yamamoto. It debuted at the Festival Automobile International (FAI) in 2019. The abstract body styling was meant to reflect Bowie's chameleon-like personality. 3D printing was the only feasible production method due to the design's complex geometric forms.
Construction
One of the more interesting applications for GDP is 3D printing reusable molds for concrete casting. This has the potential to make concrete production more sustainable. The SMART software can create micro supports on the outside of the mold. Utilizing these molds requires less concrete, since the structures are optimized using geometries not possible in traditional construction. Custom molds can be created for one-off projects as well. As an example, Massivit 3D produced 3D printed molds that can couple with industry-standard reusable molds, to create hybrid columns.
Marine
Velum Nautica used GDP to print a custom helm station in just 8 hours. They also printed a transom extension with a swim platform. Both items had to be faired and coated for use in a marine environment. Massivit 3D provided a coating and finishing guide specifically for this type of project. Velum Nautica has subsequently used the GDP on other projects, such as printing a radar mast.
What the Future Holds
Two new GDP printers are coming out later this year and are currently in beta testing. One adds two new layer height options, a high resolution 0.5mm setting and a 1.5mm layer option for high speed printing. A new material called DIM 110 is also being released. The other is optimized for printing molds for composite materials end-use parts and utilizes a new water-soluble, UV-curable gel, allowing more freedom in design.
There are updates to the SMART slicer as well, including the ability to print with two different materials at the same time when using the dual heads. This is only available when printing multiple parts, as two materials cannot be printed on the same part. The new printer comes with additional displays and supports unattended printing.
Summary
GDP will make a significant contribution to the growing range of 3D printers for prototyping and design. Other applications should soon emerge that take advantage of the print's unusual size and their ability to be printed quickly without structural supports.