What is a Collaborative Robot?
Article 1 of our Cobot Series: Collaborative robots are light, inexpensive industrial robots designed to work closely with humans to bring automation to tasks that had previously been completed solely with manual labor.
This is the first article of an eight-part series that explores how collaborative robots or cobots are transforming industrial workspaces. It will survey the technologies that have converged to make robotic influence possible, unpack the unique engineering challenges robotics pose, and describe the solutions that are leading the way to the influential robots of the future.
The articles were originally published in an e-magazine, and have been substantially edited by Wevolver to update them and make them available on the Wevolver platform.
This series is sponsored by Mouser, an online distributor of electronic components. Through their sponsorship Mouser Electronics supports spreading knowledge about collaborative robots.
---
Introduction
Large, heavy industrial robots are commonplace in factories as an efficient alternative to manual human workers for repetitive assembly-line tasks. These machines never slow down, never make mistakes, and never require time off. Yet they are expensive and inflexible, demanding time-consuming reprogramming and retooling to switch to new tasks. This makes industrial robots suitable for high-volume, high-speed processes where a product is produced for years without change, such as automotive chassis welding, but a poor option in dynamic factories or for production lines that require more precision
Humans are not adept at highly-repetitive tasks because they tire, lose concentration quickly, and are vulnerable to injury and sickness. Humans are, however, dexterous, flexible, and good at solving problems. The cost of human labor is also relatively low. This makes humans well suited for finicky, complex, and high-mix assembly jobs, such as fitting out an auto's interior with specialized options from a customer order.
Collaborative robots
Collaborative robots or cobots are light, inexpensive industrial robots designed to function in close proximity to humans and bring automation to tasks that had previously been completed solely with manual labor. The "collaboration" works when robots offer significant productivity gains leaving humans to focus on servicing a rapidly changing product mix. A study conducted by the Massachusetts Institute of Technology (MIT) at a BMW factory showed that human idle time was reduced by 85 percent when they were assisted by collaborative robots.
The applications for collaborative robots are numerous and varied, well suited to a variety of industries and applications. They offer additional value in doing tasks that reduce the physical impact of industrial work for humans. For example, a collaborative robot could pick up a heavy dashboard from a storage area located near the auto line and move the dashboard into its proper place for production, while at the same time a human can be working to fit or blank off dashboard switches, make the "awkward-to-reach" electrical connections, and precisely align the instrument console before fixing it into place.
Collaborative robots are also finding work in places like smartphone assembly lines, the picking, gluing, and pressing operations are completed by the machine while human workers use their dexterity and precision to fit circuit boards, screens, and batteries and fix the components together with tiny screws. According to the automation firm ABB, 90 percent of today's collaborative robots work in consumer electronics factories.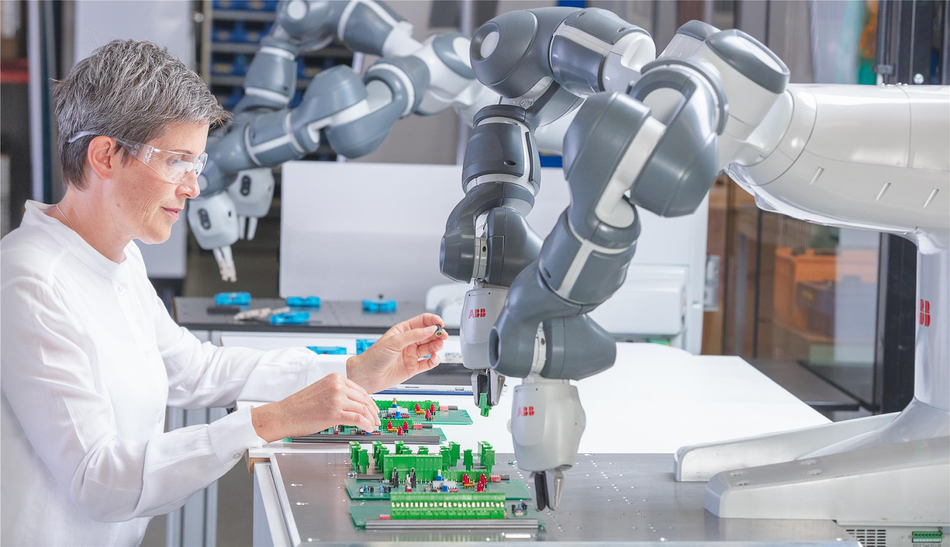 ABB's YuMI collaborative robot is finding a niche in the consumer electronics industry. Source: ABB
Collaborative robots are smaller, lighter, and cheaper than their industrial cousins, measuring tens of centimeters rather than meters, weighing in at tens of kilograms rather than hundreds, and costing tens of thousands of dollars rather than hundreds of thousands. Collaborative robots borrow some technology from their larger cousins, such as motors and joints, but this technology is refined, streamlined, and shrunk.
This results in robots that are more flexible, more precise, and have the advantage of being able to be repurposed for several applications rather than having a single task ability. Programming collaborative robots is much simpler than that required for an industrial robot and is sometimes as straightforward as manually guiding a robot's arm through the procedure. This type of programming is sometimes so intuitive it can be performed by a coworker rather than a robot specialist technician. Collaborative robot maintenance is generally uncomplicated so smaller companies with no previous robotics expertise can manage it without additional expert staff. This opens opportunities for automation to small and medium-sized production lines to incorporate collaborative robust and automation into their production lines.
Collaborative robots are embedded with a range of sensors and computing power to ensure coworkers aren't injured or endangered by artificial arms, and if human and robot contact does happen, the forces involved are limited to prevent harm. The robots may also have integrated alarm systems to warm human workers when they are too close. Humans can now work safely in very close physical proximity to machines and use intuitive methods of communication with them such as voice, eye command, and gestures.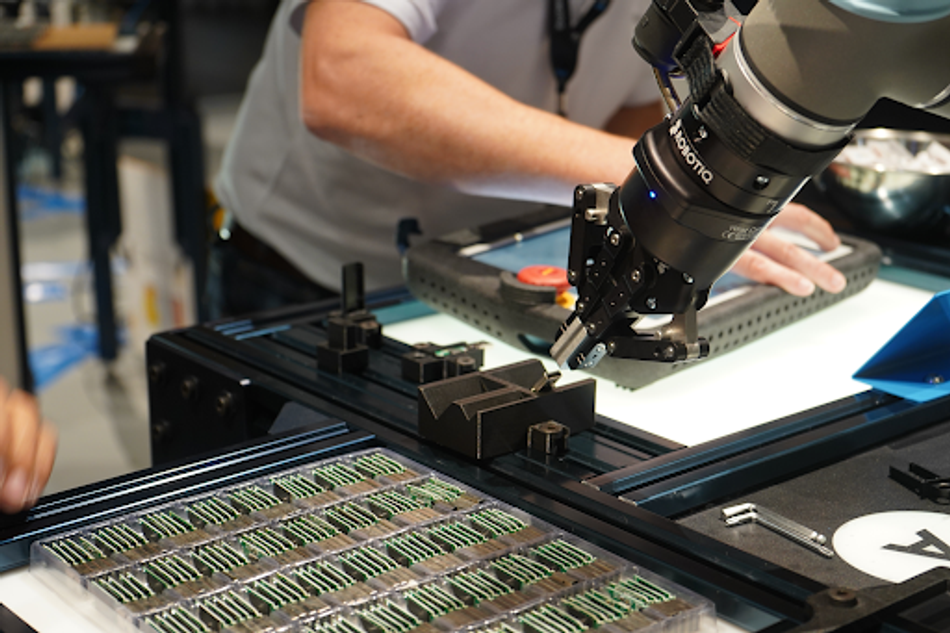 Collaborative robots work closely with humans. Image: Robotiq
Future collaborative robots trends
Recent research suggests the manufacturing companies will work closely with robot developers to adapt the technology for specific uses within their processes. Manufacturers will look to adapting grippers or task ability to their own specific requirements.
The automotive industry will continue to drive innovation to the cobot industry and the use of cobots will extend to automotive manufacturing in all major plants in Asia, North America, and Europe. On the hardware side, improvements will be made in motors, controllers, and power supply to improve accuracy, efficiency, and payload capacity of collaborative robots. On the software side, a push towards automation and a drive for Industrie 4.0 will spur innovation in cobots' ability to process sensor data in real-time.
Cobots will be increasingly used to minimize contact between human coworkers in an effort to adapt to new physical distancing protocols. Automation in the pharmaceutical industry will increase cobot use in this market.
Conclusion
The collaborative robot sector promises rapid growth. According to UK analyst Technavio, the market for collaborative robots will expand tenfold, jumping to over $1 billion, in as little as the next two years.
Today, the machines bring automation to assembly tasks that were previously completed by humans, freeing up those workers to concentrate on more intellectually-demanding jobs and creating production facilities that are safer and more productive for their human workers. Tomorrow, collaborative robots could bring production lines to places where inexpensive human labor is in short supply, reducing product transport time, and helping to roll out a more personalized and customized production future.
This article was originally written by Steven Keeping for Mouser and substantially edited by the Wevolver team. It's the first article of a series exploring collaborative robots. Future articles explore the history of industrial robots, the development of sensors and learning, and alternatives for robotic motion.
Article Two describes the history of Industrial Robots.
Article Three gives an overview of collaborative robots sensor technologies.
Article Four examines the balance between cobot safety and productivity.
Article Five discusses the development of cobot applications in manufacturing.
Article Six explores the challenges of motion control of robotic arms.
Article Seven looks at the potential of AI in cobots.
Article Eight discusses the social impact of cobots.
---
About the sponsor: Mouser Electronics
Mouser Electronics is a worldwide leading authorized distributor of semiconductors and electronic components for over 800 industry-leading manufacturers. They specialise in the rapid introduction of new products and technologies for design engineers and buyers. Their extensive product offering includes semiconductors, interconnects, passives, and electromechanical components.