Cloud Manufacturing Services Deliver New PCB Possibilities
Electronic product development is a highly iterative process that involves going back and forth between the design and manufacturing stages. Cloud Manufacturing Services make it possible for engineers to focus on innovation.
Software has transformed pretty much every industry out there. Logistics, travel, finance, media, and many other industries have all seen significant improvements in how they work due to the new digital technologies.
The same pace of innovation didn't happen within the manufacturing sector, and even with increasing automation and digitization, little changed on the user experience front. That is until the recent conceptualization of cloud manufacturing services which aims to solve previous limitations.
This article explains the concept, architecture, and enabling technologies of cloud manufacturing services for electronic product development. It explains how the architecture reforms the PCB manufacturing space by combining data-driven insights delivered through the cloud.
Advancing to the era of Electronic Manufacturing Services 2.0
Printed Circuit Boards (PCBs) are in almost every piece of electronics that we use in our day-to-day lives. They are a multilayered labyrinth of copper tracks that help connect various components and modules of an electronic device.
Traditionally, the design and manufacturing process of PCBs has always been time-consuming. It takes multiple iterations, going back and forth through testing, validation, and optimization phases, to achieve the desired results. The problem with this is as engineers start focusing on the process instead of the product, productivity and innovation take a hit.
Over the last couple of years, Electronic Manufacturing Services 2.0 (EMS 2.0) has emerged as a service-oriented approach to product development that creates a shared resource pool and a network of suppliers that individuals or organizations can utilize to turn their ideas into reality. The service provides capabilities and resources through an online platform, from where customers can pick the most viable manufacturing specifications for their products. Cloud manufacturing services can be used to set up a virtual enterprise or a dynamic chain of service providers for customers to avail customized services.
EMS 2.0 along with cloud manufacturing services forms a solid framework that helps in the planning and smooth execution of the PCB design and manufacturing process in ways we are about to discuss in the next few sections of the article. But before that, let's dive a bit deeper into the concept of cloud manufacturing services.
Understanding Cloud Manufacturing Services
The hardware development life cycle is evolving by inculcating the principles of agile development. The core idea is to increase collaboration and develop products with continuous improvements that cater to the changing requirements.
To understand the concept, one can think of cloud manufacturing services as analogous to Amazon Web Services (AWS). The cloud platform owned by the multinational tech giant Amazon provides organizations of any type and size with an option to power their applications and software infrastructure. It provides on-demand delivery of technology services with a pay-as-you-go model for pricing.
At the core of all the cloud-oriented platforms, is a machine learning model that optimizes the future outcomes based on the data collected in the past. It is interesting to note how the approach can be applied to a variety of different sectors like logistics, hospitality and more. But to do so, a complete overhaul of the existing hardware and software infrastructure is required.
The process is rather convenient in the case of software development as many tools and frameworks are available for the development and operations teams to incorporate functional improvements, performance optimizations, and changing requirements in code. However, planning for something similar for hardware products is not so simple.
Cloud manufacturing services are not just about matching customers with different suppliers but offering a completely managed solution for product manufacturing by providing kitting, tooling, engineering support, and logistics management.
Levels and Stages of PCB Manufacturing
Electronic product development, being highly iterative in nature, requires PCB design and manufacturing to be carried out at various levels and stages. At any point in the product's life cycle, engineers need to design, manufacture and validate their designs to understand their effectiveness and provide improvements.
But managing the changes in requirements is very inconvenient for Original Equipment Manufacturers (OEMs) as they have to go through the hassle of evaluating the new changes, preparing artifacts, communicating about the changes to multiple parties involved, and ultimately validating the results.
For PCBs, the quantity of required pieces varies drastically depending on the level of production the product is currently at. PCB manufacturing is broadly carried out on four levels and with conventional techniques, managing the changes keeps getting difficult as the design moves up the ladder.
The four levels of PCB manufacturing are:
Proof of Concept (POC): POC is the bare minimum evidence of the possible real-world application of a technology or theory. POC is a means to justify the time and expenses that would go into developing a project.


Prototype: While POC shows the feasibility of an idea, the prototype takes a step further by explaining how it can be practically implemented. A prototype is functional but unusable practically. It is fairly simple to make improvements up to this point as fine-tuning is expected and is a sign of improvement.


Minimum Viable Product (MVP): If the Prototype meets the expectations and standards, it requires some more optimizations, refinements, and fine-tuning. Once the enhancements are done, the prototype turns into an MVP. At this point, organizations can introduce their product to the market.


Full-Scale Production: Once the branding, marketing, and pricing strategies are figured out, the next step is to scale the product. By now, organizations would have a large consumer base that is willing to pay for the product. Making changes gets exponentially difficult and expensive as the numbers we deal with get big.
Fig. 1: PCB orders range from a handful of units to millions.
At all four levels, the development of PCBs has to go through the following stages:
Designing: The process of PCB manufacturing starts with a design. With the help of a schematic of the proposed circuitry, engineers figure out the best approach for component placement and wire routing to come up with an optimized track layout.


Fabrication: At this stage, the PCB design is handed over to the manufacturers that take care of various activities like printing different layers of the PCB, drilling holes, laminating the layers together, applying solder masks, applying silk screen, printing labels, and surface finishing.


Assembly: The final stage of PCB design involves acquiring and soldering the components required for the working of the PCB. It starts with the preparation of the bill of materials (BOM) and ends with the quality assurance (QA) testing.
Agile PCB Development with Cloud Manufacturing Services
Bringing agility to the hardware development and manufacturing process is the goal of new manufacturing frameworks, but how exactly is that achieved?
In the way the conventional manufacturing process is carried out, even with the latest and most advanced industrial and production technologies at hand, it is difficult to keep all the stakeholders updated with all the technicalities and details about the process. OEMs possess an end-to-end understanding of what needs to be done, but factories are the places where mass production takes place. This is where a lot of workarounds are done if things don't work properly. On top of all that, design is no longer a one-time activity. It is a continuous process that has to be undertaken whenever there is an opportunity.
All tiny details regarding the process need to be relayed back to the OEM in order to achieve the best results. At the root of all these things, is a data and communication problem that is one of the things EMS 2.0 tries to resolve. Cloud manufacturing service providers collect a standardized set of reference artifacts from OEMs and deliver them to the factories in order to overcome the limitations of the conventional manufacturing processes.
Here is a list of some ways in which cloud manufacturing services bring agility values to the manufacturing process:
Offering continuous and incremental improvements to the customer based on past experience.


Embracing the changing requirements even at later stages of manufacturing.


Providing a platform for business and management teams to work closely with the technical teams so that frequent interactions can take place throughout the manufacturing process.


Promoting sustainable development to build consistency and maintain a constant pace of job completion at all times.


Choosing a good design and long-term excellence over short-term gains.


Performing retrospective analysis to find out ways to improve and optimize the presently followed approaches.
Coming to the specific case of PCBs, agility is critical, not only with the development teams but with the supply chain management as well. To ensure the design improvements are delivered on time and adhere to the requirements and the rules of manufacturability.
Features of Cloud Manufacturing Services
The ultimate aim of cloud manufacturing, just like any other tech framework, is to make the lives of engineers easier so that they can shift their focus from the process to innovation. Some key benefits of cloud manufacturing services are:
Fast quotes: It is possible to view BOM and quotes from different service providers right after uploading the PCB design. This establishes a minimum base rate for the job, and while unforeseen circumstances may occur, customers can plan for the other project-related expenses in a much better way.
Easy component procurement: Cloud manufacturing service providers share a BOM and quote upfront before acquiring components and getting PCB manufactured. This way, users can get an estimate of expenses that would be incurred.
Customized recommendations: Cloud manufacturing service providers deploy Artificial Intelligence (AI) based recommendation systems that help customers pick the right service providers based on quality, capability, volume, pricing, and more.
Real-time support: A dedicated support team is available with cloud manufacturing service providers to ensure the resolution of queries in real-time.
Simplified project management: Cloud manufacturing service provides a "360° view" of everything going on in the organization. It simplifies project management by providing deep insights into the progress. This helps in better management of resources and planning for the action items.
Supply chain resilience: Standardization of the process enables factory portability which is currently as hard as it can get, and almost non-existent in the electronics manufacturing industry. Read more on this in our article on Supply Chain Resilience For PCBs.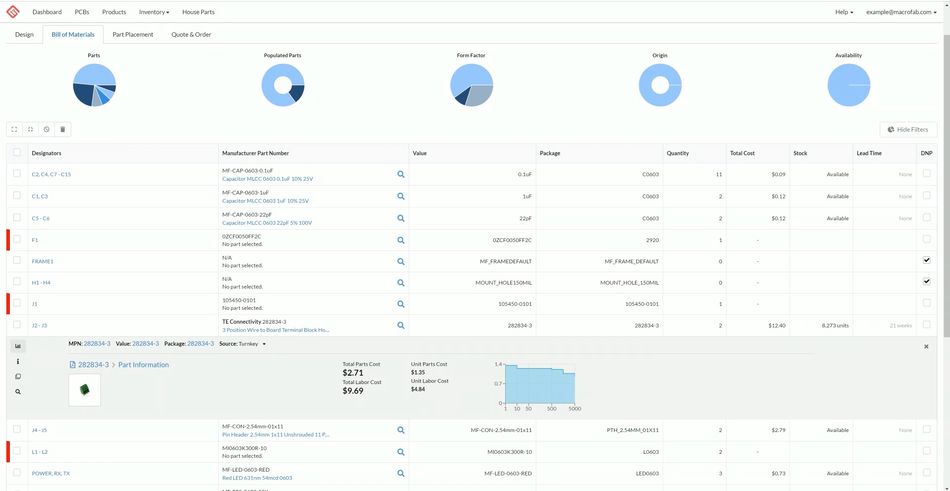 Fig. 2: Cloud manufacturing service platforms provide a BOM for users to know and manage the unit economics better. Source: MacroFab
Access to low-cost manufacturing: Due to the lack of logistic facilities, sometimes it gets difficult for users to get in touch with low-cost manufacturing service providers. Having a cloud manufacturing service opens up the possibilities to explore multiple suppliers to understand who offers the best pricing.
Scalability: Contract manufacturers working on a small-scale lack the ability to handle bulk orders, and those working on a large-scale lack the flexibility and affordability to work on a small order. It becomes necessary to switch from one manufacturer to another as the project passes through the various levels of its lifecycle. With cloud manufacturing services, it becomes possible to scale from one to a million at a single place.
Uncertainty management: The solutions, resources, and services required for managing a job can be commissioned or decommissioned based on the demand. This enables users to be dynamic with the order size.
Inventory management: For customers with bulk requirements, cloud manufacturing service providers offer inventory management facilities.
Increases profitability: The ultimate goal of making improvisations in the existing system of manufacturing is to make more profits. Given the advantages that cloud manufacturing services offer, organizations are more likely to make higher profits by implementing the cloud-driven approach.
Conclusion
The dynamics of how traditional product development works when a new opportunity is identified is changing. Service-oriented manufacturing models such as cloud manufacturing have completely overhauled the PCB design process which includes how the product is going to be built, manufactured, tested, fulfilled, and ultimately delivered to the customer.
The next generation of electronic component cloud manufacturing companies is backed by AI-driven decision-making technologies suitable for individuals & organizations alike and facilitates innovation throughout the product development lifecycle. By offering benefits in ways explained in this article, cloud manufacturing service providers take user experience to a whole new level.
Cloud manufacturing along with advances in computing, communication, the Internet of Things, cloud, and other cutting-edge technologies are key to making product development more convenient and accessible.
About the sponsor: MacroFab
MacroFab is an electronics manufacturing digital platform that provides production options throughout North America. MacroFab aims to make it faster and easier to bring new electronic products to market through its software-driven approach to electronics manufacturing.

References
1. Your quick guide to cloud manufacturing, Macrofab, [Online], Available from: https://macrofab.com/cloud-manufacturing/
2. A strategic guide to the Benefits of Cloud Manufacturing platforms, Macrofab, [Online], Available from:
https://macrofab.com/documents/benefits-digital-manufacturing-platform/
3. Macrofab, 20 March 2020, EMS 2.0 Explained: A Better Way to Buy Outsourced Electronic Manufacturing Services, YouTube, [Online], Available from: https://www.youtube.com/watch?v=70TiCMk7tF0