Display technologies to watch in automotive
The automotive industry is increasingly one of the biggest adopters of new display technologies.
Over the years we have seen analogue dashboards being replaced by digital dashboards, touch-screen infotainment systems being introduced and rear-seat entertainment displays becoming an add-on option for many models.
Surface-integrated displays have become such an important part of the car interior that automotive is becoming a driver for display technology. As challenging as it can be to implement new technologies in cars, it is exciting to witness the revolutionary change that is happening to the vehicle interior.
Here are three display technologies under development that can have a big impact on the safety and comfort of passengers, and on creating a more personal interior in the future.
3D displays
Companies like Bosch and Jaguar Land Rover are working on 3D displays that can relay real time safety information. Bosch's approach sees the instrument panel become a 3D display that shows crucial and time sensitive warnings. These include collision warning, or warning for lane departure or blind spots.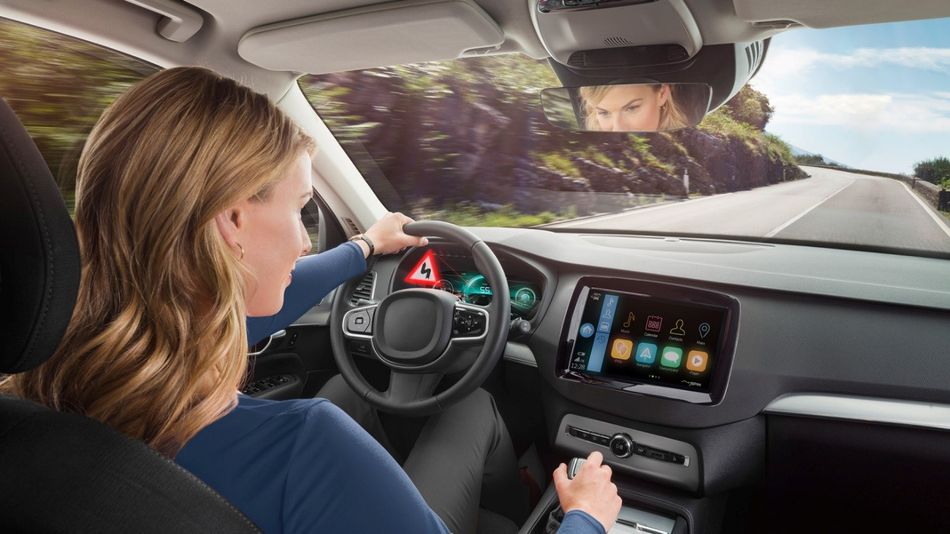 Source: Bosch
Jaguar Land Rover, on the other hand, is bringing immersive 3D capability to next generation head-up displays that can also project safety alerts. The company is also carrying out research on how this innovative system can offer passengers 3D entertainment in future autonomous vehicles.

Source: Jaguar Land Rover
AR head-up-displays
Head-up displays (also known as HUDs) show information in line of sight of the driver, reducing dangerous distractions. Some of them project information onto the windshield while other project it on a separate screen.
Introduced by General Motors in 1988, the first head-up display has been used to show speed and other basic readings from the dashboard. The technology has progressed a lot since then with HUDs becoming increasingly common in many new car models.
Now, augmented reality (AR) systems are becoming the new version of head-up displays. They promise to make driving even more comfortable and safe. An AR head-up display makes the information appear as part of the driving situation itself, i.e. it overlays it on top of what you're actually seeing in the real world. For example the display can highlight the lane you need to be in and when you need to turn.
A Swiss start-up called WayRay grabbed the media attention back in 2018 when it showed its aftermarket solution, called Navion. WayRay has developed a holographic augmented reality display that serves as a navigation system for cars. The device takes the maps currently used by GPS apps and overlays them on the real world environment making all the information relayed to the driver seem like part of the environment. With Porsche being one of the key investors, we expect to hear more from WayRay in the future.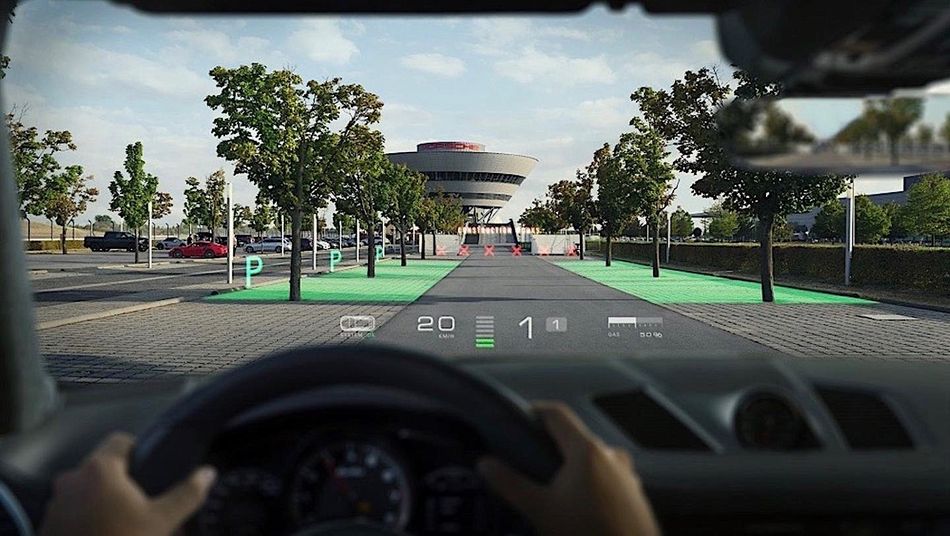 Source: WayRay Curved and shaped displays
In 2018 I reported on the trend for large area displays in automotive interiors. Mechanical dashboards are replaced by digital ones, the centre console is turning into a big touch-screen and more screens are appearing elsewhere in the car providing information and passengers' entertainment. This trend continues and could be seen at the Frankfurt Auto Show 2019 too.
Along with the increase of display size, there is a trend to replace the side-view mirrors with digital side-view mirrors. This means that displays have to be integrated into the car interior and fit in well with other components, for example the A-pillar.
Flat glass displays aren't seen as a sustainable solution to meet the evolving vehicle HMI requirements and new flexible display technologies are needed such as Organic LCD (OLCD). OLCD is a glass-free display technology that combines the benefits of auto-qualified LCD technology with the inherent flexibility of a high-performance organic-thin-film transistor (OTFT) backplane (which replaces the amorphous-silicon backplane used in glass displays). It enables conformable and shapeable displays that can be scaled to large area sizes in the same way glass LCD is scaled. Because of OLCD's high-brightness and long lifetime, OLCD is a viable technology to meet automotive display requirements. Moreover, OLCD provides a route to bezel-less and ultra-high contrast displays.
Recently, global plastic solutions provider Novares showed Nova Car #2 highlighting three example applications of surface-integrated displays in next generation vehicle interiors using OLCD. These included a central S-shaped touch system consisting of twin 12.1" OLCDs, left and right side 4.68" OLCD concave side-mirror replacement displays and a 4.68" OLCD passenger HMI touch screen integrated with the rear door panel.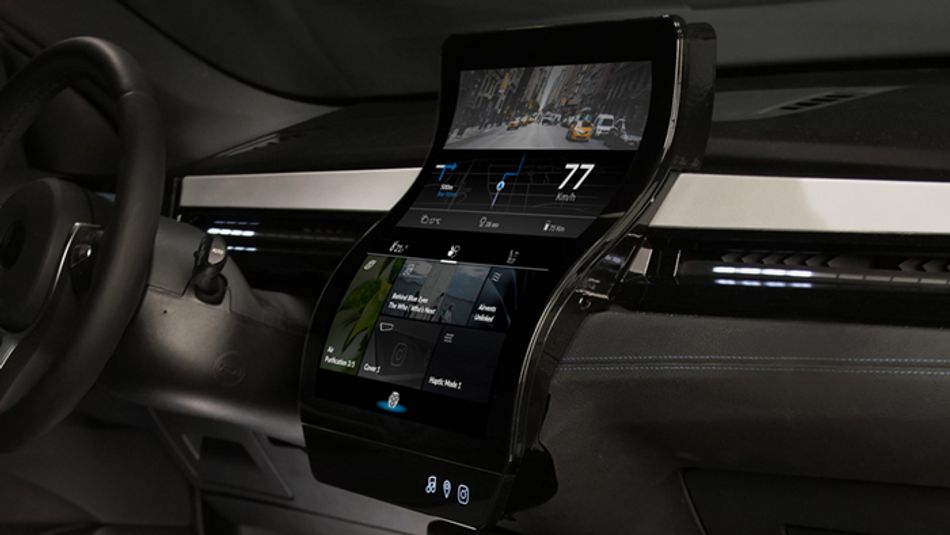 Source: Novares