TU Eindhoven demonstrates iron fuel at brewery Bavaria: a new circular and CO2-free fuel for the industry
World's premiere of the first industrial installation on iron fuel offers sustainability prospects to heavy industries
Researchers and student team SOLID of TU Eindhoven (TU/e) – together with Swinkels Family Brewers and the Metal Power consortium – are presenting world's first industrial installation to use iron powder as a new, circular fuel. This iron fuel is a promising energy carrier which is CO2-free, reusable, safe, compact and easily transportable. By successfully connecting the installation to the brewing process of brewery Bavaria, one of the breweries of Swinkels Family Brewers, the parties have proven that iron fuel can be applied as a sustainable substitute for heat-intensive industries and power plants. The demonstration of the industrial iron fuel installation will take place via a livestream at ironfuel.nl on Thursday the 29th of October from the brewery in Lieshout.
Power plants and heat-intensive industries collectively account for 40% of the global CO2 emissions. In order to achieve our climate objectives, this figure must be reduced to zero. Until now, there have been few CO2-free and scalable alternatives for these sectors. In addition, renewable energy generated by the sun or wind cannot always be used in these industries because the timing and location of generation or the form of energy do not match their energy demand.
Circular Process
Recently, iron fuel seems to have become the candidate of choice. "The beauty of iron fuel is that you can release the energy stored in iron fuel when and where you need it," says Philip de Goey, Professor of Combustion Technology at TU Eindhoven. "If you grind iron into a powder, it becomes highly flammable and this combustion releases a lot of energy in the form of heat. This heat can meet the industry's energy demand."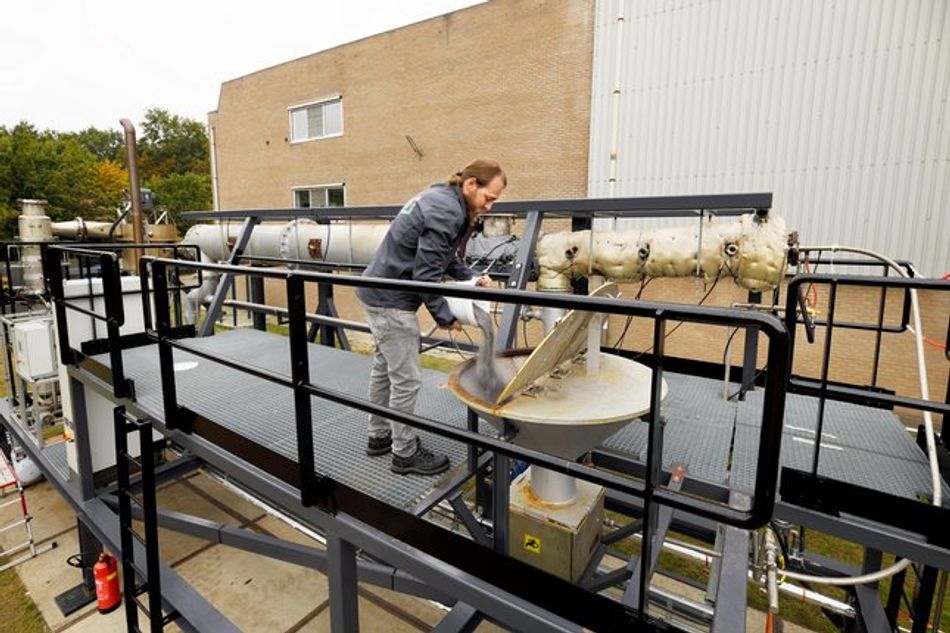 The iron powder is poured into the iron fuel installation at brewery Bavaria in Lieshout. Photo: Bart van Overbeeke
Moreover, iron fuel is reusable and easy to transport. "No CO2 is produced during combustion and only rust remains," explains De Goey. "It's a circular process: you capture this rust powder and sustainably convert it back into iron powder." Furthermore, iron fuel is safe and loses virtually no energy during storage. For these reasons, iron fuel is easy to store for longer periods of time and to transport over greater distances – one of the biggest challenges in the energy transition.
Proven As A Sustainable Substitute
Two years ago, TU/e's student team SOLID proved that it was possible to combust iron fuel in the lab. By connecting the world's first industrial iron fuel installation to Swinkels Family Brewers' brewery Bavaria, the Metal Power consortium is now demonstrating that iron fuel can be used as a renewable energy source in heat-intensive industries. The brewery is a typical example of an industrial process powered by (fossil) fuels. With the current set-up, it is possible to brew 15 million glasses of beer.
Watch this animation to see how the iron fuel cycle works.
"We are enormously proud to be the first company to test this new fuel on an industrial scale in order to help accelerate the energy transition," says Peer Swinkels, CEO of Royal Swinkels Family Brewers. "As a family business, we invest in a sustainable and circular economy because we think in terms of generations, not years. We combine this way of thinking with high-quality knowledge in the collaboration with the Metal Power consortium. Through this innovative technology, we want to make our brewing process less dependent on fossil fuels. We will continue to invest in this innovation."
Beer Produced Using Iron Fuel
"While we're proud of this huge milestone, we also look at the future," says Chan Botter, who leads student team SOLID. "There's already a follow-up project which aims to realize a 1 MW system in which we also work on the technical improvement of the system. We're also making plans for a 10 MW system that should be ready in 2024. Our ambition is to convert the first coal-fired power plants into sustainable iron fuel plants by 2030."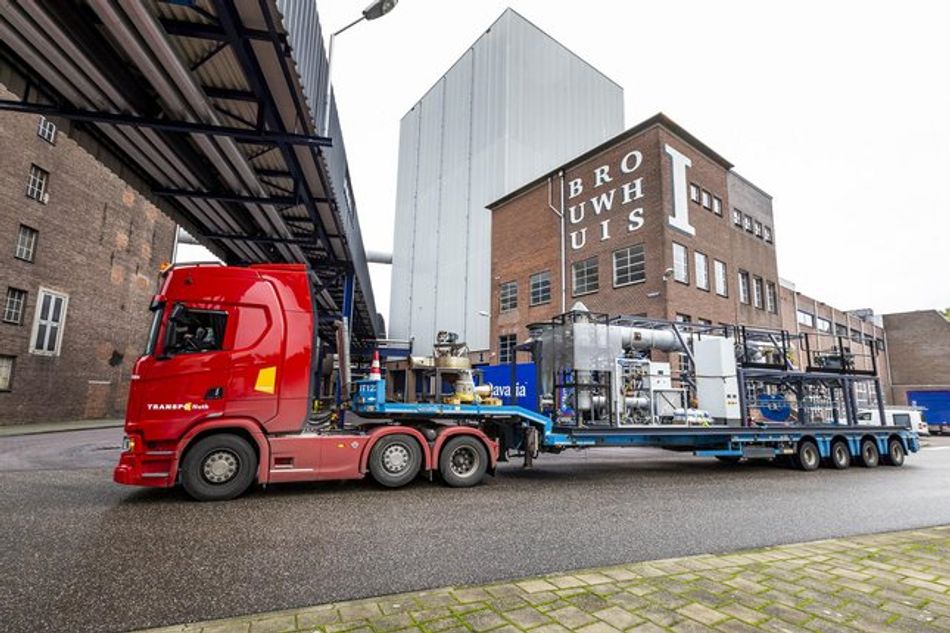 The iron fuel installation on transport at brewery Bavaria. Photo: Mees van den Ekart
"Next to the combustion process, we are also busy converting the residual product – rust powder – back into iron fuel via the so-called regeneration process. This allows us to store sustainable energy in iron fuel and complete the iron fuel cycle. We're looking into various technologies, both existing and non-existent to realize this. The first results will become apparent at the beginning of next year."
"It's great to see that Swinkels Family Brewers and all of the other affiliated partners believe in this application," Botter continues. "With everyone we speak to, we notice that we're beginning to gain more and more traction. That's exactly what we need! So now we toast with a beer produced by iron fuel."
---
This article was first published here: https://www.tue.nl/en/our-university/departments/mathematics-and-computer-science/the-department/news/news-overview/29-10-2020-tue-demonstrates-iron-fuel-at-brewery-bavaria-a-new-circular-and-co2-free-fuel-for-the-industry/