case study
Slovenian startup applies robotics and AI to agriculture
As a new era of digital farming dawns, new technology from Slovenia is harnessing AI and data gathering to give orchard and vineyard owners the edge
The article was written for PEK AUTOMOTIVE by Michael Barker, UK horticulture journalist
Agriculture is an industry that has changed surprisingly little over time. Images of farmers toiling away and tending to their crops have existed almost since the dawn of man, and while the plough might eventually have been replaced by the tractor, many operations are still carried out in precisely the same way as they were generations ago.
But right now a digital farming revolution is taking place, and it promises to take the food production industry to a new level as it looks to feed a projected two billion extra people globally by 2050. According to a recent report published by Markets & Markets, the smart agriculture sector was worth some US$13.7 billion in 2020, but is set to explode over the next five years, almost doubling to US$22bn by 2025. The arrival of digital technologies and artificial intelligence on farms couldn't have been better timed for farmers struggling to source seasonal labour, tackle increasingly unpredictable weather patterns and cope with ever more complex sustainability requirements.
Farmers today need integrated equipment that offers maximum efficiency, flexibility and manoeuvrability within a single system, and that's where the Slopehelper from Slovenian machinery specialist PeK Automotive comes in. Designed especially for orchards and vineyards, the fully autonomous system operates effortlessly in today's demanding farm environments, taking on the full agricultural strain and offering operators a decent level of control and feedback.
With the ability to tackle inclines as steep as 45 degrees, Slopehelper is a system that can reduce labour requirements by as much as 90 per cent, carrying out a wide range of operations from lawn mowing, mulching and branch cutting to pesticide spraying, fertiliser spreading and even harvesting. It uses artificial intelligence to recognise and adapt to its environment, analysing and performing tasks completely autonomously, and its highly accurate and efficient performance helps reduce the need for fungicides and fossil fuels, giving it vital environmental credibility.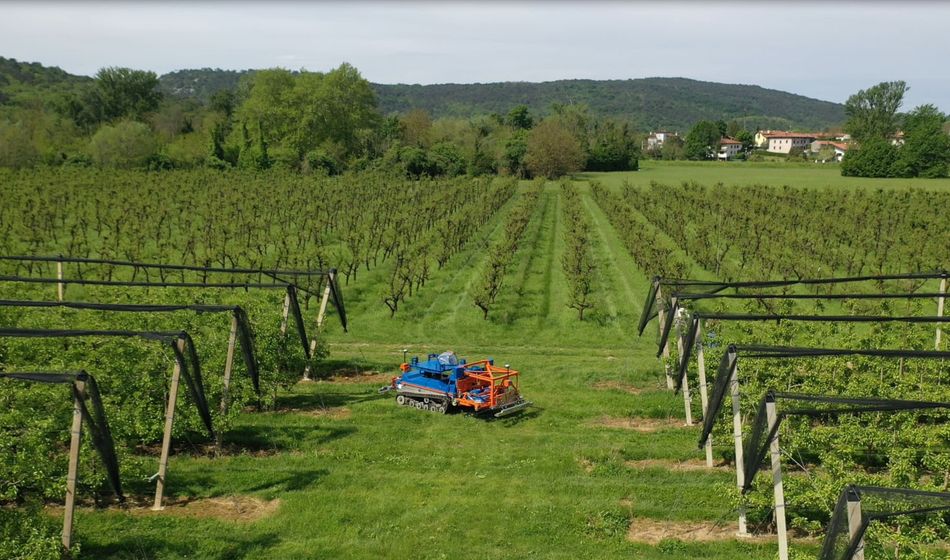 Digital champion
In today's ultra-connected world, data is king, and the Slopehelper offers farmers remote access to real-time information gathered via its intelligent sensor and measurement controls, all while its built-in computer calculates the optimum approach to navigating the vineyard. Constantly gathering key metrics, the onboard weather station pulls in data about wind, humidity, luminosity and temperature; the front-mounted camera takes pictures and streams videos; and information is collated about Slopehelper's current position, the number of rows passed, time spent working, as well as any alerts or errors.
All this information is sent via GSM to remote servers, giving farmers 24/7 access to key data so as to gain a holistic understanding of what's happening out in the field. At a time when marginal efficiency gains can be the difference when it comes to profitability, such a clear understanding of performance metrics can be what gives businesses that all-important edge.
There's more: the radar that helps navigate Slopehelper around the vineyard safely and efficiently can also be used to detect the ripeness of the fruit. Radar detection and analysis gives managers a valuable new tool in understanding the development of their crops, giving them enhanced analytical capability when it comes to harvesting fruit in the best-possible condition.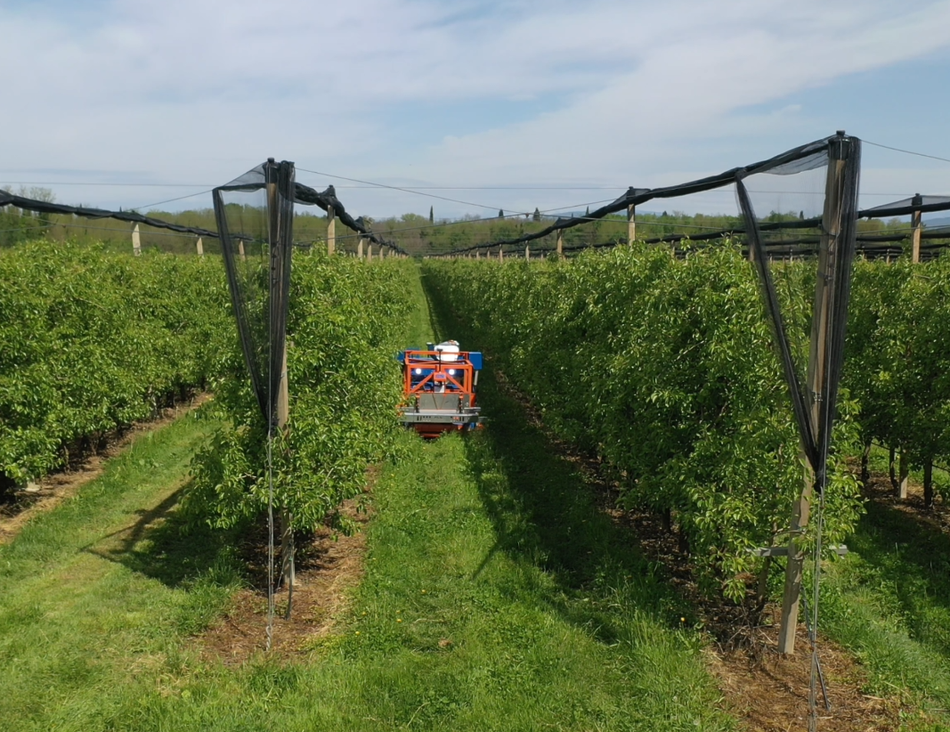 An intelligent approach
Artificial intelligence is still in its infancy in farming environments, but agricultural managers are increasingly seeing the benefits of applying technology that can boost their efficiency. Indeed, computer chip giant Intel recently stated that "artificial intelligence holds the promise of driving an agricultural revolution at a time when the world must produce more food using fewer resources."
Slopehelper addresses this by giving farmers a suite of options when it comes to how much involvement they want to take in day-to-day operations, meaning they have a genuine robotic colleague to do the heavy lifting. Autonomous Mode is used for everyday agricultural operations, with the vehicle automatically moving along the rows and performing its tasks. Semi-autonomous Mode is used for harvesting and provides easy movement control by an operator, who simply has to press two buttons to move the vehicle forward or back. In First-person View, a motorised camera allows farmers to view operations from afar, observing the machine's performance in real time.
Taking things to the next level, with Visual Remote Control operators can take command of Slopehelper from afar, using a remote control that features IP67 protection and a cordless charging cradle. And in a further innovation, Slopehelper has a unique Follow Me mode, in which a special UltraSonic beacon is placed on the operator's shoulder and the machine obediently follows them around the plantation.
Mikhail Kostkin, co-owner of PeK Automotive, believes there is huge potential for the adoption of artificial intelligence within farming, and explains that the reason it can successfully be adopted into Slopehelper is the particular makeup of orchards and vineyards. "The structure of these crops is much easier to apply AI to than in flat fields," he points out. "These crops have structure: they have rows, poles and common geometry. That's why we established an AI algorithm that supports operations where we need the same ability to adapt to the prevailing conditions as if the actions were performed by a human."
Learning to understand its environment, Slopehelper can make decisions to adapt to subtle changes in row direction or surface geometry, deciding the best course of action based on its experience. "In other words, we entrust the vehicle with these tasks and expect a human-like level of expertise," Kostkin adds.
It sounds like the stuff of science fiction, but as the era of Agriculture 4.0 dawns, early adopters of new digital and AI technologies are putting themselves in pole position to make those all-important efficiency gains and thrive against the challenges of modern production.