case study
Protolabs helps take coffee to new heights
It's not often that a product is created as a result of the union of two great passions. But that's the auspicious start for 9Barista, the world's first jet-engineered stovetop espresso machine – the brainchild of mechanical engineer William Playford.
William studied mechanical engineering at university before carrying out his post-graduate research into jet engine design at the Whittle Laboratory at Cambridge University. It was here that William had his idea for a jet engineered coffee machine. He'd been looking for a device that was robust, portable and could produce the highest quality espresso without the high price tags of the large machines found in cafes.
William explains: "Like jet engines, a coffee machine requires high pressure, controlled temperatures and precision engineered components. If I could build a jet engine, I realised I could probably build my dream espresso machine."
Five years in the making, 9Barista was the result of William's passion for coffee and his understanding of turbojet design. The machine is robust and portable like a traditional Moka pot, yet produces high café-quality espresso through a unique twin-boiler system.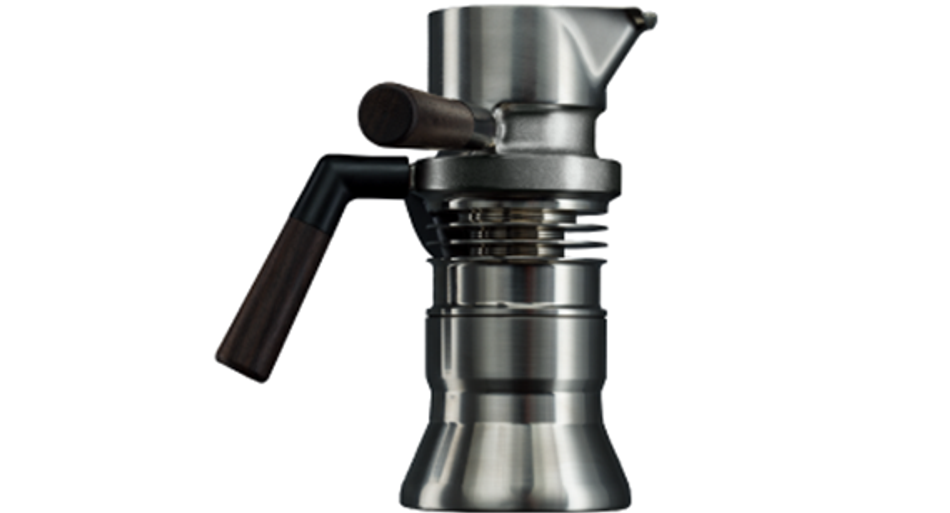 After illustrating that his idea worked with a solid brass prototype, William collaborated with Protolabs to create the parts of the jet-engineered stovetop espresso machine that needed to be injection moulded. These included the external upper and lower handle bushes, the chimney, thermal break, basket cap and group head insulator. Two parts were manufactured in silicone, three in black nylon and one part made of polyamide.
From the start, 9Barista was a hit with coffee lovers. When William unveiled his new invention at the London Coffee Festival in 2019, he received 200 individual pre-orders for the machines there and then. The second batch of the machine in February 2020 sold out almost immediately.
And that's when lockdown arrived in the UK and things changed considerably, as William explains. "We received a review on YouTube from a man named James Hoffman. He won the World Barista Championship in 2017 and has a company in London that roasts coffee. He's well known on social media as a very credible source of reviews for all things coffee-related. In July 2020 he did a review of 9Barista and although he's a tough one to please, he gave us a great review. With more people watching because of lockdown, that review got nearly 1.5 million views, his most viewed espresso machine review of all time! And things changed literally overnight for us. Sales went up by a factor of 10. In contrast to the anxiety and the restriction related to the pandemic, It was just extraordinary."
With demand for his jet-engineered stovetop coffee machine going through the roof, William scrambled to meet demand. The company upscaled by recruiting new staff and moving into an industrial unit. The pressure was on, and William turned to Protolabs again for help.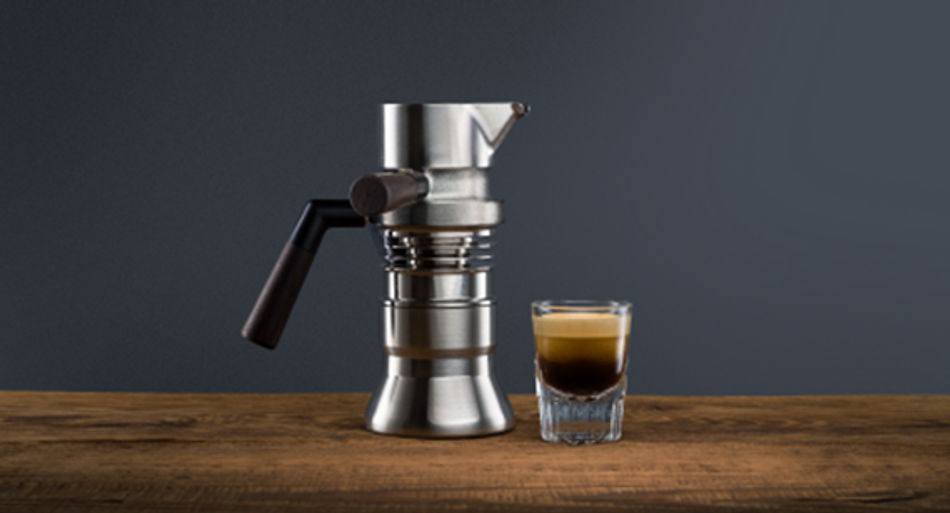 When it comes to production runs, there aren't many options out there for low-volume manufacturing. Traditional manufacturers tend to have minimum order quantities and require customers to purchase in high volumes. This is likely to add both cost and time to part procurement.
But Protolabs addresses the requirements of both prototyping and production. For production requirements, the ODM (on-demand manufacturing) service offers customers more competitive part pricing along with guaranteed lifetime mould maintenance and ownership. ODM is suitable for bridge tooling, through using cost-effective aluminium tools before committing to the capital expense of steel tools. ODM is also suitable when managing supply chain emergencies, such as shipping delays or when steel tools are being repaired. And ODM is suitable for demand volatility, when there are spikes in sales that require a fast but limited manufacturing response.
After speaking to his Protolabs Account Manager Jamie Phillips, William moved to Protolabs' ODM service. Quantities of the injection moulded parts William ordered from Protolabs moved up from 200 a batch to 1,500 per batch. "We had been looking at opportunities to bring the cost down as we looked at larger volumes and more steady demand, so switching over to Protolabs' on-demand manufacturing as opposed to their rapid prototyping was right for us. The price reduction structure for larger volumes was much appreciated," explained William.
With demand outstripping supply, speed was of the essence. Protolabs' fast turnaround also helped William get his product to market faster. "The speed really helped, definitely. And the ease of the process with Protolabs is fantastic. The problem with many suppliers is that if you want to order something, you kind of have to warm the supplier up to the idea, you have a discussion about the part and there's quite a lot of negotiation, and it can seem a long drawn out process. But Protolabs just get it straight away. It's very straightforward, very fast and very reliable, which is what you need."
"Protolabs' online on-demand tooling price calculator is fantastic; it really allows you to make very informed analytical decisions about what you order, when you order and what quantities. It's really helpful."
"The other good thing is that if you want to look at adjustments to the quote, you can just type it in online and see how the price changes. Protolabs' online on-demand tooling price calculator is fantastic; it really allows you to make very informed analytical decisions about what you order, when you order and what quantities. It's really helpful."
"Most of what we've been doing is scaling up to meet demand. Generally as you scale up, issues appear, but pleasingly that's not been the case with Protolabs. It's just been a very easy process to scale up with them, which has been a pretty significant help to us."
Since 9Barista's pivotal YouTube review, sales have stayed high. In February 2021 the company upscaled again by taking on the industrial unit next door and doubling their size.
Whilst meeting the demand for his jet-engineered stovetop espresso machine has kept William incredibly busy over the last few months, he has still found time to work on designs for an exciting development that he hopes to unveil in the next year. And once again, he will be collaborating with Protolabs on that project.
"I know I can rely on Protolabs' expertise and their customer service is excellent. Protolabs is a company that I can trust."