Online Manufacturing Delivers Industry 4.0 Scalability and Customization From a Single Source.
Giving design engineers access to a comprehensive manufacturing network builds resilience and improves innovation.
Introduction
The manufacturing industry is experiencing a rapid transformation as it integrates into the digital realm. The trend toward product customization, an increasing focus on product carbon footprint, and the demand for the next generation of hardware are forging new innovative manufacturing paradigms.
Online Manufacturing offers a dynamic, data-driven, and agile approach to manufacturing parts that meets Industry 4.0 expectations without added complexity to the manufacturer or design engineer.[1] This article explores how Online Manufacturing provides clear and resilient pathways for prototype and series production amidst today's manufacturing challenges. FACTUREE is introduced as an example of the future direction of Online Manufacturing.
What is Online Manufacturing?
Online Manufacturing brings together thousands of manufacturing partners together via an AI-powered platform. Often compared to the advent of social media platforms and how they revolutionized communication, like YouTube, Facebook, and LinkedIn, the manufacturing platform grants global access to both manufacturers and engineers, large and small, while allowing scalability.[2]
Online Manufacturing establishes a hub that electronically connects the various components of production, such as factories, developers, and machine learning (ML) software. Furthermore, the transition from prototype to series production is enabled through the global network, tapping into an extensive manufacturing capacity.
Why use Online Manufacturing?
The core advantages of Online Manufacturing include reduced time to production, broad access to suppliers, scalability, and customization. These qualities are achieved with a single platform through which engineers can order manufacturing services, removing the need to undergo the individual quote process with each component supplier. For instance, the automation technology company Festo uses Online Manufacturing to produce functional prototypes, such as machined valve blocks for a positioner.[3] The quick turn-around of their complex parts enables Festo to analyze, test, and launch their products quickly and effectively to stay competitive while freeing up internal resources for less time-sensitive needs.
European nuclear physics laboratory, CERN, opted for an Online Manufacturing platform when procuring special parts for its complex CMS particle detector.[12] Online Manufacturing was used to produce the steel pipes and plates used in the physics experiment as components for neutron shields. More than 5 metric tons of steel pipes and plates were ordered through Online Manufacturing that included special features and services, among them the procurement of raw material, processing, painting, assembly, and delivery.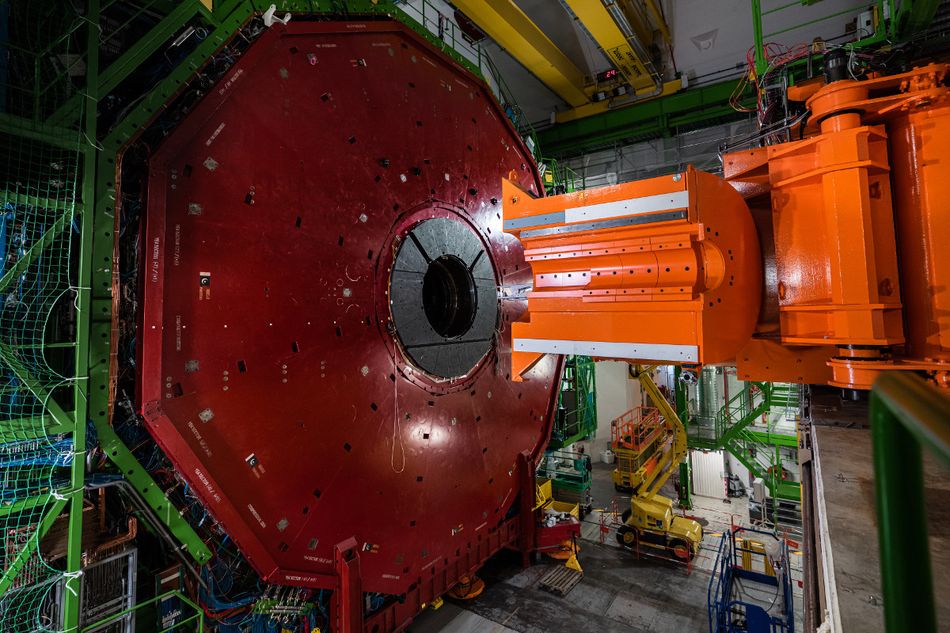 CERN chose Online Manufacturing when developing the CMS particle detector. Image credit: CERN
With Online Manufacturing, businesses gain access to many types of manufacturing and materials without having to worry about capacity and volume. Hardware startups, for example, often must work with limited capital. They can take advantage of the vast network that manufacturing platforms provide to quickly obtain 3D-printed or CNC-machined prototypes to test, eliminating the need to buy equipment for in-house use or source components from vendors while fostering creativity and innovation.[4]
Finally, standard off-the-shelf components often do not work for a state-of-the-art design. Engineers may be constrained in other ways, such as available space within the final product or a tight production timeline. The option for custom components enables engineers to optimize their products for performance, rather than relying on limited, standard components.[5] This need for more customization is facilitated by Online Manufacturing.
Machine Learning (ML) is embedded into manufacturing platforms, so the best solution for each user is produced each time. With a large array of inputs, such as supplier capacities, material availability, and even consumer and economic trends, an ML algorithm can process big data and determine optimal production solutions.[6]
For either a large company or a hardware startup, Online Manufacturing helps to simplify custom part procurement. Whether the business needs to free up internal resources or operate within a strict timeline and budget, an Online Manufacturing platform can act as a one-stop-shop for production.
Collateral benefits of Online Manufacturing
The advantages of Online Manufacturing are expanding as technology advances, with ML as one example. Additionally, there are multiple collateral benefits constantly developing.
The first is innovation. Having a technological advantage over competitors is key, as shown by many successful hardware startups having received awards in innovation.[7] Online Manufacturing promotes innovation in many ways. With the nearly immediate feedback on pricing and the low initial investment, even budget-conscious and staff-starved hardware startups can use a manufacturing platform effectively for cutting-edge product development.
Another benefit of Online Manufacturing combines the "shop local" mentality with globalization, giving local manufacturers an opportunity to enter the global market. Online Manufacturing attracts a broad spectrum of suppliers around the world, to which enlisting hardware companies have access. Location plays a strong role in supplier selection since short-distance delivery is faster.[8] With transportation and industry responsible for more than half of greenhouse gas emissions,[9] the carbon footprint can be reduced with Online Manufacturing. Additionally, more small manufacturers are empowered.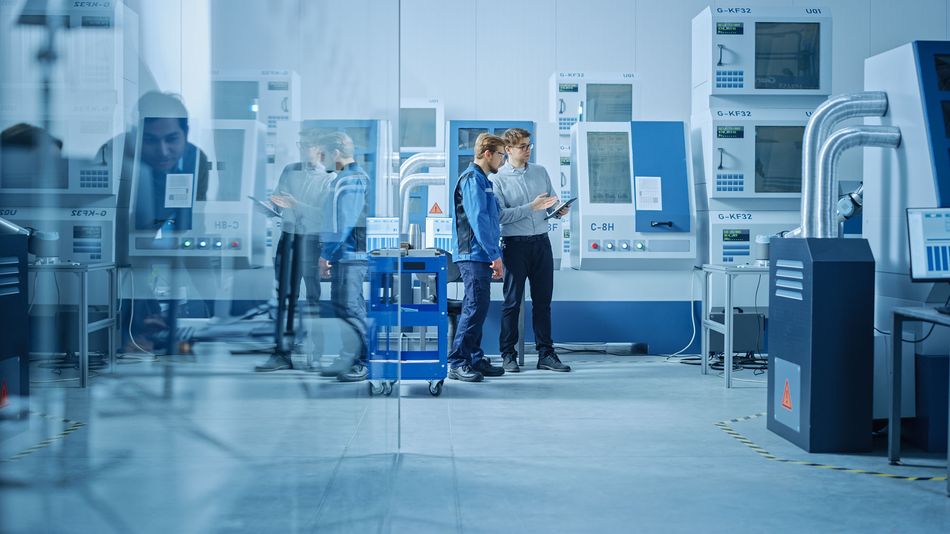 Access to the latest manufacturing advances is just one of the benefits of using Online Manufacturing platforms.
With online manufacturing, FACTUREE grants low-threshold access to the advantages of manufacturing platforms.
For nearly all manufacturing needs, including CNC machining, sheet metal processing, 3D printing, casting, and forging, FACTUREE has established a highly automated manufacturing platform for product components. The five-step process includes inquiry, quotation, order placement, manufacturing, and shipping.
For the inquiry, the customer uploads 3D models, drawings, and quantities, with a user-friendly online tool. The part material can be selected from an extensive list that includes an array of metal alloys, plastics, and machinable ceramics.
The quotation phase follows with a technical feasibility check, including direct design feedback for manufacturability. A proposal is returned, often the same day, which includes choices based on optimal pricing or timing. For customers who need prototypes or parts fast, FACTUREE has suppliers on standby for rapid turnaround. For long-lead parts, lower costs can be achieved by taking advantage of the precise resource and capacity management delivered by the platform.
Next is the order placement, followed by manufacturing. In addition to having access to a vast network of manufacturing suppliers of specialized components, the customer contracts and interfaces with FACTUREE solely throughout the process. Optimal partner-sourcing is also determined with the help of internal software based on factors such as competitive pricing and delivery needs.
FACTUREE is the sole contractual and contact partner for the client, taking full responsibility for the goods and assuming the risk. The company's quality management system is ISO 9001–certified, and their network comprises 2000 partners, all thoroughly assessed to maintain this high level of quality and precision, and includes 15000 machines. Therefore, the combined capacities and capabilities are nearly limitless, which is especially useful for startups, eliminating the need for sourcing and freeing up valuable internal resources.
Finally, the parts are shipped to the customer, this can be as fast as under two weeks, following the order placement, depending on the project size and manufacturing process. Moreover, the shipment is 100% carbon neutral. FACTUREE focuses on sustainability and maintains an environmentally conscious approach to manufacturing, a field that produces a large fraction of the world's greenhouse gas emissions. The CO2 output from each product shipment is countered by FACTUREE's investment in CO2 certificates. For example, these certificates support carbon-neutral efforts for a Xenamnoy hydropower project in Laos and the Prony Wind Power Project in New Caledonia.[11]
Summary
The benefits of Online Manufacturing platforms for both hardware startups and established product players are clear. Flexibility, scalability, and freedom from the risks of in-house manufacturing will further expand the application of Online Manufacturing. We are already seeing the positive knock-on effects of higher-quality products, lower product carbon emissions, and greater accessibility to manufacturing.
About the sponsor: FACTUREE
FACTUREE – The Online Manufacturer has an extensive network of more than 2000 manufacturing partners in various fields like CNC machining, sheet metal working, 3D printing and surface technology. More than 15000 machines guarantee almost unlimited capacities, short delivery times and competitive prices for your projects – from prototype to large series. Leading industrial companies such as Siemens, Parker Hannifin, and Festo, SMEs, research institutes like CERN and universities are among our satisfied customers.
References
https://www.forbes.com/sites/michaelmandel1/2019/01/02/2019-the-year-of-the-manufacturing-platform/?sh=743699fd3688