New manufacturing platform combines agility of 3D printing with strength of injection molding for rapid prototyping
KyronMAX®'s carbon fiber-based technology platform provides material-accurate prototyping in just days.
KyronMAX® is a range of high strength thermoplastic composite compounds from Mitsubishi Chemical Advanced Materials, specifically designed for rapid, complex high-spec injection molding. KyronMAX® is also an engineering platform where engineers collaborate with experts who understand the material, allowing prototyping to be completed within days. The KyronMAX® technology is designed to be applicable in low, medium, or high-volume parts production.
Stronger than steel, lighter than aluminum, and sustainably recyclable
KyronMAX® is among the most robust injection moldable products available in the world today. The series of products significantly changes the way design engineers can think of plastic materials. The unique combination of KyronMAX®'s high-pressure molding technology with advanced material technology produces high-strength structural thermoplastics that offer mechanical properties that meet, and in some comparisons, exceed those of metals.
KyronMAX® features:
Light, reduced material volume required (75% lighter than steel and almost 40% lighter than aluminum).
Easily processable (can be molded using the same equipment and tooling as standard or unfilled resins).
Compounds can be customized to meet application requirements, in addition to standard, readily available product offerings.
Retains high strength in complex part geometries (with multiple knit lines), where traditional Long Fiber Thermoplastics struggle.
55k+ PSI tensile strength.
<30% lower component cost per unit.
Metal to plastic conversions, without the cost and lead time of traditional metal tooling or penalties for multiple design changes.
Prototype parts using the same resins as production injection molded parts.
Surface finishes and features that cannot be replicated by machining or 3D printing.
The KyronMAX® series of structural thermoplastic materials outperform the mechanical strength of long fiber thermoplastic (LFT) materials, especially when measuring a molded part's performance. The material overcomes the limitations of LFT compounds while yielding stronger molded parts that are also lighter in weight.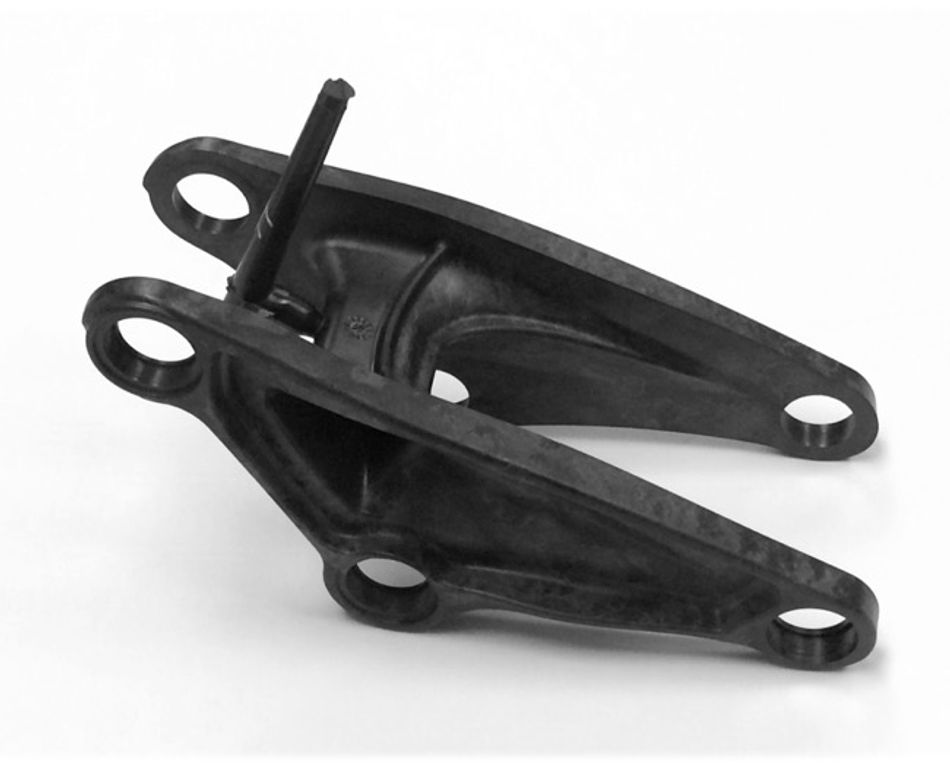 KyronMAX® is suitable for, but not limited to applications including
Automotive
Prosthetics
Drone and UAV casings
Sports and leisure equipment
Industry
Robotics
Consumer product design
Wearables
Aerospace
What makes the KyronMAX® material technology unique is its short fiber technology, which means the polymer behaves more like the isotropic nature of metal and eliminates the processing and fiber breakage concerns associated with LFT compounds. The technology enables very complex parts to be molded with high mechanical performance and consistency.

Image 1: KyronMAX® short fiber technology versus LFT
Competitive structural compounds use high fiber loadings and long fiber lengths to achieve the desired mechanical performance. Unfortunately, these materials' performance does not translate into the molded parts, due to weld line strength loss and fiber length reduction during processing.
In contrast, the KyronMAX® material technology outperforms other thermoplastic compounds using short fiber technology and much lower filler loadings. The lower filler content results in a tough, structural plastic that can be utilized in extremely aggressive applications yet is still processing friendly and does not require specialized molding equipment.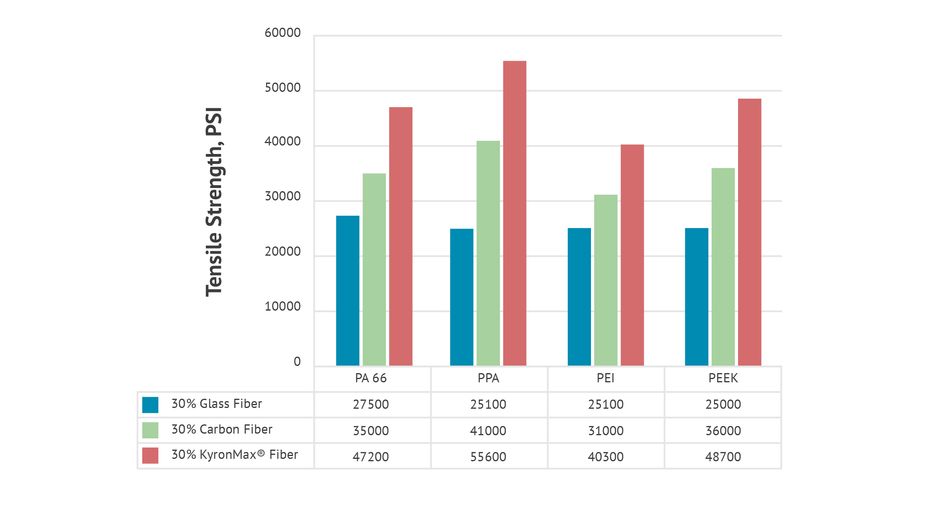 The KyronMAX® platform features a range of high-strength carbon fiber-based composites that allows you to buy-off-the-shelf, top-performing materials or customize your own formulation to match your requirements. Each formulation has specific properties that make it suitable for different applications. See here how the KyronMAX® range compares to each other and other common injection molding materials.
The KyronMAXⓇ platform
KyronMAX® is more than a material; it is also an engineering partnership. From design to functional prototype, to production and all the way through to zero waste, engineers work together with Mitsubishi Chemical Advanced Materials to solve materials engineering challenges. The KyronMAX® collaboration happens in three phases.
Phase 1 - Diagnostics: content deep dive, feasibility check, AI-based business intelligence.
In this phase the overall feasibility of the project is assessed from both a materiality and business perspective.
Phase 2 - Design Sprint: MVP design
MVP (minimum viable product) design is a process for creating functional, production-ready products that serve to test ideas and complete a design process. Puts functional parts with true properties into customer's hands quickly to accelerate the design cycle and lock-in material specifications.
Phase 3 - Delivery Sprint: functional prototype creation and testing, plus approach to recycling
SPRINT (Soluble PRinted INjection Tooling) technology means functional prototypes can be developed in just a few days. SPRINT allows for rapid injection molding of functional parts in the right material. Alongside digital twinning, it means real world designs can be tested quickly and accurately, shortening design timelines and meeting production deadlines faster. SPRINT combines the speed and agility of 3D printing with the accuracy of injection molding. Unlike other injection molding processes, the KyronMAX® SPRINT can produce material accurate prototypes in just days rather than weeks. A 3D Resin mold is first 3D printed, this is then injected with the chosen polymer. The resin is then 'washed' away to reveal the prototype part.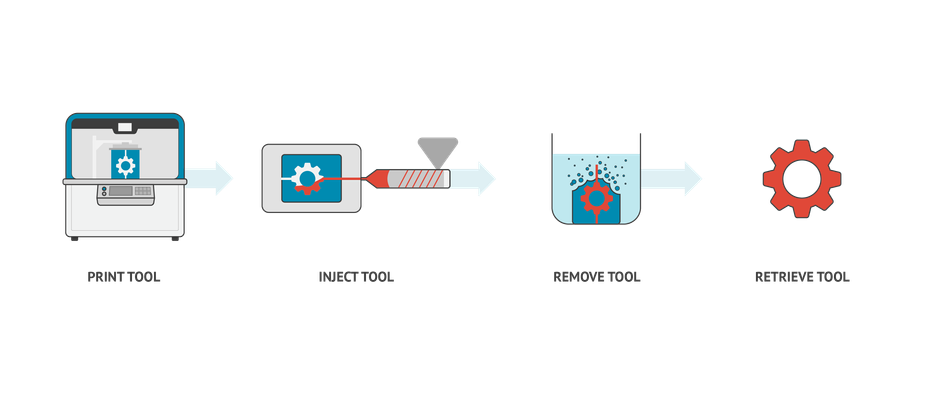 Throughout the three-stage journey, KyronMAX® experts support engineering teams on:
Material selection
Part design
Test and production of functional prototype with SPRINT (Soluble PRinted INjection Tooling) technology
Setup of production scale up plan
Assessment of the project's recycling possibilities in order to create zero waste
Designers and engineers working with KyronMAX® are supported throughout the whole process from ideation to final product no matter if the project is a small-batch prototype or fully commercial product. Read more about the collaborative KyronMAX® platform here.
A new standard in sustainability
KyronMAX® injection moldable composites can be returned to create zero waste using their end-of-life recycling program, while their vertically integrated and closed-loop supply chain is key to all KyronMAX® engineering partnerships. Their commitment to sustainability goes beyond simple recycling their materials and minimizing their impact. KyronMAX® uses digital twins to test new ideas, their focus on small batch prototyping means their entire production process is further designs to minimize waste and maximize speed to market.
The key advantages to this focus on sustainability includes:
Faster production lowers overall energy costs while lightweight formulations reduce the overall manufacturing footprint as well as and improves fuel economy, energy use and longevity in applications from aviation to robotics.
The KyronMAX® tailor-made injection moldable carbon-fiber composite compounds can be reused and returned to create zero waste using our end of life recycling program.
The production process allows for any scrap, waste, or unused products to be taken back and recycled without down cycling.
Light weighting and metal replacement
Plastic replacement of metal generally offers advantages to designs, including the potential to be lighter, cheaper, or more quickly produced. However, most high-strength moldable plastics are nowhere near the strength of metals so the metal part geometry must be altered and re-engineered to utilize plastic materials. This often involves adding more material volume of the plastic which can increase the weight and cost of the part. Thanks to KyronMAX®'s high strength properties and complex geometries, component design can more easily replicate the original metal design, reducing material volume while realizing all the benefits of the plastic material.
A great example is the KyronMAX® #10-32 bolt that responds to multiple requests from OEMs for an injection moldable thermoplastic composite bolt that exhibits metal-like strength. These end-users were looking for a plastic fastener to replace traditional titanium metal fasteners for weight savings but could not find a polymer with enough mechanical performance, or that was economically viable. The KyronMAX® #10-32 bolt meets both the strength and the cost target requirements for the application while reducing the weight of incumbent titanium bolts by approximately 60%! Read more about KyronMAX®'s commitment to full life-cycle sustainability here.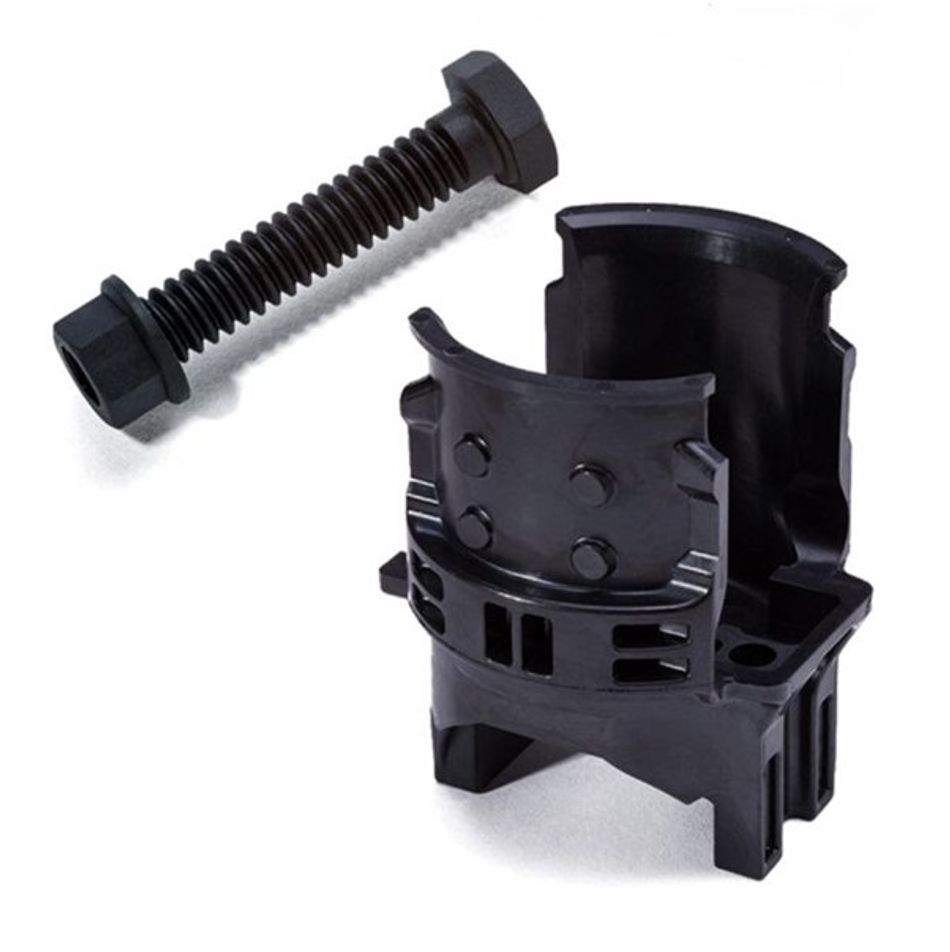 The KyronMAXⓇ Challenge
The KyronMAX® Challenge invites you to submit a design that utilizes KyronMAX®'s range of breakthrough, high strength carbon fiber-based composites to solve an engineering or manufacturing challenge. The winning designs will receive $25,000 worth of manufacturing support from KyronMAX® to create a fully developed prototype.
Your submission can be a stand-alone product or a component of a larger design. Successful submissions will need to show how the design utilizes the unique properties of KyronMAX® materials and complements the platform's capabilities. The KyronMAX® challenge will reward projects that prioritize sustainability while maintaining a high level of feasibility and ingenuity.
For full challenge details see The KyronMAX® Challenge homepage.
---
About the sponsor:
Mitsubishi Chemical Advanced Materials is a leading global manufacturer of high-performance materials in the form of semi-finished products and finished parts. The company has locations in 20 countries and more than 2,800 employees. Its specialty engineering thermoplastics and composites are superior in performance to metals and other materials and are used in a wide range of applications, primarily in the capital goods industry. The company is continuously developing new areas of applications in close cooperation with industry leaders in a broad variety of customer markets. The Mitsubishi Chemical Advanced Materials Group is well prepared to further expand its market leadership position.
Supporting the vision of our holding company, Mitsubishi Chemical Holdings Corporation (MCHC), Mitsubishi Chemical Advanced Materials is committed to the realization of KAITEKI, "a sustainable condition which is comfortable for people, society and the Earth". To realize this vision, the MCHC Group engages in corporate activities that provide products, technologies and services based on the comprehensive capabilities of the Group in the Performance Products Domain, Industrial Materials Domain and Health Care Domain, with chemistry as the basis of our activities. We jointly express and promote our commitment under the corporate brand THE KAITEKI COMPANY.