How Is COVID-19 Impacting Manufacturing?
COVID-19 is the biggest crisis to have struck humanity since WW2. As the virus has wrought its devastation, we at Rowse have been considering how COVID-19 is impacting the manufacturing industry particularly.
In our years in business, we've built up a good understanding of industry practices and potential areas of impact, and it's clear that everyone has been affected, from giant corporations to SMEs. For all our valued customers and suppliers, we hope that sharing our experiences and insights will help us work together to make the best possible recovery.
---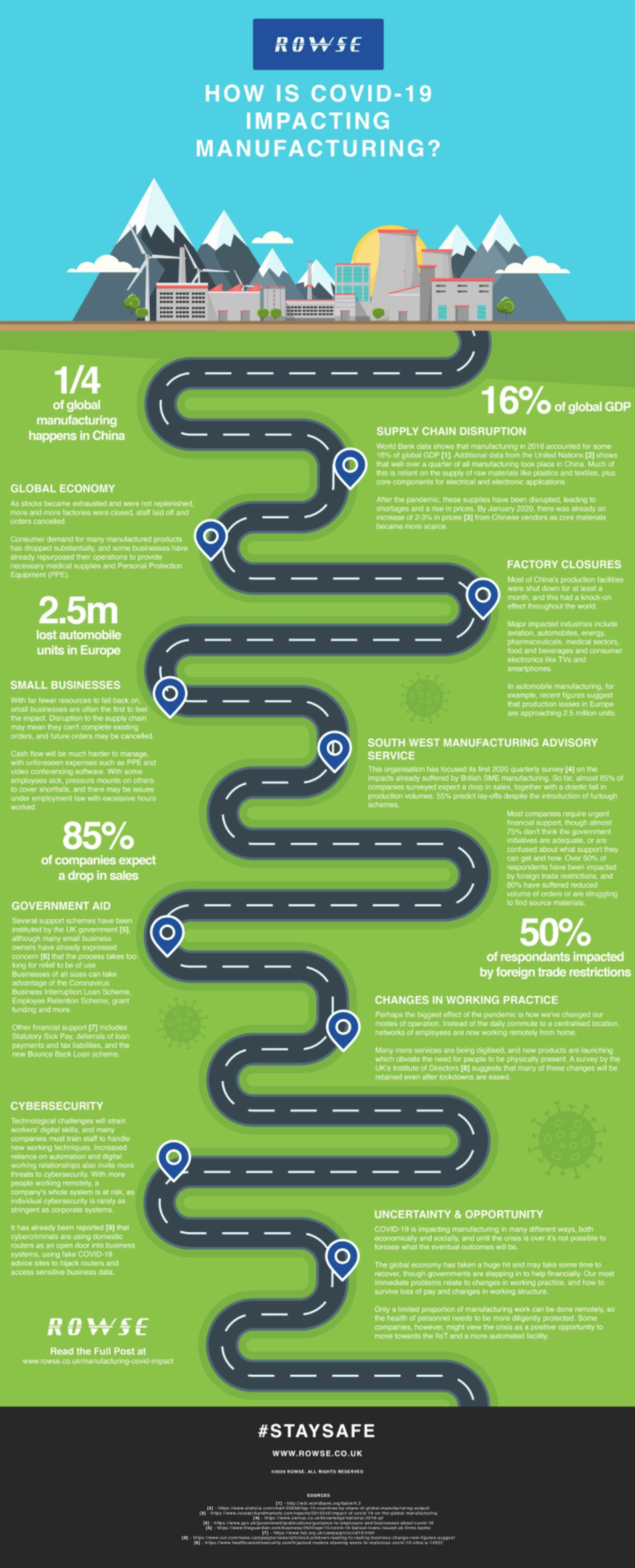 ---
Supply Chain Disruption
World Bank data shows that manufacturing in 2018 accounted for some 16% of global GDP. Additional data from the United Nations shows that well over a quarter of all manufacturing took place in China. Much of this is reliant on the supply of raw materials like plastics and textiles, plus core components for electrical and electronic applications. After the pandemic, these supplies have been disrupted, leading to shortages and a rise in prices. By January 2020, there was already an increase of 2-3% in prices from Chinese vendors as core materials became more scarce.
Global Economy
As stocks became exhausted and were not replenished, more and more factories were closed, staff laid off and orders cancelled. Consumer demand for many manufactured products has dropped substantially, and some businesses have already repurposed their operations to provide necessary medical supplies and Personal Protection Equipment (PPE).
Factory Closures
Most of China's production facilities were shut down for at least a month, and this had a knock-on effect throughout the world. Major impacted industries include aviation, automobiles, energy, pharmaceuticals, medical sectors, food and beverages and consumer electronics like TVs and smartphones. In automobile manufacturing, for example, recent figures suggest that production losses in Europe are approaching 2.5 million units.
Small Businesses
With far fewer resources to fall back on, small businesses are often the first to feel the impact. Disruption to the supply chain may mean they can't complete existing orders, and future orders may be cancelled. Cash flow will be much harder to manage, with unforeseen expenses such as PPE and video conferencing software. With some employees sick, pressure mounts on others to cover shortfalls, and there may be issues under employment law with excessive hours worked.
South West Manufacturing Advisory Service
This organisation has focused its first 2020 quarterly survey on the impacts already suffered by British SME manufacturing. So far, almost 85% of companies surveyed expect a drop in sales, together with a drastic fall in production volumes. 55% predict lay-offs despite the introduction of furlough schemes. Most companies require urgent financial support, though almost 75% don't think the government initiatives are adequate, or are confused about what support they can get and how. Over 50% of respondents have been impacted by foreign trade restrictions, and 80% have suffered reduced volume of orders or are struggling to find source materials.
Government Aid
Several support schemes have been instituted by the UK government, although many small business owners have already expressed concern that the process takes too long for relief to be of use. Businesses of all sizes can take advantage of the Coronavirus Business Interruption Loan Scheme, Employee Retention Scheme, grant funding and more. Other financial support includes Statutory Sick Pay, deferrals of loan payments and tax liabilities, and the new Bounce Back Loan scheme.
Changes In Working Practice
Perhaps the biggest effect of the pandemic is how we've changed our modes of operation. Instead of the daily commute to a centralised location, networks of employees are now working remotely from home. Many more services are being digitised, and new products are launching which obviate the need for people to be physically present. A survey by the UK's Institute of Directors suggests that many of these changes will be retained even after lockdowns are eased.
Cybersecurity
Technological challenges will strain workers' digital skills, and many companies must train staff to handle new working techniques. Increased reliance on automation and digital working relationships also invite more threats to cybersecurity. With more people working remotely, a company's whole system is at risk, as individual cybersecurity is rarely as stringent as corporate systems. It has already been reported that cybercriminals are using domestic routers as an open door into business systems, using fake COVID-19 advice sites to hijack routers and access sensitive business data.
Uncertainty & Opportunity
COVID-19 is impacting manufacturing in many different ways, both economically and socially, and until the crisis is over it's not possible to foresee what the eventual outcomes will be. The global economy has taken a huge hit and may take some time to recover, though governments are stepping in to help financially. Our most immediate problems relate to changes in working practice, and how to survive loss of pay and changes in working structure. Only a limited proportion of manufacturing work can be done remotely, so the health of personnel needs to be more diligently protected. Some companies, however, might view the crisis as a positive opportunity to move towards the IIoT and a more automated facility.
---
This post was originally posted on https://www.rowse.co.uk/blog/post/how-is-covid-19-impacting-manufacturing.