HORYZN: Saving lives with a drone
In case of a cardiac arrest, the chances of survival are directly related to the ambulance's response time and the appliance of defibrillation. A student team from the Technical University of Munich is trying to solve this problem with the help of an eVTOL UAV.
This article is a part of our University Technology Exposure Program. The program aims to recognize and reward innovation from engineering students and researchers across the globe.
Community voting is now live. Vote for your favourite submission by visiting: University Technology Exposure Program Community Vote.
Introduction
Founded in 2019, HORYZN is a student initiative consisting of more than 70 Bachelor's, Master and Ph.D. students from the Technical University of Munich (TUM). Our goal is to apply the theoretical knowledge gained in our studies by developing electrical Vertical Take-Off and Landing (eVTOL) unmanned aerial vehicle (UAV). As an international and interdisciplinary team, we come up with innovative solutions for real-world problems.
Thanks to our close cooperation with our sponsors, supporters and the university, we are a perfect interface between research, industry, and students.
In our current project Mission Pulse, we want to focus on a medical use case and thus encourage the social debate regarding the use of civil UAVs. The interesting thing about Mission Pulse: We develop and build a drone which is not based on common UAV techniques, enabling us to use the drone for all kinds of use cases. Our goal is to build a drone "around" and for one specific use case: Defibrillator transport. By focusing on this specific application, we can offer the best possible design.
Working in a professional structure, we divide our to-dos into six different subteams: First, Business and Authorization: This team has several tasks. Some of them are organizing financial incomes by acquiring new sponsors, organizing internal and external events, getting our mission authorized by EASA, and much more. The first subteam actually dealing with the drone itself is called "Design Loop". Here, we calculate the measures and numbers iteratively and give them to the third subteam "CAD", which is responsible for designing and evaluating the drone in 3D. Finally, "Structure" brings our drone into reality and builds it in our workshop. Once everything is finished, "Avionics and Flight Testing" drives to our test field and flies the drone. By organizing HORYZN in this way, we can work very efficiently.
What is our use case about?
In Germany, 75,000 patients experience sudden cardiac arrest every year – and only 11 % survive. When an emergency occurs, every second counts! Whether the patient survives is directly related to the ambulance's response time and the appliance of defibrillation.
On average, this takes approximately 9 minutes. Too long! By shortening the time to 5 minutes, the survival rate can be tripled. In such a case, a UAV can shorten the time span in a life-saving way since it is able to transport the defibrillator directly to the patient.
The aim of the project Mission Pulse is to test the feasibility of the use case through simulated test missions under realistic conditions. Our final prototype will provide emergency care within a range of 6 km in less than 5 minutes. The flight is controlled beyond the visual line of sight (BVLOS) via a pilot control center. At the scene of an emergency, the defibrillator will be lowered with a winch under remote video supervision and can then be applied by first aiders.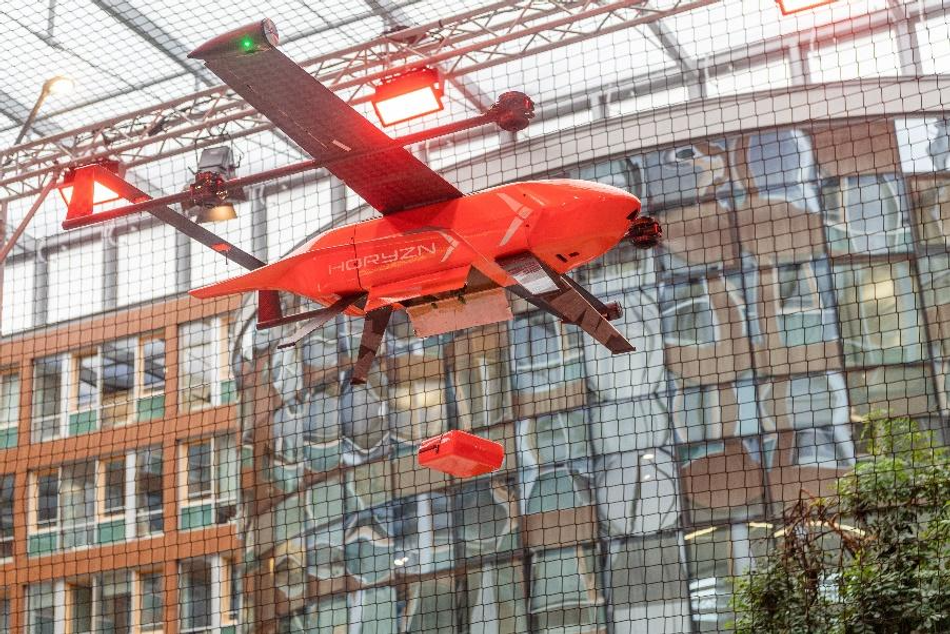 Frankenstein 1 lowering a defibrillator during a test mission, December 2022
In principle, the operation of a defibrillator is easy even for untrained persons. However, if there is only one first-aider with the patient, he or she should not interrupt the cardiopulmonary resuscitation (CPR) according to the resuscitation guidelines. Therefore, a second bystander should always be on site. This person can pick up the defibrillator while the CPR is still executed.
What makes our drone special?
The implementation of a fixed-wing VTOL for this use case enables a higher range and speed compared to multicopters. This means that each UAV can help a larger number of people.
Since the UAV will serve populated areas, flight safety plays a fundamental role. In order to obtain authorization for our test operations, we follow the guidelines by EASA that were established in 2021, as well as the SORA framework. A redundant hover propulsion system will act alongside an in-house developed fail-safe-based flight controller and artificial intelligence support is intended to prevent a crash in human proximity. All safety systems are subject to numerous tests using a diverse simulation environment to detect and eliminate errors even before initial flight testing. Should an emergency still occur, an intervention of the integrated parachute system is deployed to minimize the potential consequences of a crash.
In addition, the risk of collision with other aircraft in the sky is reduced by the use of a traffic management system.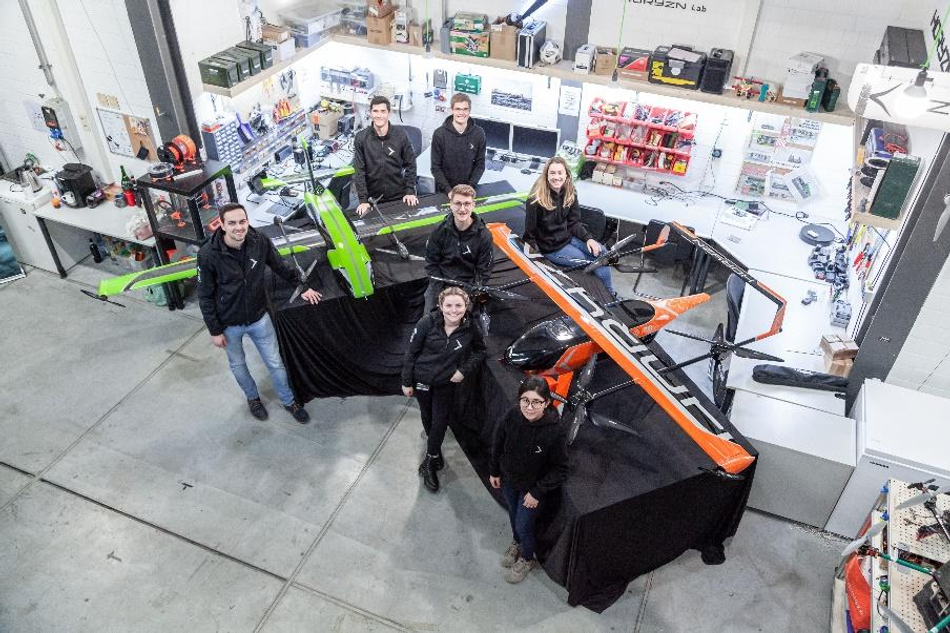 The HORYZN workshop, January 2022
Why did we choose this use case?
When evaluating possible use cases for our initiative, we realized we not only wanted to build innovative drones without further benefit for society. As drones are still connected to military and defence, one of our goals was to shape the generally negative perceptions of drones into positive ones. By delivering defibrillators, we have already gained a lot of positive public responses and are keen on continuing this development.
Furthermore, there is a real need for services like defibrillator transport, as we already said: Every second counts. In Germany, many locations on the countryside cannot be served by an ambulance in appropriate time. All in all, deciding to build and apply a defibrillator drone, we can connect innovation and public benefit as well as improve society's general perception of civil drones.
Where are we right now?
By the end of 2021, we presented our first prototype "Frankenstein 1" to politics, industry and society. Performing a simulated rescue mission including a live flight, we proved that our concept is working in reality. Nevertheless, the journey goes on: In 2022 and the beginning of 2023, we aim for calculating, designing, building and flying our second prototype with enhanced systems. As always, we learned a lot building the first prototype and want to erase the errors we made – as well as implement further subsystems such as an acoustic and optic warning system for the ground. One main focus lies in authorising our mission and drone by EASA standards this year, so by early 2023, we are able to conduct our first real test flight in populated areas.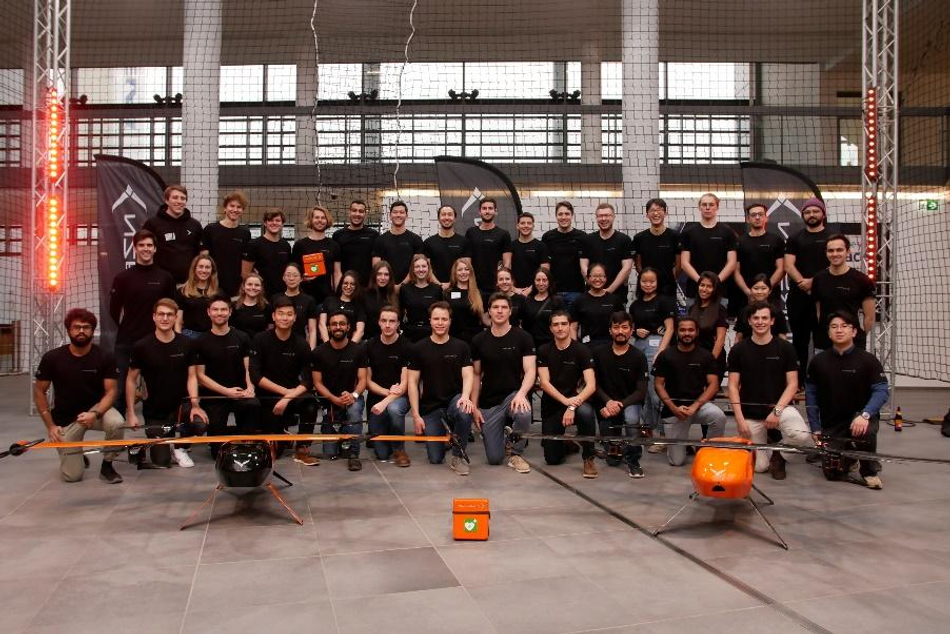 The team, December 2021
Watch a summary of the rollout of our first prototype here:
If you have any questions, we are more than happy to tell you more about the project! Feel free to contact us via info@horyzn.org.
About the University Technology Exposure Program 2022
Wevolver, in partnership with Mouser Electronics and Ansys, is excited to announce the launch of the University Technology Exposure Program 2022. The program aims to recognize and reward innovation from engineering students and researchers across the globe. Learn more about the program here.