Community Q&A with Nexperia CEO Frans Scheper
Semiconductor industry veteran Frans Scheper has led Nexperia from a commodity business to a global innovator. The Wevolver community asked him their most burning questions.
After earning his MBA from IMD Lausanne, Frans Scheper started his career at IBM. He went on to become Vice President Corporate Strategy & Alliances at Philips, one of the largest electronics companies in the world. Later, after his role had grown to CMO and Senior Vice President, Frans had a leading role in the transition of Philips Semiconductors into NXP as an independent company.
With NXP Frans created a trusted brand in the semiconductor industry. After the spin-off, he stayed for 11 years at the new company. As the Executive Vice President and General Manager of NXP's Standard Products division, revenue grew to $1.2 Billion dollar.
The Standard Products division developed and produced Discrete, Logic, and Power MOSFET semiconductors, and it focused on the Automotive, Industrial, Computing, Consumer, and Wearable application markets.
In 2017, under Frans Scheper's leadership, the division was divested from NXP to enable it to grow on its own, while NXP continued to focus on its High-Performance Mixed Signal business.
As an independent company, Nexperia owns 5 factories: 2 wafer fabs in Hamburg, Germany and Manchester, UK, as well as assembly centers in China, Malaysia, and the Philippines. They produce over 90 Billion units per year. According to Nexperia, virtually every electronic design in the world uses Nexperia parts.
The company is headquartered in Nijmegen, The Netherlands, where I spoke with Frans Scheper on behalf of the Wevolver community.
Prior to my conversation with Frans, we invited the Wevolver community to submit their most burning questions via our social media channels. A selection was made of the most informative, frequent, or interesting questions. Below you'll find Frans' answers.
---
Bram: Let's begin with the start of Nexperia: One of our community members asked, "After the company was divested from NXP, how did you guide your 11,000 employees to the new vision of Nexperia?"
Frans: Becoming Nexperia was something that both the management and many of our employees really wanted. We were aiming to get on our own feet and become a standalone, independent company and we steered into it as a natural part of the organization's evolution. It wasn't something that just happened to us.
Secondly, divesting from NXP was always about our personal beliefs and leadership. We proactively went to all our sites, all the factories, and explain on a personal basis why this was a good thing, what it meant for our investment policy, for our technology policy, and what it meant for our people,
Thirdly, it brought a lot of good things to Nexperia. We were perhaps somewhat underinvested in capital and R&D and people felt a little bit that we were a cash cow within NXP. Now we could become our own company with our own strategy, vision, and drive towards the future.
We immediately increased our spending on R&D and capital, and people saw proof that it was the next natural step for our company. Furthermore, the customer response was very positive, and people saw that customers liked the approach. That all came together.
So, we had a very good start in terms of results, as well as a good start with our people.
To be honest, the economy was in good shape, which of course helped to do something like this; the market was good. Timing was perfect.
Bram: Did you time it with the economy being in the right direction?
Frans: We timed the moment of divesting in two ways: From the NXP side we timed it in such way that they could sell the business at the right moment in the economy. From our side, we timed it when there would be high demand for our products. We ensured that our factories were fully loaded.
It was purposefully meant to be in a high economic cycle, both for getting a good selling price, as well as to have an easy start in the sense that we could immediately continue with our business and our growth plan.
Bram: What was the growth that you saw since the split from NXP?
Frans: In the last two years we grew at 30%, which is faster than the market and more than we anticipated; the business plan was based on smaller growth. Our market share also increased to 14% in 2018.
We aim to be a growth company, and naturally this must be profitable growth. A very decent profitability enables us to invest further in R&D, in factories, and in machines. It's critical in this business to grow. Growth was always limited within NXP, but now as an independent company, as Nexperia, we are fully equipped and aimed at growth.
Bram: How did your Chinese investors help you?
Frans: We were very lucky with our investors. They took a distance from the company because they knew that we were the experts, and they let us run the business. The investors were supportive by increasing capital, and they didn't take a lot of money out of the company, so we have a very reasonable debt level. Furthermore, they have a supportive organization with a strong management and international people.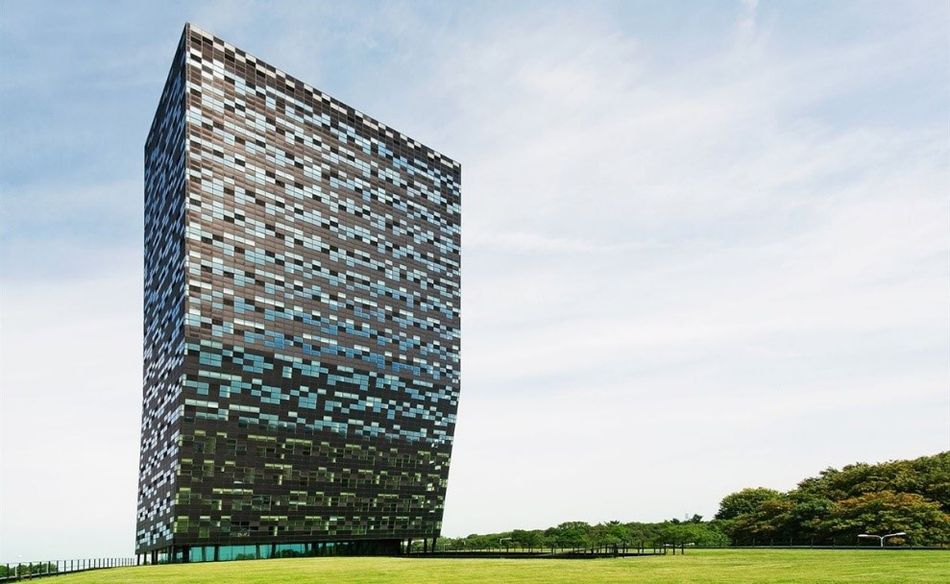 Nexperia's Headquarter in The Netherlands
Bram: Of course, you also personally have something to do with the success of Nexperia. Which moments at Nexperia or before that were the most important for you personally?
Frans: Like in any career, there have been many important moments. One moment of the most decisive moments where I played a role happened when from Phillips Semiconductors, we became NXP. A second moment was when from NXP, we became Nexperia.
While we were part of NXP we had proven to be a very successful business unit, so I had the confidence this could work. I had a lot of confidence in the team, as well as confidence in the trust of our customers and in the 11,000 people who were very committed and dedicated to making this a success.
Confidence is not complacency. You should stay humble, and you must realize that it's a market game as well. When the market is growing it's much easier.
Part of it is macroeconomics, and you don't influence those, but you should be ready. In every scenario of the market we could have done this; even if the market had collapsed completely we would have survived and have had a very good business. We aimed for a good economy, but we had the scenarios ready for what would happen if the market would have turned.
It's not a management thing, the total community should believe it, including R&D, engineering, the factories, the sales organizations, everything around it. A transition like this is not a thing that you can just direct from the top. In our case, people really felt that it would be great if we could become independent and really go for growth, for the next step.
Bram: A related question to this is "What specific skills, knowledge, or other experience from either those previous jobs or your education are most valuable now for the job at this moment?"
Frans: Knowledge from your study fades after a while. What you need later on are intellectual and emotional capabilities, as well as relevant experience. Naturally, you need to be able to understand technology, to be able to read a Profit and Loss statement, and to motivate people. All those things come together. It's not just one piece of education, or something else that makes the difference. You need a broad experience.
Very important is to have diversity in your team; diversity of thought in whatever way that is brought in. The biggest risk with a plan like this is that you have too many similar people. You really need to have people who can and like to work together, but also bring different experiences, backgrounds, and education. That is why we have Asians, Europeans, Americans, etc. in the management team. Diversity will make you more successful because you will challenge each other. And while it is more challenging, it is also very motivating and interesting.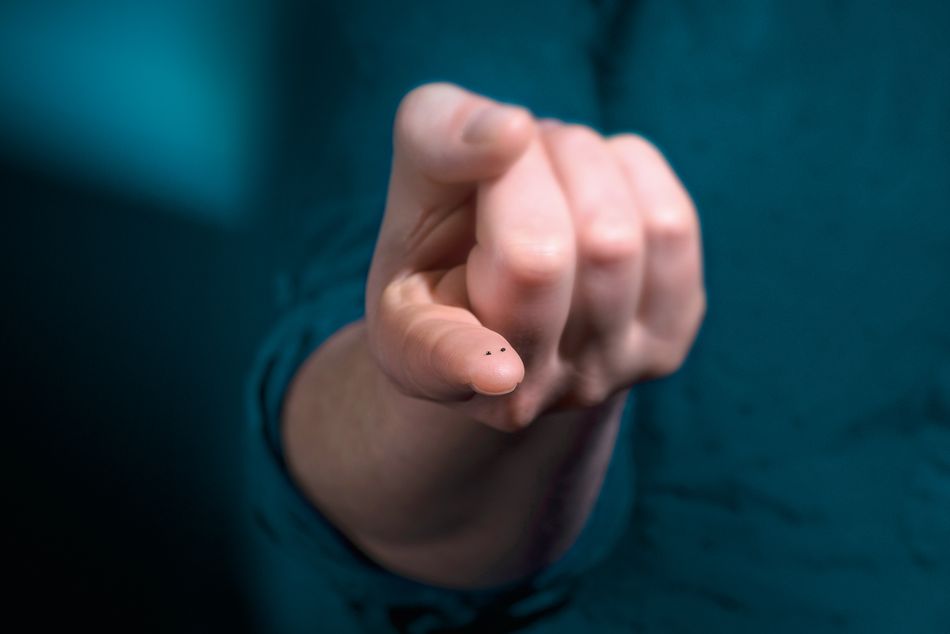 Nexperia manufactures over 90 Billion of these type of components per year
Bram: It seems throughout your story that you also place a very large importance on 'team.'
Frans: While the team is not the goal in itself, you have to realize that you can only do these kinds of things as a team. This is not a one-man show.
The team is not just the top of the organization, everybody plays an important role. For example, we do a lot of production ourselves, so if there is a major issue in production, then that will hit the whole company. Or if we engineer a new technology, and it has flaws, then it hits the whole company as well. What we try to avoid is silo-behaviour. The interest should always be for the overall company. If the company is doing well, then we will all do well.
It would be a mistake if you would think the team is only the leadership team. The team is wherever we are and that includes business partners, distributors, design houses, foundries, all kinds of other companies that we work closely together with. We try to make them also part of the Nexperia team and give them the same feeling. In a sense they are as important as our own people.
You need to align incentives and objectives, as well as create a kind of cultural feeling of what we find important, something which should be recognized by our partners. We want that our partners are doing well, and we believe in being responsible: It shouldn't be that we do well and someone else is suffering from it.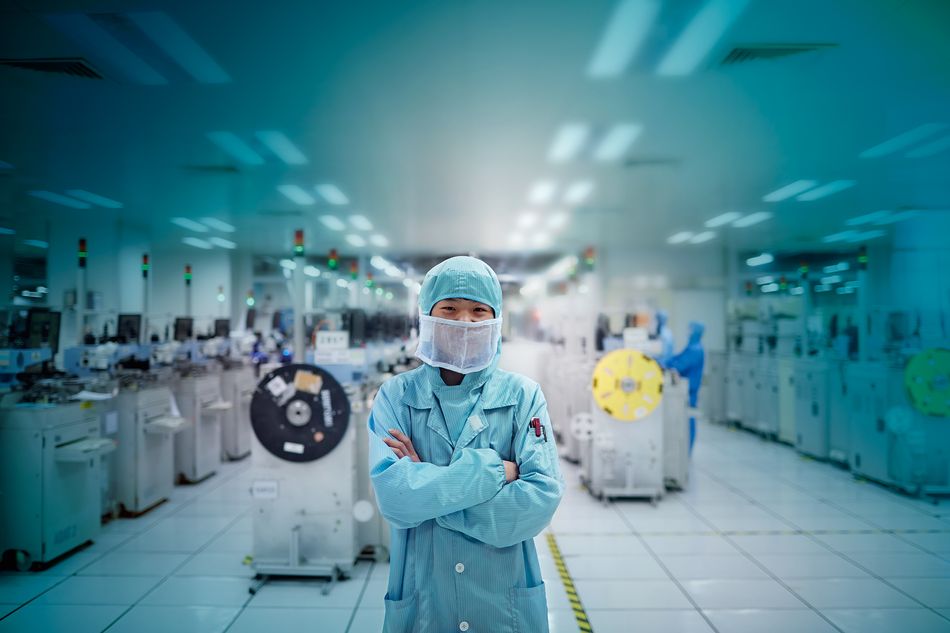 A worker at a Nexperia factory
Bram: You are 11,000 people by now. Wevolver community members were wondering; "Is it still possible for an individual to start a semiconductor company from scratch?"
Frans: It's actually a very good moment. Nowadays when you start a semiconductor company, you don't need to have manufacturing capabilities in house. We are a company that has its own manufacturing but that is not necessary anymore.
It all starts with having good, unique ideas. There are many ideas possible that you can engineer towards a solution with a smaller group, and when you finally come to manufacturing you find a partner who will do so for you.
Startup companies of 10-20 people can be very attractive as a potential takeover. Many things start that way and Silicon Valley is a very good example of a place where you have many startups that are often small, consisting of a few good people. These things are possible, and I would encourage people to do that.
Bram: Do you then think that the way innovation happens changes?
Frans: Innovation is a global thing nowadays; you can innovate wherever there are skills and competencies. Increasingly, from top-down and centralized programs, innovation is being decentralized and takes place wherever people have good ideas. I also think that innovation is more and more based on the ideas of people than on big firms in general.
It's not always an advantage to be a big company with big R&D funds. Great ideas are in the minds of people and they can be anywhere. For example, Asia has a fantastic impact these days because there are so many great engineers there. Great engineers can be all over the world.
There's much more competition these days and not only between big companies. As a big company ourselves, we try to have good contacts with people and to be open-minded. We don't think that everything that we invent is better, and we realize that all kinds of partnerships are possible. You can make an alliance, participate, or do all kinds of things that make it doesn't all have to be under the central hood of one big company.
Innovation must take place at the right moment. Especially for all kinds of mobile and IoT applications you need to develop at the right moment, at the right speed. Our R&D community is very much working on time to market. This is another reason why you cannot do everything yourself. You simply don't have the time or the bandwidth, so you need to benefit from partners who work at a different speed or work on different technologies and bring that back to one solution.
Bram: You alluded already to it being a very interesting moment for the semiconductor industry. "How do you see the industry and the market develop?" was asked in our community as well.
Frans: The semiconductor market gets more and more important. For example, automotive, mobile, IoT, and the whole 5G business, are all macro developments where semiconductor technology plays an instrumental role. The average amount of content per device is increasing. It's absolutely a growth market.
The semiconductor industry was based on silicon, but now you see more gallium nitrites, silicon carbide, and there will be all kinds of new technologies that we hardly know about yet. It is still open what exactly the non-traditional materials outside of silicon will be, and which will be the leader. The market in terms of technology and what is required is absolutely exploding.
Bram: That last point is indeed something that our community was also interested in; the technical developments, "Are we reaching the end of silicon or will we keep using that in parallel?"
Frans: Silicon will continue to be very important and so will Moore's Law. However, outside silicon different materials will increasingly play a role. Many people are investing in those areas, and so are we. Furthermore, what happens at the moment in universities is major.
Semiconductors play an important role in all our lives, and increasingly so. People are often not even aware that all day they use semiconductor technology; you can't live anymore without embedded technology. Because people don't necessarily like to be confronted with technology, we shrink it and shape it in user-friendly ways. The need for capacity, speed, and small devices is increasing.
Secondly, the environmental movement is much more important now: We need to develop chips that use less power and generate less heat. Nowadays, when we work with customers, one of the first things they'll ask is; "Is it sustainable?" "How can it use less energy?" At the same time customers want to add more functionality into our products.
Bram: A related question that came from the community was; "What are important developments regarding the specific components that you at Nexperia are developing."
Frans: Miniaturization and combining more functions in one chip are very important. Secondly, energy and heat consumption are critical. Cost also matters a lot, as technology is getting cheaper and cheaper. At Nexperia we benefit from economies of scale because of the volume of products we produce.
Today we launched our gallium nitride solution, for 650 volts, which is a very important step, for example in automotive, higher efficiency in server parks etc. It's one of the interesting new technologies.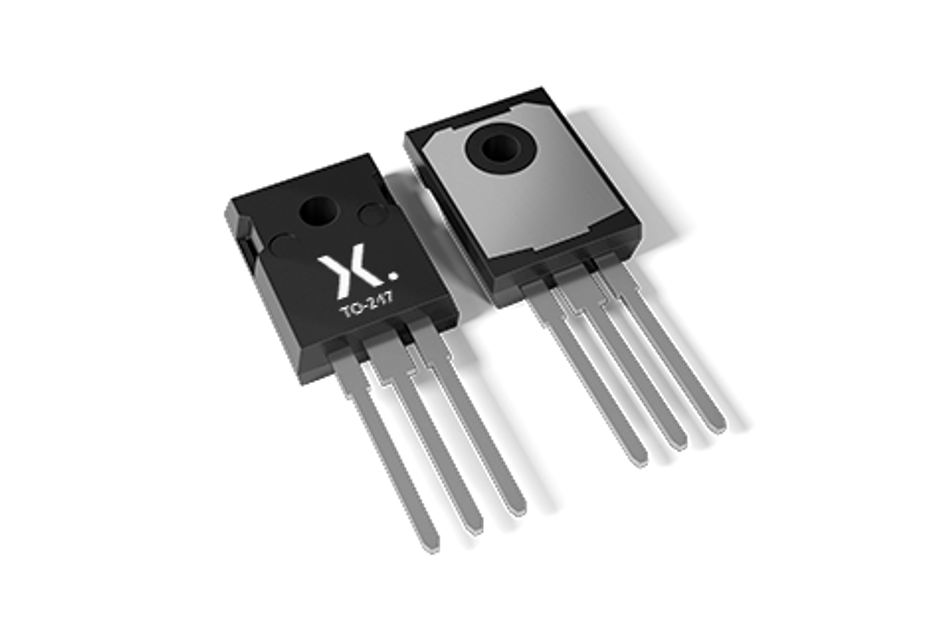 650 V, 50 mΩ Gallium Nitride FET housed in TO-247 package
Bram: How long has your Gallium Nitride product been in the making?
Frans: A long time; as a technology we started talking about Gallium Nitride roughly 10 years ago. To get to a full proof solution takes quite a while. It's a different game to make a real product, a product that fits customer requirements, has the right cost level, and which you can also produce at large volume. This is a change of technology and that takes time.
Breakthrough technologies like gallium nitride and silicon carbide are long term projects. These kinds of developments often start in a research environment very close to a university. From there these technologies go to start-up companies and then bigger companies get interested. Ultimately you get interest from customers who understand the actual requirements.
Bram: We are nearing the end. To wrap up, is there something that you want to share with the engineering community? Something that you think every engineer should know about.
Frans: What engineers should know is how important their role is in the world. Besides making just new or faster products, technology can help solve many issues, from the environment to improving people's lives.
What I like about the engineering community is that it's a very global world. Working together is the way to avoid conflict because you'll get respect for each other and will see that we are more or less the same and are all working on interesting stuff.
Engineering is a critical role and you couldn't have a better moment in time to work in technology than now. So many things are happening. You need to work together and be open-minded and realize that technology is absolutely of key important.
Bram: It's a very good one to close on. "Engineers should know how important they are."
Frans: They really are, and they should play a bigger role than only making a faster or cheaper chip. Engineers should try to positively influence the lives of people. 'Why' you are making something is very important, and you always need to consider that. You can choose to can make a chip for a military purpose or one for healthcare. That makes a difference.
---
I would like to thank the community for all the submitted questions. To learn more about semiconductor technology, for example read "How Advanced Driver-Assistance Systems (ADAS) Impact Automotive Semiconductors" by Ahmed Faizan Sheikh.
You can find more about Nexperia at http://www.nexperia.com
For another interview with a key figure in the hardware industry you can read the Community Q&A with Fabio Violante, CEO from Arduino.