CASE STUDY: Rapid Tooling for Tail Light Project
A case study for fabricating a tail light, including housing, reflector, light guide, bezel, and more
For this tail light project, a housing, reflector, light guide, bezel, outer lens and other components needed to be fabricated. The overall assembly size was about 600 x 400 x 150 mm, which is relatively large, and the customer wanted to test real materials. In this case, 3D printing, CNC machining or vacuum casting would not have worked; prototype molding was the only option.
The customer needed 200-300 sets of tail lights for testing, but mass production tools wouldn't have been ready for eight months. They needed a solution to get good quality moldings by their deadline and at a much lower cost than production tools.
How to shorten the manufacturing time?
Fully understanding the project – As a rule of thumb, fully understanding the project at hand can help save a lot of time, as it reduces the need to constantly go back and forth with the customer. For this project, we got to grips with the task quickly by finishing the mold design and analysis within a week — a process that normally takes a month for traditional mold-making companies. In the meantime, we ordered all the materials for the project, so we could start work as soon as the customer gave the go-ahead.
Choosing the right material for each tool — aluminum or steel — depends on what type of moldings we are going make, and our engineers are experienced enough to identify the appropriate material for each component. Identifying components that are suitable for aluminum molds is particularly helpful, since these can be made in a shorter time.
For mass production molds, the mold cavity will normally be made in one piece to ensure a mold life of 100K to 1000K shots. But since this was a low-volume prototype mold project, we needed to find the right balance between quality and speed.
Optimize the mold design – After analyzing, we decided to split some of the cavities. For example, the mold core for reflectors could have been made as one piece, but it would have been complex and would have taken a long time to mill using a 5-axis machine. When we split it into a few pieces, we could make those pieces with two or three machines, which reduced the time by more than half without sacrificing quality.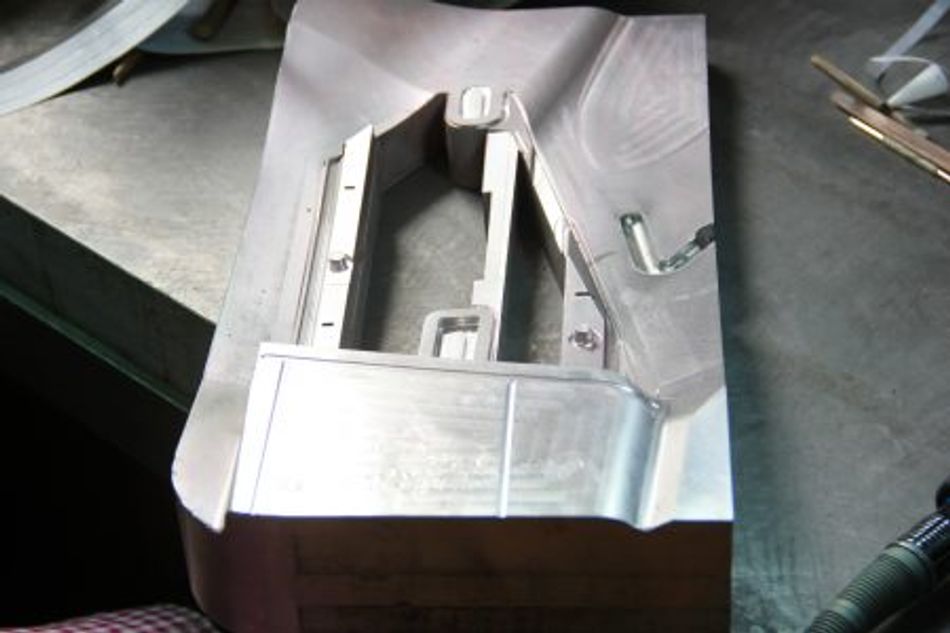 Other key decisions were made while seeking the optimum balance between cost and quality. For example, by using hand-load inserts, we could avoid having to make an overly complex mold with lifters and sliders. Due to the volume of the moldings and the cycle time of loading and unloading the inserts, this was the more cost-effective option.
Using stock mold base – Additionally, all mold cavities were designed based on our stock mold base. That meant we didn't have to spend time and money ordering new ones, which in turn helped to shorten the lead time, saving money in order to meet our customer's budget.
Our past experience with similar projects also helped us make certain decisions. For example, the outer lens of a tail light generally requires 2K (two-shot) molding — red for the brake lamp, white for the reverse — and this project was no different. Unfortunately, 2K molds are always expensive to make.
But when you need 200-300 sets, we can save money by making a transparent molding and then partially painting or tinting the moldings as required.
In the end, the project finished within the given deadline, and the customer was able to test the lights on a prototype car without waiting eight months for mass production molds. In the meantime, they had the opportunity to modify and improve parts of the design.


If you have questions, or feedback, feel free to leave them below in the comments.
---
Sponsored content
This article was created in partnership with 3ERP. If you are interested in sharing sponsored content on the Wevolver platform email us at richard [at] wevolver.com. Wevolver reaches more than 6 million young, professional engineers and engineering students every month. To learn more visit our "Marketing Solutions" page.