Why is 3D printing well-suited for mass-customization
Mass customization and 3D printing make a good combination. Discover how you can make customers part of the product creation process with 3D printing.
Introduction
As consumers increasingly tend to value the importance of being recognized as unique, how can standard products be designed to fit individual needs?
For many, the answer to this question comes down to adding modularity to manufacturing, or put differently, to tailor mass production techniques to certain customer requirements. This could be a definition one could provide to "Mass-customization".
Whether to differentiate products or to reduce waste, setting up mass-customization processes can help achieve advantages, but it has to address certain pitfalls. Here, we are going to present you with the benefits of mass-customized products, as well as the reasons why 3D printing can help you switch to this approach for production. Finally, we will go over some great and illustrative examples of 3D printing mass-customization projects.
What is mass-customization?
Companies have come up with different variations for this concept, with respect to how they implement it in their product lines.
Adaptive customizers allow certain modification possibilities to customers. Collaborative customizers, on the other hand, encourage customers to articulate their needs in-depth and to offer products suited to them. In the end, mass customization could be anything between choosing car colors to adapting eyewear to one's face shape.
The bottom line of mass-customization is about giving customers the ability to participate in the creation process and integrating this input on a mass-production scale.
In turn, choosing this approach entails certain challenges, as it relies on a very efficient and lean supply chain set-up, as well as a flexible, generally automated production process.
Why is mass-customization relevant to businesses?
Customers are changing, what we used to consider as one group of consumers isn't homogeneous anymore. Based on this belief, products may not appeal to masses the way they used to. According to some business theorists, mass-customization is the key to redesigning this ageing mass-production approach.
On the customer's side, mass-customization empowers them with the possibility to tune products to their suiting, and allow them to feel that they are recognized as individuals.
For the manufacturer, mass-customization brings about inventory and waste reduction. Indeed, this approach to business hinges on a lean manufacturing pace and supply chain, while mass-producing standardized goods may result in production overruns and additional costs.
Along with this advantage, mass-customization is of course important to brands as it drives differentiation.
Which production process for mass-customization?
Traditional manufacturing methods and mass customization
What makes the shift towards this approach challenging, is that most production processes are well-designed to produce standard goods on a large scale, but can hardly cope with the variations that mass-customization involve.
Manually changing the product requires an impossible amount of labour, and thus, a large increase in labour costs. Such an increase, that one may not be able to succeed as a business if one wishes to provide customization to many or all customers.
Changing a mould or a machine's production style is of course possible, but it wouldn't allow businesses to customize items on a large scale. Hence before going for mass-customization, it is of course paramount to identify which features of a product can easily be customized, and those which can't. Proposing different finishing options can, to that end, be a sound way of implementing mass customization.
Using 3D printing for mass-customization
When it comes to mass-customization, Additive Manufacturing presents interesting economic benefits. 3D printing does not require any moulds or specific tools that normally are needed for traditional manufacturing methods. With the set-up of the right digital tools, the customization choices that customers make can be implemented within the 3D file straight away, and then go to production.
Because the production process costs the same for either 1 or 1000 3D printed objects, mass-customized products can be 3D printed without having any bearing on costs.
What are advantages of 3D printing for mass-customization?
A unique buyer and customer experience
By offering your prospects and customers a unique buyer experience – you will be one step ahead of competitors who don't do all of this. Mass customization in 3D printing, in general, is a new frontier in business competition for it allows an increase in customer satisfaction. If you implement the right customization technology, that is adjusted for customers to easily alter your product, the customer would already feel more included in the production of the customized product – leading to an increased feeling of attachment to the purchase. Once the customer actually receives the altered customized product, he or she will feel more fulfilled with their purchase by seeing the physical changes to the product. Customer experience will improve as a whole because of these improved changes.
A flexible production process
3D Printing doesn't imply has much fix costs as traditional techniques do. The cost of setting up manufacturing processes for specific products is lower, and in turn, doesn't require to be amortized over big production series. The reason for this is that 3D printing, unlike injection molding, doesn't rely on moulds and directly adapts to any product. Designs can be iterated with different variations without leading to cost increases or productivity losses. This advantage can highly contribute to helping companies cope with a milestone requirement of mass-cutomization : Setting up a flexible production process.
Qualitative and fast
By making use of 3D printing, you and your customers have the option to choose out of many different qualitative materials ranging from plastics to metals. Many products of your product line can thus be manufactured with 3D printing. Free of any retooling or mould change, the manufacturing process itself is faster. This speed, along with the ability to provide customers with wide-ranging materias, is key to offering relevant and meaningful customization options without slowing down your product flow.
Examples of mass customized 3D printed products from companies
Companies across sectors have already perceived the benefits of mass-customization and 3D printing. Here are some examples of very innovative projects that this technology made possible, to boost your creativity:
High-end furniture customization and 3D Printing: Poltrona Frau
The exclusive Italian furniture company, Poltrona Frau, is one example of a company that makes good use of 3D printing for mass customization and allows customers to customize the furniture pieces themselves. Poltrona Frau offers customers a 3D tool on the website for them to visualize their furniture and then to be able to customize it. Because high-end furniture companies like Poltrona Frau already implemented manual customization even before the use of 3D printing, 3D printing allowed then for them to have a manufacturing technique that is faster and reduces labour (costs) in general.
3D Printing mass-customization in the Car industry: BMW's MINI Yours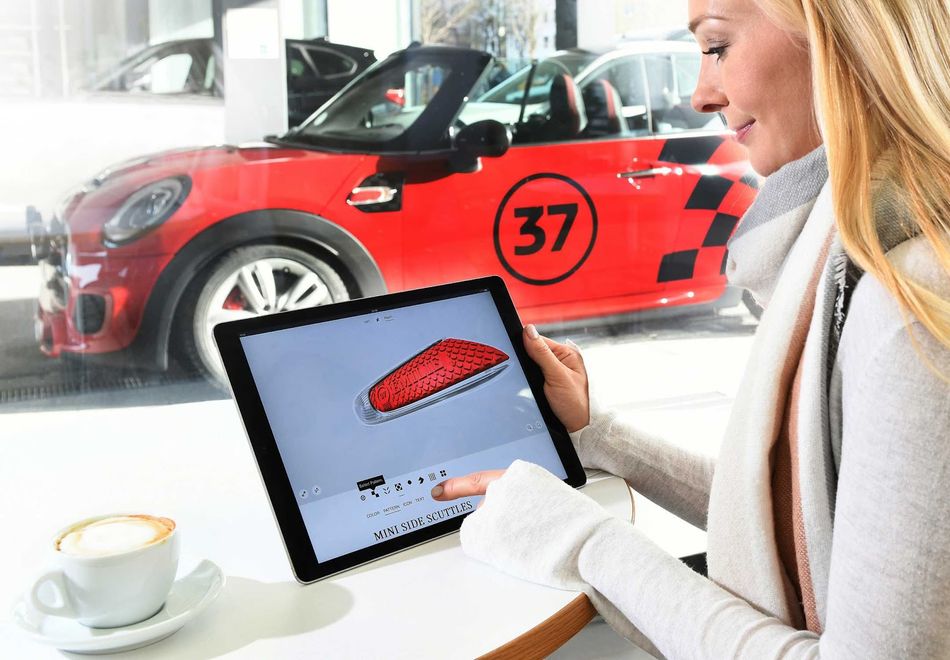 Credits: MINI Yours Customized
Mass customisation can even be implemented in the automotive industry. For BMW's MINI series, the MINI Yours Customized service was brought into existence for BMW MINI users. This service is a fine-tuned and fully implemented mass customization service. A new online shop was set up where clients can indicate the customized changes they would like to have implemented for specific parts of the BMW MINI – such as the door handle or parts of the side plate. These customized parts are designed to the client's creative style and made from the same high-quality materials that the actual car itself is made from.
Mass-customized scale models: 3D printed Skoda Fabia models
Staying within the automotive industry, Skoda's mass customized 3D project is one to mention as well as it was part of their marketing strategy. In order to increase product awareness and traffic of their (partnered) car dealerships, Skoda invites clients to their website and lets them create a customized Skoda Fabia with a 3D modelling window implemented in their UI. The website and UI for this project were devised by Shivacom and our team at Sculpteo were in charge of 3D printing the customized Skoda models. This customized Fabia will then be produced but in pocket format. The possible client can then pick up the customized Fabia at one of the dealerships where he/she then experiences a real-life-test drive with a Fabia model: A perfect example of experience economy where customers try something out before purchasing and thus increasing the likelihood of an actual purchase.
Mass customization in the Electronics industry: 3D printed NORMAL earphones
Earphone producer Normal makes customized 3D printed earphones. The customization is done in a specific way. By downloading their app, one can take a picture of one's ear, then upload it to the app which then allows the user to receive custom earbuds, fitted to their ear size and comfort preference. The picture of the ear itself is merely 2D but Normal is able to produce a custom-fit pair of earphones within 48 hours.
Obviously, these examples of 3D printing mass-customized products are just a few. If you want to get more insights into what Additive Manufacturing allows for, feel free to sign up to our Newsletter.