The Future of Agriculture: Adopting More Advanced Robots for Next-Gen Farming
With robots in agriculture becoming more of the norm rather than the exception, the term high-tech farming is no longer an oxymoron. Farming robots are now involved in almost every farming activity, helping farmers fill labor shortages and supermarket shelves simultaneously.
The word 'farming' usually brings to mind the image of a shabbily dressed man plowing the fields using a classic tractor and sweating it out under the hot sun. However, that picture is not entirely in tune with the current version of reality. Agriculture has become high-tech today with various mechanical and automation tools, including robots, thus making farming sophisticated and comfortable by leveraging AI-ML (Artificial Intelligence- Machine Learning), IoT devices, etc.
Automation is the name of the game
The time-tested solution to overcome manual labor is automation. Automation is already present in farming with machines like tractors, harvesters, weeders, and even irrigation appliances. However, that will not suffice to cater to the growing demand for labor in the agricultural sector. Hence, agriculture robots must be designed, keeping the following aspects in mind:
Mechanical structure, dimensions, and frame of the robots
Agility, maneuvering, and flexibility of the system
Robust and fully tested electronic control units, power supplies,
Powerful communication and remote controlling systems
Limiting human intervention by maximizing system automation
The situation is perfectly ripe for the entry of agriculture robots to usher the community into the world of digital farming. While designing future agri-robots, the architects and designers must consider emerging technologies along with the aspects mentioned above, such as:
Internet of Things (IoT): A large technologically advanced farm may have thousands of devices connected to the internet. The IoT ecosystem will help connect the robots to its ecosystem via various connectors, actuators, and sensors.
Cloud Computing & 5G: IoT devices will generate petabytes of data that needs to be processed and transferred at lightning speed to help robots in cognitive decision making.
Artificial Intelligence-Machine Learning (AI-ML): Already an integral part and base of robotics, AI-ML must be leveraged as a guiding principle for agri-robots.
Benefits are endless: Where can agricultural robots help?
Farming consists of various repetitive and tedious tasks that take their toll on the farmers. Agricultural robots can automate such jobs with the mechanical robotic arms incorporating specialized manipulators, grippers, and effectors, thereby allowing farmers to focus on improving their overall yields. Here are some examples of how farming robots can help in making it easy for the agriculturist.
Planting And Sowing Seeds: The automatic seed-sowing robot is one of the simplest examples of robots in agriculture. This device can reduce the time and labor required for the farmer to sow seeds.
Harvesting And Picking: Compared to sowing/planting, harvesting is a specialized activity involving more moving parts like manipulators and two-fingered grippers. The manipulator helps in controlling the position and height of the grippers as they do their job. Farming robots can be helpful to enhance speed and accuracy while reducing wastage. Thus, it can result in improved yields.
Weed Control: Weeds have always been the most significant enemies of farmers as they grow with impunity. A mechanized robot can help pull out these weeds and prevent them from causing harm to the crop. The machine uses AI to distinguish between weeds and crops. Continuous digitization of crop and field images along with spatial and temporal information helps in the purpose.
Robotic Greenhouses: The future of agricultural robots is in constructing automated greenhouses. In this way, it does not require the robot to go to the farms. On the other hand, it is the other way round as the farms stay indoors. The world's first autonomous farm is in San Carlos, California.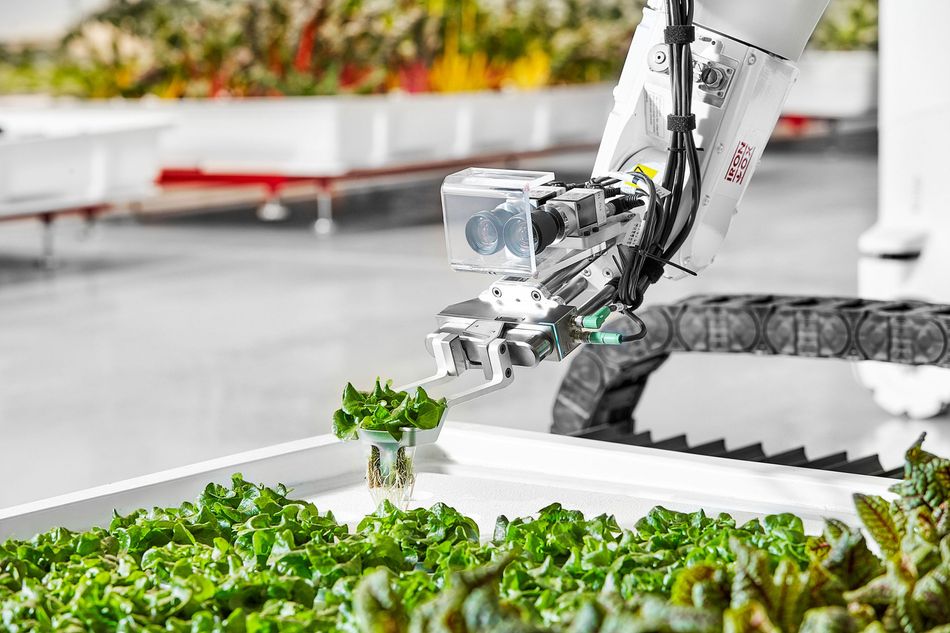 Image courtesy of IRON OX.
Seed Planting Drone: Aerial drones have various advantages. They can reach areas that humans cannot. The seed-planting and aerial imagery drones are some of the best uses of robots in agriculture. Aerial imagery helps the farmer get a bird's eye view of the fields, making it easy to monitor the vegetation's health.
Cloud Seeding Robots: Crop failures due to drought may be a thing of the past, thanks to agricultural robots that can perform cloud seeding activities. This process involves spraying the clouds with silver iodide, thereby producing ice crystals to facilitate faster precipitation.
20 robots revolutionizing the agricultural landscape
Here are 20 examples of popular agricultural robots that carry out various functions related to farming.
1. Tertill
Tertill, a 4-wheeled robot, removes weeds independently using a nylon string under it. It is suitable for home gardens and small farms. It has a solar panel incorporated and only weighs 1.1 kg.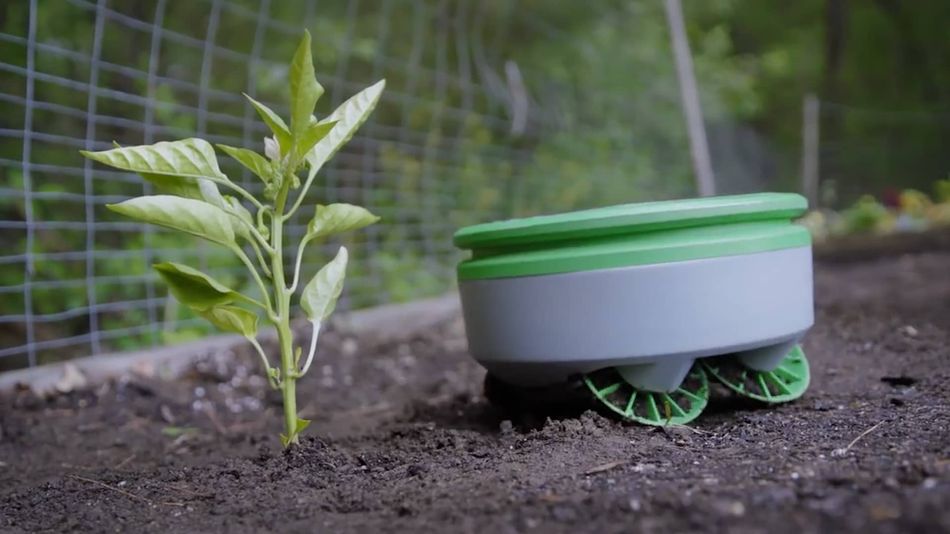 Image courtesy of Franklin Robots.

2. Octinion
The Rubion model robot from Octinion identifies and plucks ripe strawberries without bruising them. It also weighs and places them safely in the punnet.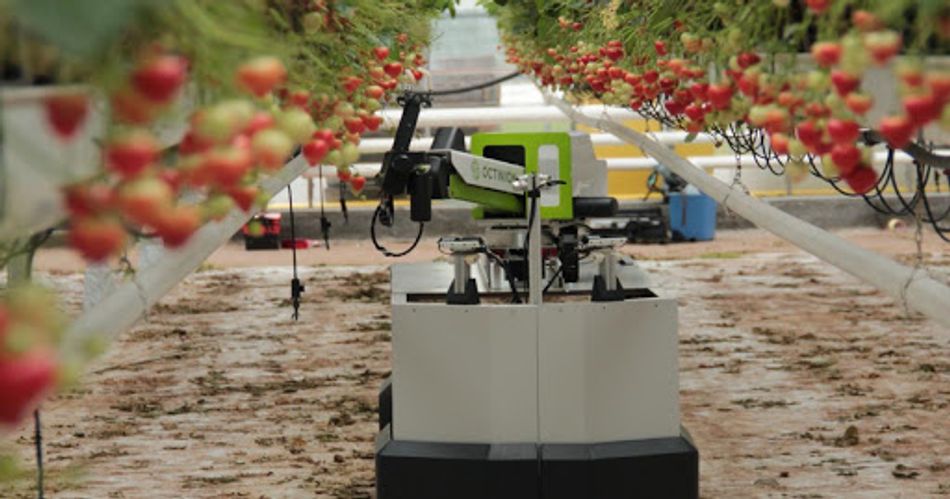 Image courtesy of Octinion.3. SmartCore
SmartCore helps in collecting soil samples intelligently for analysis. It makes sure to collect them from the same point every season to analyze the field's evolution accurately.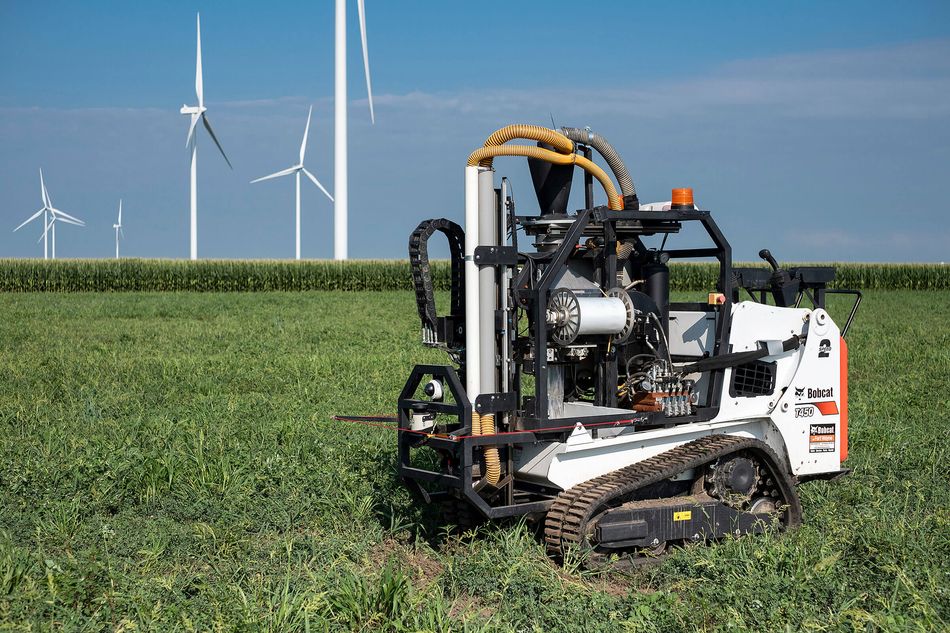 Image courtesy of Purdue Research Facility.
4. Fendt
Fendt's robots work in swarms across the field to plant seeds. It uses satellite-based navigation to accomplish the task.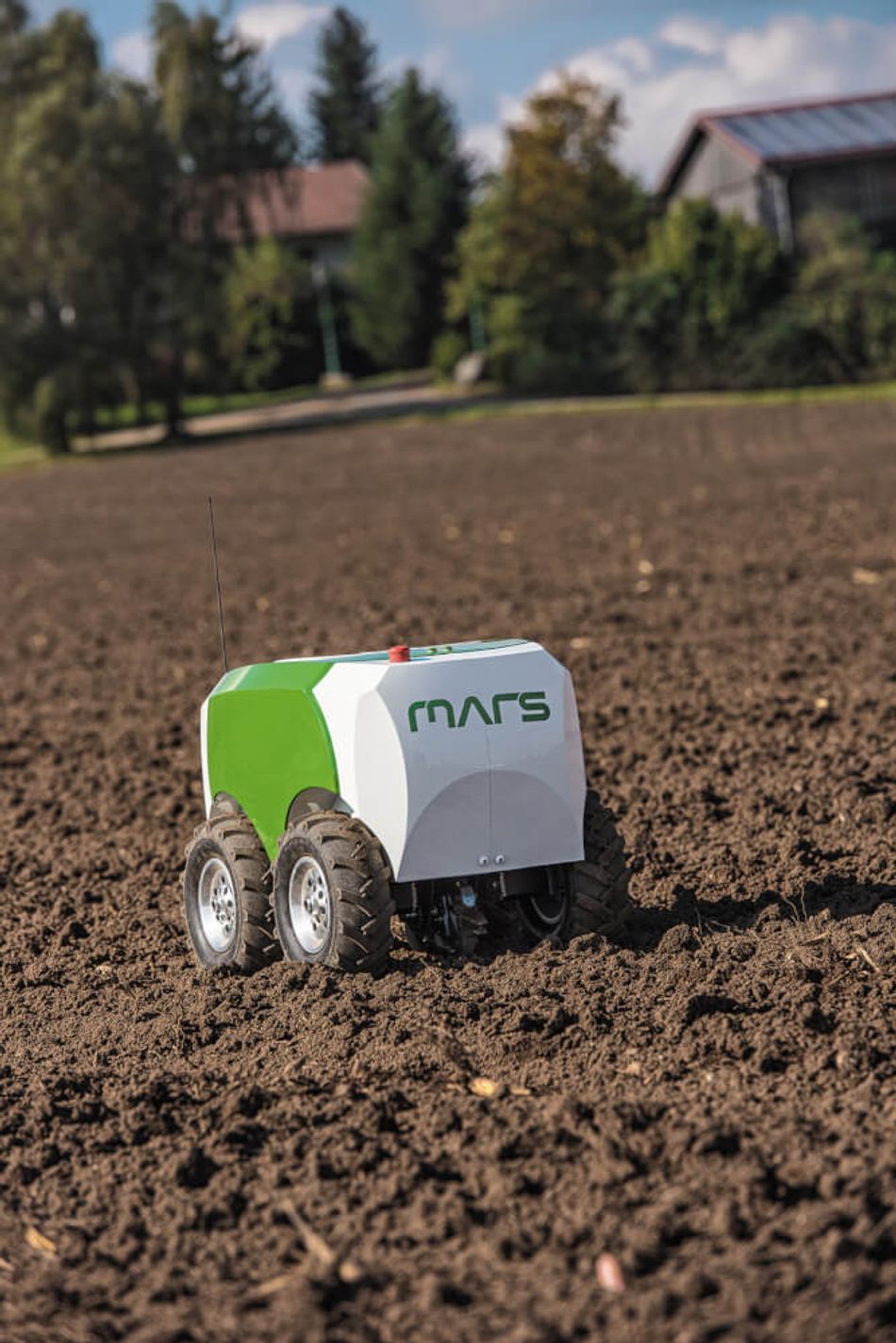 Image courtesy of Fendt Xaver.
5. Dino
Dino from Naio Technologies works autonomously using the GPS guidance system for weeding large fields. It can work on predefined schedules like weeding every week.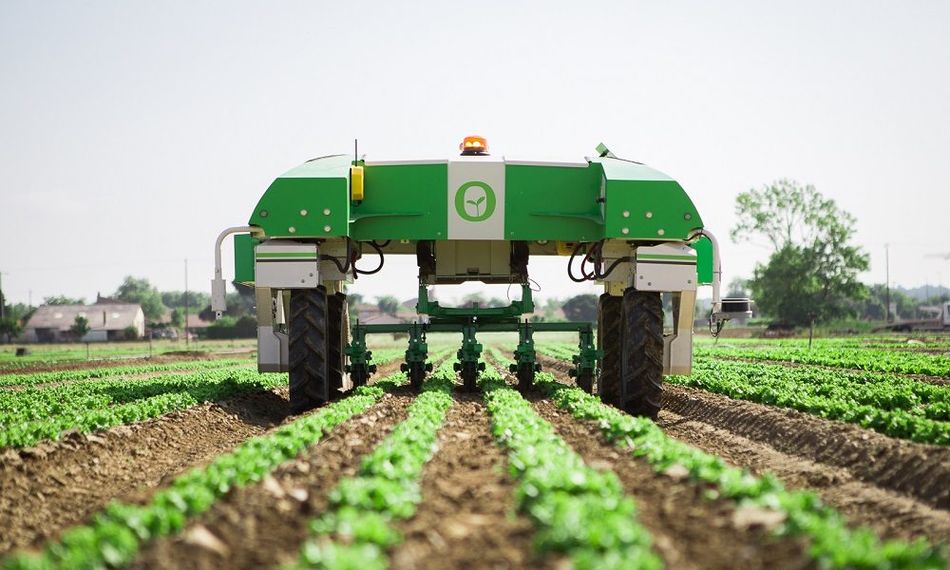 Image courtesy of Naïo Technologies.6. Agerris
The SwagBot robot from Agerris will work based on AI software control and can weed, monitor crops, and even watch cattle, eliminating watch dogs.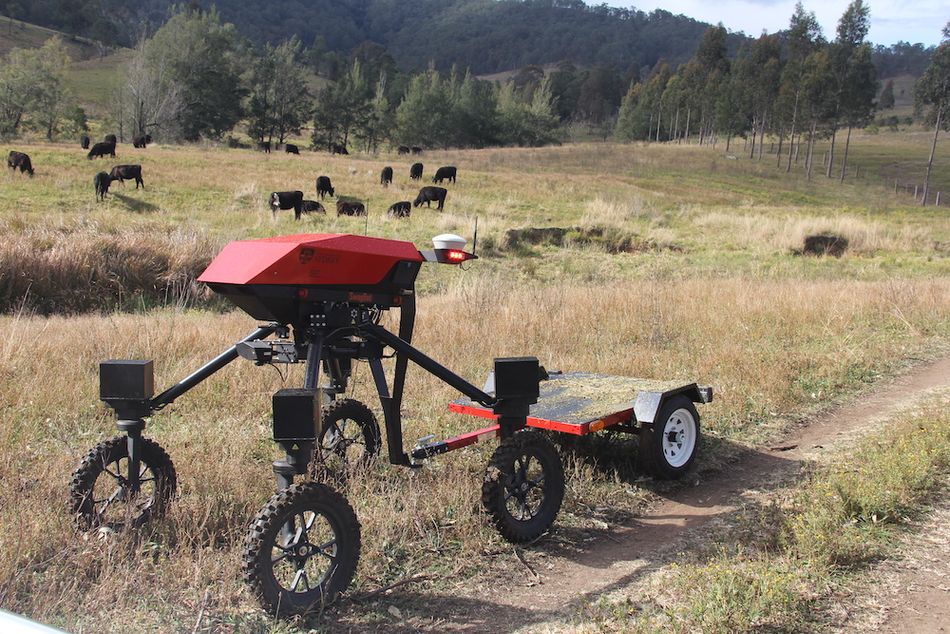 Image courtesy of Farm Online.
7. Mamut
Mamut uses sophisticated technologies like an AI system, compass, and six 360 degree cameras for its work. It roams the field and captures images, helping to identify diseased crops.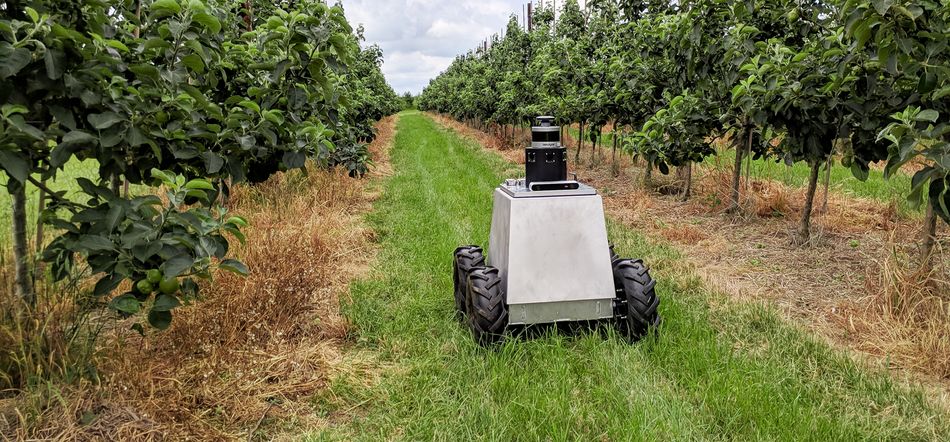 Image courtesy of Cambridge Consultants.
8. FarmWise
FarmWise is a versatile robot used for weeding and adapts to different environments. It works with an AI-controlled mechanism and Deep-learning algorithms.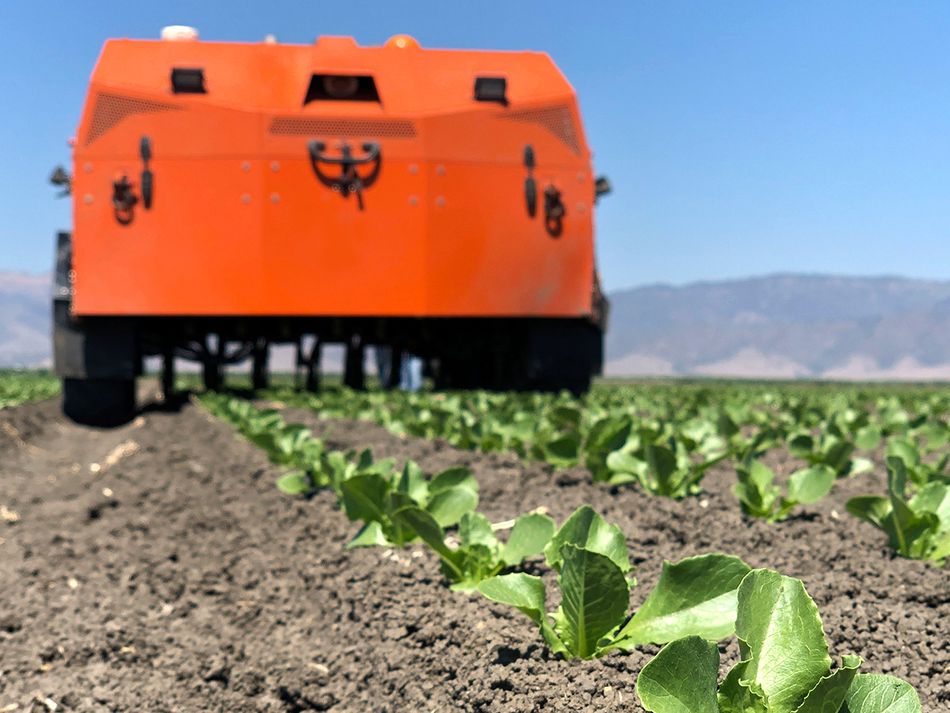 Image courtesy of FarmWise.9. ecoRobotix
Ecorobotixs is a scan-and-spray robot targeting its enemy accurately with the help of a camera system and AI-control. It sprays 20 times less pesticide than traditional spraying methods.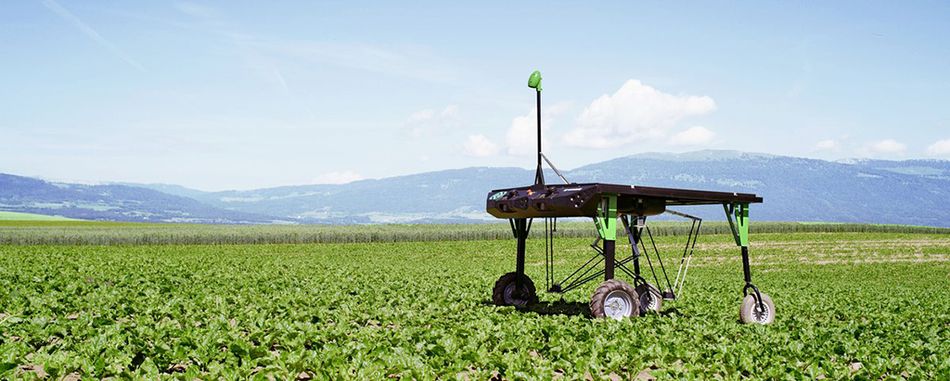 Image courtesy of Ecorobotixs.
10. Thorvald
Thorvald is envisaged as a versatile robot performing many functions and replaces human labor to a significant extent. It navigates the field without damaging plants and can even carry loads.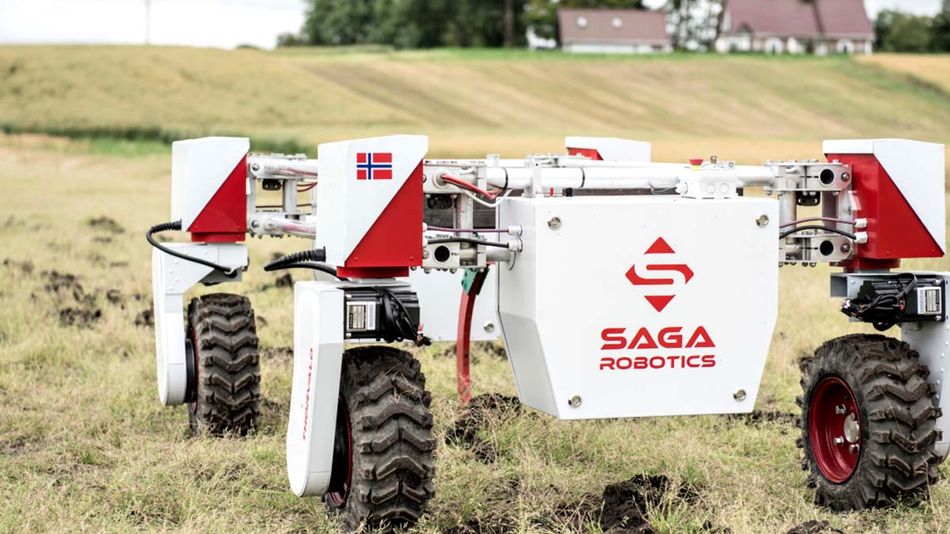 Image courtesy Saga Robotics.
11. Energid
Energid is a harvesting robot mostly helping in picking citrus fruits. It can pluck one fruit in 2-3 seconds, and the overall cost is cheaper than human labor.
Image Courtesy of Energid.
12. Agrobot E-Series
The E-Series is another harvesting robot with an AI system and 24 robotic arms. It not only picks strawberries but can also identify the ripe ones accurately.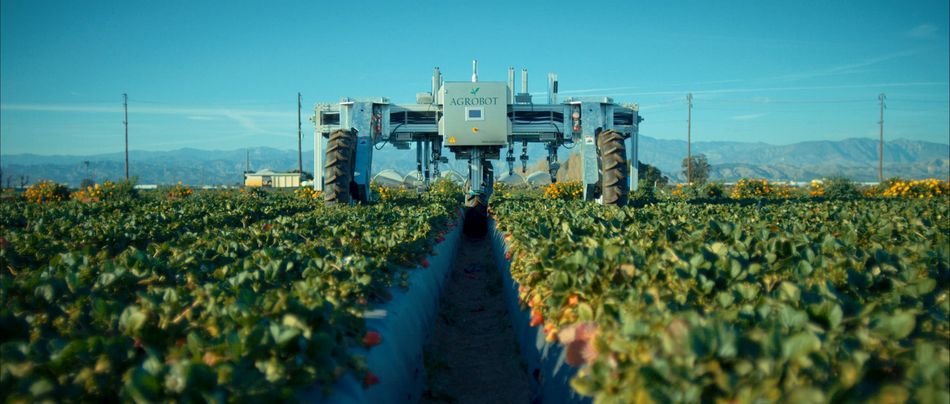 Image courtesy of Agrobot.13. Blue River
The LettuceBot2 robot from Blue River helps farmers in thinning out the lettuce fields. It attaches to a tractor to do its work.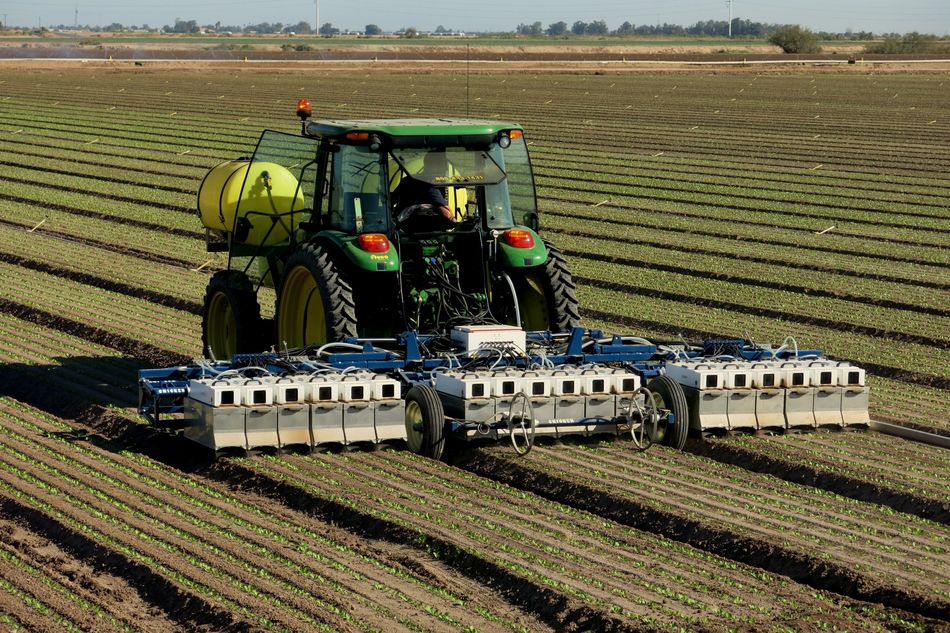 Image courtesy of Blue River Technology. 14. Agribotix
Agribotix by AgEagle Aerial Systems is a drone robot that helps monitor the crops and even measures their health. It captures aerial photos and records videos and also has an infrared sensor system.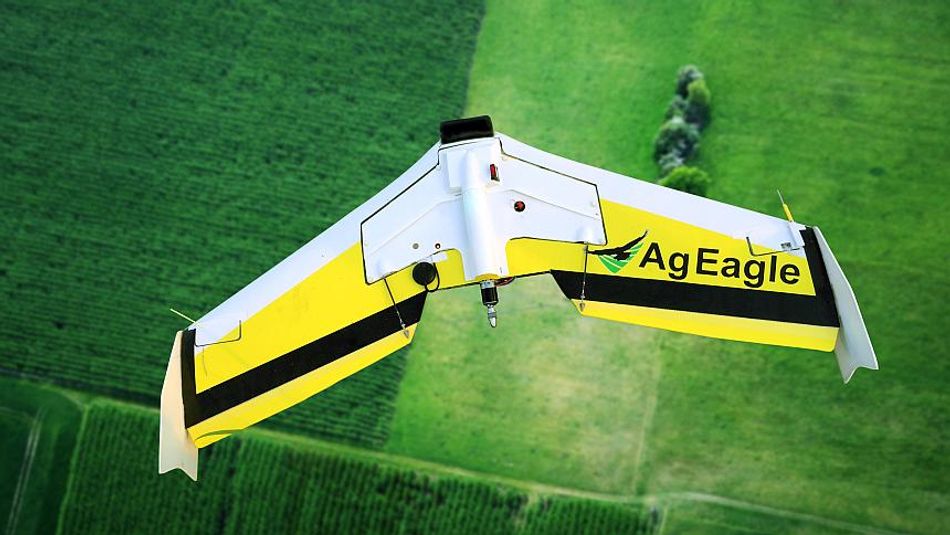 Image courtesy AgEagle Aerial Systems.15. Vision Robotics
The Vision Robotics range of robots can automatically thin plants, especially lettuce, and prune vineyards. It is sophisticated with its AI-powered mechanisms.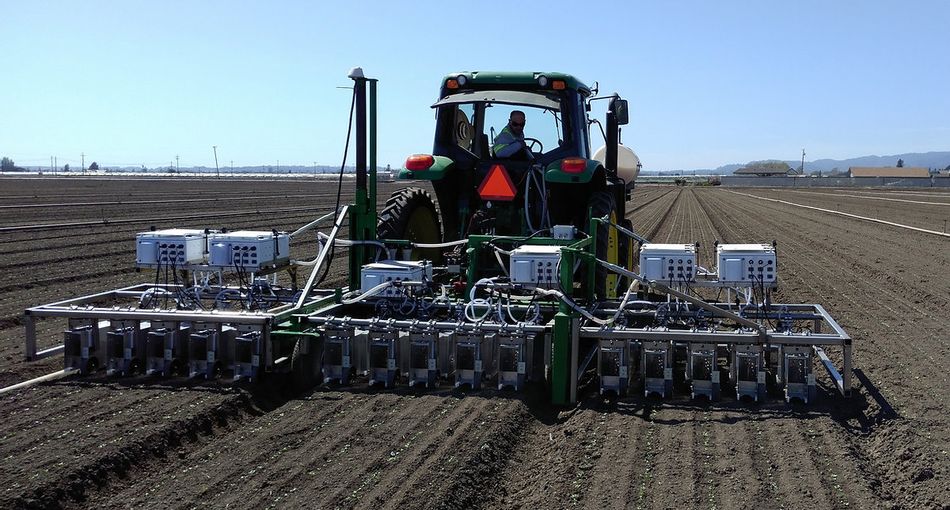 Image courtesy of Vision Robotics.
16. RoBoPlant
RoBoPlant helps in planting seeds using its semi-automatic and fully automatic modes. It finds optimal patterns for planting and is suitable for greenhouse management.

Image courtesy of ISO Group Agri Systems.17. PrecisionHawk
PrecisionHawk is a versatile drone robot that can help farmers with many sophisticated functions. It leverages multispectral, hyperspectral, and LiDAR technologies to perform tasks.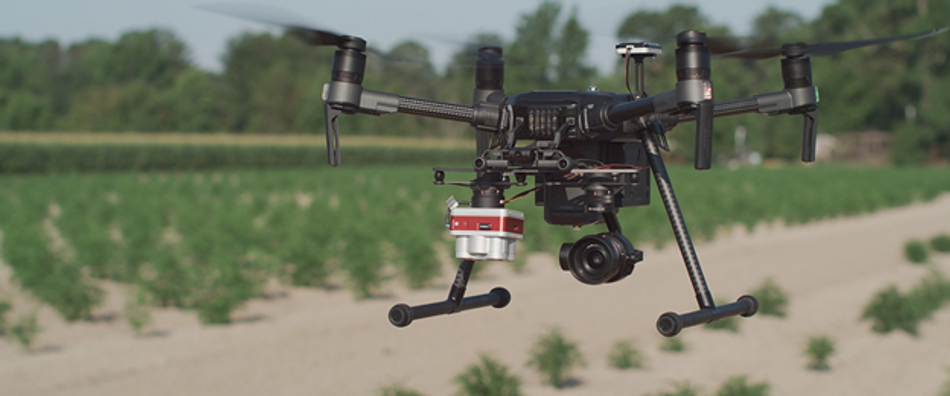 Image courtesy of PrecisionHawk.
18. Harvest CROO
Harvest CROO is a harvesting robot with sophisticated parts for grabbing the leaves, picking the strawberries, and packing them. It can distinguish between ripe and unripe fruits.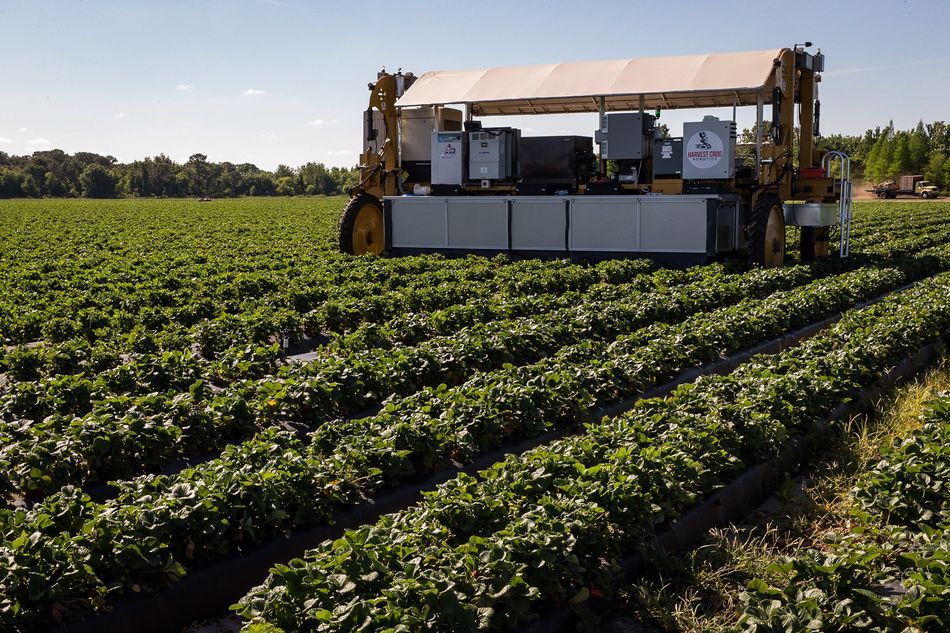 Image courtesy of Harvest CROO Robotics.
19. Abundant Robotics
Abundant is an advanced apple-harvesting robotic brand. It can identify the ripe ones, pluck them, and then store them. It works based on a vacuum-control mechanism and uses advanced algorithms.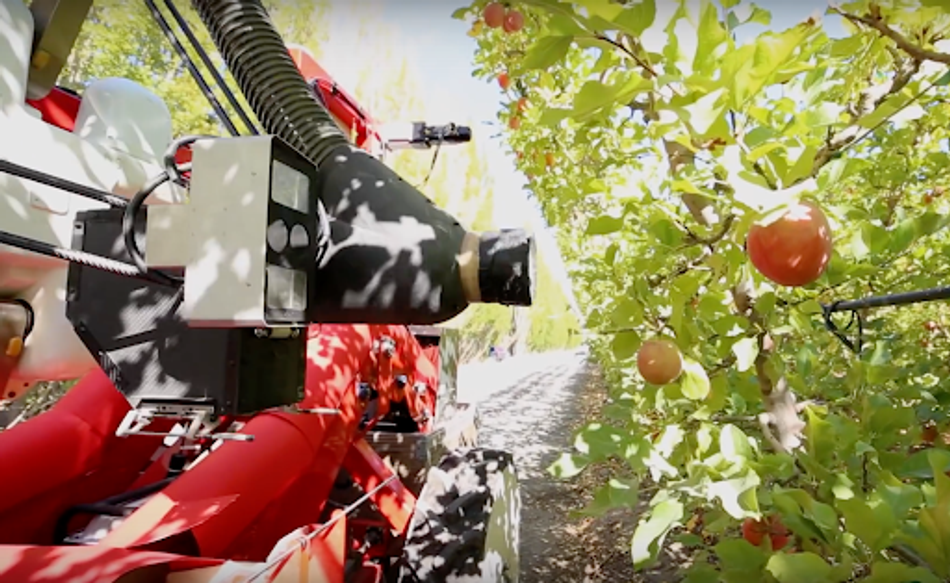 Image courtesy of Think AgriBusiness.20. Nexus Robotics
The award-winning R2Weed2 robot from Nexus intelligently distinguishes between weeds and crops and removes weeds efficiently. It performs environmental monitoring and soil analysis alongside too.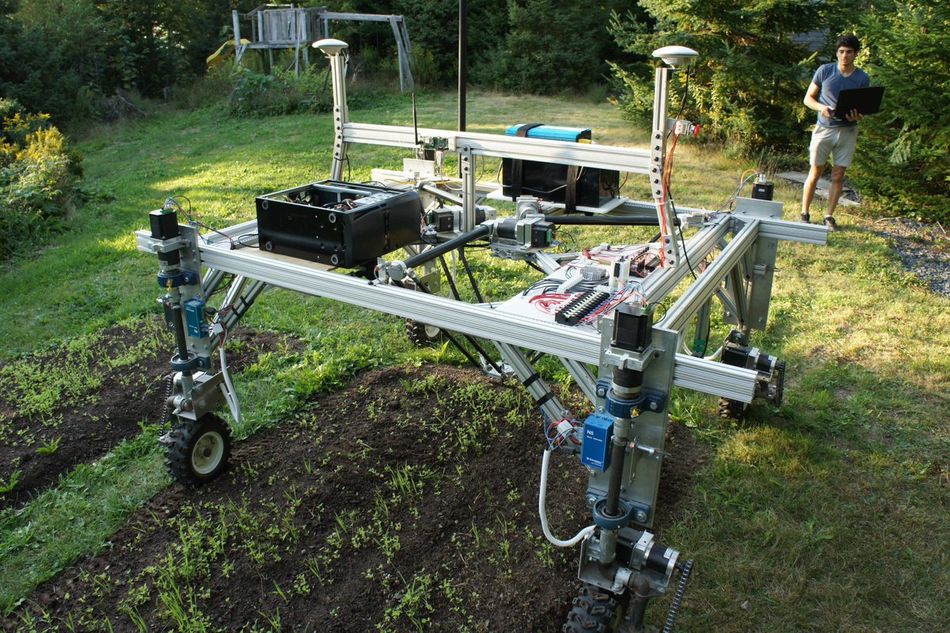 Image courtesy of Nexus Robotics.
What are some of the key benefits of agricultural robots?
Besides making work a lot easier for the farmers, here are some ways robots can prove to be advantageous in agriculture:
Job Variation – Farming robots can perform various repetitive jobs like weeding, sowing, fertilizing, and spraying. Efficient navigation using multiple sensors and AI helps in performing nonlinear tasks faster and more efficiently.
Bring Automation – Robots can act as an automatic self-control system and function as efficient fertilizer or liquid sprays using state-of-the-art navigation algorithms and machine vision. Autonomous tractors will also become more commonplace with the aid of technological advancements in machine vision systems, IoT connectivity and LiDar.
Fewer Errors – Compared to humans, robots can be programmed to make fewer errors. Besides, robots can eliminate work that can be dangerous to humans.
Higher Efficiency – As the robots can discern features using 3D computer vision and GPS, they efficiently manage geographical obstacles like trees, ponds, and rocks.
Monitor Agricultural Health – Robotic cameras can identify pests and parasites, detect weeds, and enable the farming robots to spray the specific area with pesticides.
Good ROI – By enhancing production yields, agricultural robots increase the return on investment, thereby making farming a profitable venture.
Just as farming robots are advantageous, they come with distinct disadvantages, as well. Robots are specialized machinery. Hence, they are costly to acquire and, being machines, require a great deal of care to keep them functioning. The Agri-robots need a great deal of research and development to be continuously improved and updated. It involves massive R&D investments and also not easily accessible for the small and marginal farmers. On the other hand, conventionally, farming has been a manual activity over the years, and getting used to agricultural robots will be a cultural and emotional change.
All in all, robots have proved to be handy in the industrial sector as they speed up operations and save human labor. Hence, they have tremendous scope in an industry with the maximum human activity, i.e., agriculture. Robots in agriculture can reduce the dependency on human labor to a significant extent. And they improve the overall efficiency levels considerably with holistic farming approaches by leveraging emerging technologies like AI and ML.
Sources & Further Reading
Stephen Gossett, Farming & Agriculture Robots, July 30, 2019, Built-In, https://builtin.com/robotics/farming-agricultural-robots
Editorial, Robotics in Agriculture: Advantages and disadvantages, July 18, 2019, Robotics Biz, https://roboticsbiz.com/robotics-in-agriculture-advantages-and-disadvantages/
Design of the mechatronic architecture of an agricultural mobile robot, September 13-15, 2010, Rubens Andre Tabile*, Eduardo Paciencia Godoy*, Robson Rogério Dutra Pereira*, Giovana Tripoloni Tangerino*, Arthur José Vieira Porto*, Ricardo Yassushi. Inamasu*, https://www.sciencedirect.com/science/article/pii/S1474667015375595