High-Temperature Carbon-Fiber 3D Printing Challenge
$25,000 challenge to use newly-developed carbon-fiber filament for high-strength end products.
The challenge has now closed. Read about the winners here.
---
Ready to turn your pitch into a product?
The High-Temperature Carbon-Fiber 3D Printing Challenge invites you to submit a design that makes use of a newly developed, cutting-edge carbon-fiber material.
Winners of the Challenge will be among the first in the world to use this new material and receive $25,000 worth of manufacturing support to create a fully developed prototype.
Your submission can be a stand-alone product or a component of a larger design. Successful submissions will need to show how the design uses the strength and high-temperature abilities of KyronMAX® carbon-fiber filament combined with the versatility and economics of 3D printing. This combination offers the opportunity for:
Strong enough for end products.
Low-cost for single objects and small batches.
Form freedom.
Suitable for high-temperature applications, even under challenging environments (hot oil, humidity, coolants, oil, grease, glycol, salts, acidic, etc.).
The new carbon-fiber composite filament is being developed for Fused Filament Fabrication (FFF) 3D printing. With the addition of this product, Mitsubishi Chemical Advanced Materials aims to demonstrate the potential of directly 3D printing carbon-fiber composite parts, while still benefiting from the properties of the high-strength material.
---
Direct 3D printing
Direct 3D printing offers several advantages compared to conventional manufacturing methods:
Lower cost: 3D printing eliminates the need for expensive tooling, minimizes material waste compared to subtractive processes, and has no minimum order quantity (MOQ)
Design freedom: 3D printing enables product designers and engineers to design more lightweight parts (lattices, honeycomb structures), to consolidate multiple parts into a single structure, and to produce previously impossible designs
Production agility: 3D printing reduces part development time by eliminating steps in the prototyping workflow, can simplify shipping and logistics with distributed manufacturing, and can be used to produce emergency replacement parts on demand.
The challenge's jury will reward projects that exemplify the benefits of using the material and 3D printing technology while maintaining a high level of feasibility and ingenuity. Winning submissions will receive expert support and manufacturing services from Mitsubishi Chemical Advanced Materials to create a fully developed prototype of their idea. The prize package of collaboration with KyronMAX® engineers includes:
Material Selection. Including exclusive access to cutting-edge carbon-fiber 3D printing products.
Part design.
Setup of production scale-up plan.
Assessment of the project's sustainability and recycling potential in order to minimize waste.
In addition, KyronMAX® and Mitsubishi Chemical Advanced Materials will facilitate investment opportunities and assist with potential future co-branding activities.
---
Submit your idea to the challenge
Fill out this short form by 14 November 2021, before 12 pm (PT). We ask that you provide us with the following:
Personal details.

Describe your submission idea and its intent (up to 500 words).

Describe how your design makes use of the strength properties of KyronMAX® carbon-fiber filament combined with the versatility and economics of 3D printing. Please indicate load case, temperature range, and application environment (< 250 words).
Provide one clear rendered image of your design (max file size 10 MB).

Submit images that strengthen your submission – e.g., screenshots, illustrations, drawings (up to 5 images. max file size 10 MB).
Your designs may comprise multiple parts. Teams must be available during the challenge to collaborate with Mitsubishi Chemical Advanced Materials KyronMAX® and Wevolver. Winning design teams must also be available in the months after the challenge for production.
Early-Bird Submissions
Submit your idea to the challenge before 17 October 2021, and you will be invited to a private video call with KyronMAX® engineers, who will review your entry and provide feedback and direction. You can then adjust your design and re-enter your submission.
Key dates
| | |
| --- | --- |
| Event | Date |
| Challenge Opens | 16 September 2021 |
| Early Bird Submissions Close | 17 October 2021 |
| Challenge Closes | 14 November 2021 |
| Semi-Finalists Announced | 19 November 2021 |
| Winner Announcement Event | 9 December 2021 |
The Judging Criteria
The High-Temperature Carbon Fiber 3D Printing Challenge will reward projects that demonstrate the benefits of the material and 3D printing technology while maintaining a high level of feasibility and ingenuity.
Successful designs will be judged according to 3 categories
Technical and commercial feasibility
Scalability
Sustainability
All categories are of equal importance to judge the submissions. Read the full criteria on the Growth Garage site.
Meet the Jury
The jury is made up of a team of engineers, materials experts, and business development leaders. Together they form several decades of experience.
Dr. Lisa Weigand
Advisor Circular EconomyMitsubishi Chemical Europe
Brian Yarcich

Additive Manufacturing Development Manager, Mitsubishi Chemical Advanced Materials.
Dr. Peter Walde
Founder & CEO at MAPEGY.
Jules Harings
Associate Professor & Group leader Macromolecular Physics & Technology at AMIBM / Maastricht University.
Tim Vorage
Global Growth Manager at Growth Garage/Mitsubishi Chemical Advanced Materials.
Patrick Suel
Funding President at Diamond Edge Ventures.
Mark Geljon
Customer Experience leader, change-maker, and social entrepreneur.
Randy White
President -Engineered Solutions at Mitsubishi Chemical Advanced Materials.
Simon McEvoy
UK Head of Strategy & UX at Omobono.
Bram Geenen
CEO and co-founder of Wevolver.
---
Reshaping Carbon Fiber 3D Printing
Fiber-reinforced composites are a rapidly emerging material group within the 3D printing industry. The interest in these materials is largely driven by the cost and performance benefits that fiber reinforcement offers. These benefits are achieved by enhancing the properties of thermoplastics to the point where they are suitable to replace more costly metals. KyronMAX®, for instance, offers up to 50% weight reduction compared to aluminum, with comparable or superior performance, including high mechanical strength and toughness, low friction, and good chemical resistance.
The composite filaments integrate chopped carbon fibers into a thermoplastic matrix. This matrix can be composed of different thermoplastic materials, including high-temperature thermoplastics, such as, Nylon, PPA, PEKK, and PEEK , all of which are also offered as part of MCAM's standard Fused Deposition Modeling (FDM) materials portfolio. Each matrix offers its own set of unique properties when combined with fiber reinforcement. MCAM is backward integrated into carbon fiber and has the ability to not only adjust the dimensions of the carbon fiber itself but also the 'adhesion layer' on the carbon fiber to make it compatible with a specific thermoplastic matrix, adding to the strength of the material and the final part.
FDM 3D printing with carbon fiber has huge application potential in the mobility, energy, sports, automotive, robotic, and industrial segments to name just a few. Any application that requires the mechanical performance of metal but would benefit from being more lightweight and cheaper, has potential for carbon-fiber 3D printing.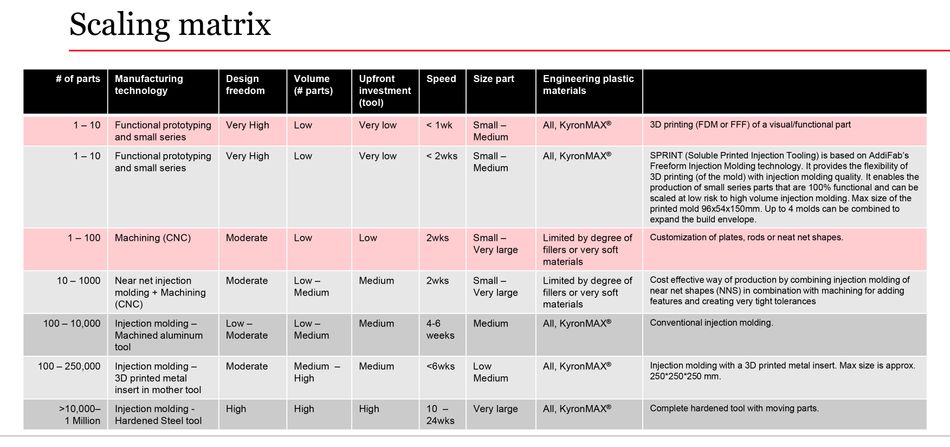 Read more about the material and possible applications in our technical article here and case study.
Frequently Asked Questions
I am a student. Can I submit my big idea?
- Yes. Please indicate that you are a student on the application form. All entries are eligible for the main prize. There is an additional student prize to encourage student projects.
Do I remain the owner of my intellectual property?
-Yes. Mitsubishi Chemical Advanced Materials and Wevolver claim no intellectual property rights over the material you provide to the Challenge. Your submitted designs remain yours. Your submission does not constitute invention assignment to Mitsubishi Chemical Advanced Materials or Wevolver.
I do not need funding. Can I still participate?
- Yes. We are looking for teams with brilliant ideas at all stages. There is a multitude of resources Mitsubishi Chemical Advanced Materials can offer more advanced teams.
Have a question?
Email us with your query.
---
Learn about our past winners
Last year we hosted the KyronMAX® Challenge. We invited engineers and designers to share a design that utilized KyronMAX®'s range of breakthrough, high-strength carbon fiber-based composites to solve an engineering or manufacturing challenge. We received dozens of cutting-edge submissions from across the globe, making it incredibly difficult for the jury to select 14 finalists and eventually one overall winner and one community vote winner.
The winner of the KyronMAX® Challenge was The Ultra-Quiet Unmanned aerial vehicle (UAV) Blades designed by Michael Deloyer, Eitan Rotbart, and Ammar Jessa from Delson Aeronautics.
The winner of the KyronMAX® Wevolver Community Vote is the High-Performance Lacrosse Head designed by Daniel Scott Mitchell and Farbod Moghaddam.
Both teams are now working closely with Mitsubishi Chemical Advanced Materials engineers to develop their designs into prototypes and commercial products. We are documenting this journey in a series of design logs.
Further other finalists have continued to work with Mitsubishi Chemical Advanced Materials to form strategic partnerships and proof of concept case studies.
About the sponsor: Mitsubishi Chemical Advanced Materials & Growth Garage
Mitsubishi Chemical Advanced Materials is a leading global manufacturer of high-performance materials in the form of semi-finished products and finished parts. The company has locations in 20 countries and more than 2,800 employees. Its specialty engineering thermoplastics and composites are superior in performance to metals and other materials and are used in a wide range of applications, primarily in the capital goods industry. The company is continuously developing new areas of applications in close cooperation with industry leaders in a wide variety of customer markets. The Mitsubishi Chemical Advanced Materials Group is well prepared to further expand its market leadership position.
Growth Garage is a business accelerator program from Mitsubishi Chemical Advanced Materials. Our mission is to support and grow new ideas using our technologies and advanced engineering materials to help tackle some of today's biggest engineering challenges. We are offering the opportunity for engineers and innovators to pitch us their ideas and receive manufacturing support and services.