Flexible materials: A beginner's guide
In 3D printing, a material's flexibility refers to how much it will bend when load or force is applied – as well as its ability to return to its original shape after bending. Flexibility is often defined as the flexural modulus (MPa).
In 3D printing, a material's flexibility refers to how much it will bend when load or force is applied – as well as its ability to return to its original shape after bending. Flexibility is often defined as the flexural modulus (MPa). The higher the MPa, the less likely a material is to bend under force. Nylon, for example has a flexural modulus of 500MPa. TPU, on the other hand, is about 75 MPa, with PP being 300 MPa.
Why are flexible materials important?
Flexibility is important because it enables parts or tools to give way, when force is applied, or when something bumps into them. This enables these parts or tools to perform tasks that require a gentle touch.
Common uses of flexible materials
The following applications are commonly 3D printed using flexible materials:
Bumpers
Created with flexible materials, "bumpers" can push glass or other breakable materials to the side without breaking them. Heineken uses flexible materials for this purpose in its bottling plant in Seville, Spain.
Sealing joints
With the ability to deform to the right geometry and allow for a tight fit, sealing joints created with flexible materials can be used in all industries that use or process liquids or oils in their factories.
Grippers
Using flexible materials, some companies create grippers than allow gentle handling of products. Gerhard Schubert GmbH, does just that for its top-loading packaging machines.  
Ultimaker flexible materials
Ultimaker PP (polypropylene) is a durable, chemical resistant material. It is moderately flexible, and has excellent chemical resistance It also has exceptional fatigue resistance, high levels of toughness, and a low-friction co-efficient. From electrical components to living hinges, PP is the go-to material for prototyping and end-use parts
Ultimaker TPU 95A (thermoplastic polyurethane) is a flexible material, making it ideal for applications that demand chemical resistance and the qualities of rubber and plastic. For a seamless 3D printing experience, we've engineered Ultimaker TPU 95A to be easier and faster to print than other TPU filaments on the market
Ultimaker Nylon is a polyamide grade based on PA6/66. It features reduced humidity absorption and a longer shelf life compared to other nylon filaments. Able to withstand significant mechanical stress, nylon material is a great choice for 3D printing tools, functional prototypes, and end-use parts
"The ability to print flexible materials is extremely important for many of our customers. Ultimaker printers print these flexible materials exceptionally well," Bart van As, Product Manager Mateirals at Ultimaker, said. "Additionally, our partners in the Ultimaker Material Alliance have recognized this exceptional capability, which is underlined by the data: over 15 different flexible filaments with a wide range of properties are available through the Ultimaker Marketplace."
Ultimaker materials partners
The following are some of Ultimaker's material partners that offer flexible materials. You can find more on the Ultimaker Marketplace.
Arkema
Arkema 3DXFLEX™ TPE is an easy to print material with excellent layer adhesion. It's made from Arkema's Pebax® Polyether block amide elastomer, which is highly regarded for lightness, unmatched energy return, and cold temperature durability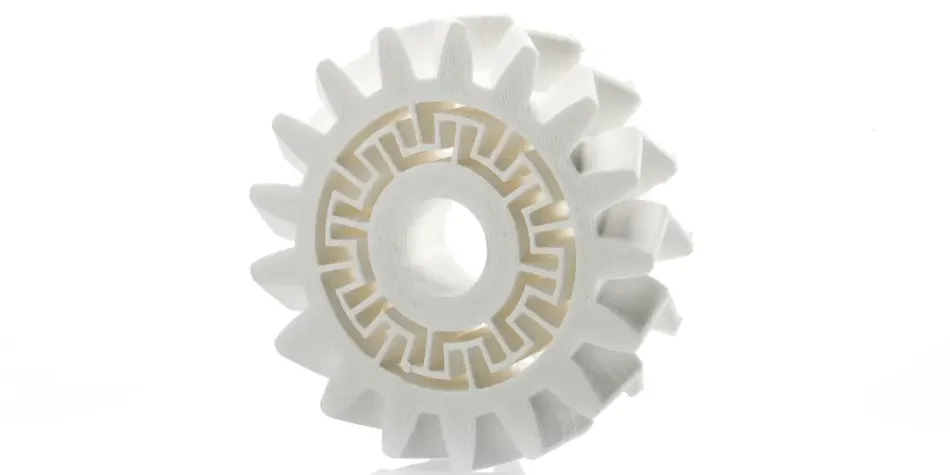 "3DXFlex TPE provides excellent energy return for flexible parts," Steve Serpe, Market Manager at Arkema, said. "Pebax® elastomers are world renowned in industries like running shoes and skiing for this energy return, light weight, and consistent properties across a wide temperature range leading to excellent performance in some of the most demanding applications."
 DSM
DSM Arnitel® ID 2045 is a highly flexible TPC (thermoplastic copolyester) that can be used in a broad range of applications. It has better UV and chemical resistance compared to others of its type, such as TPU (thermoplastic urethane)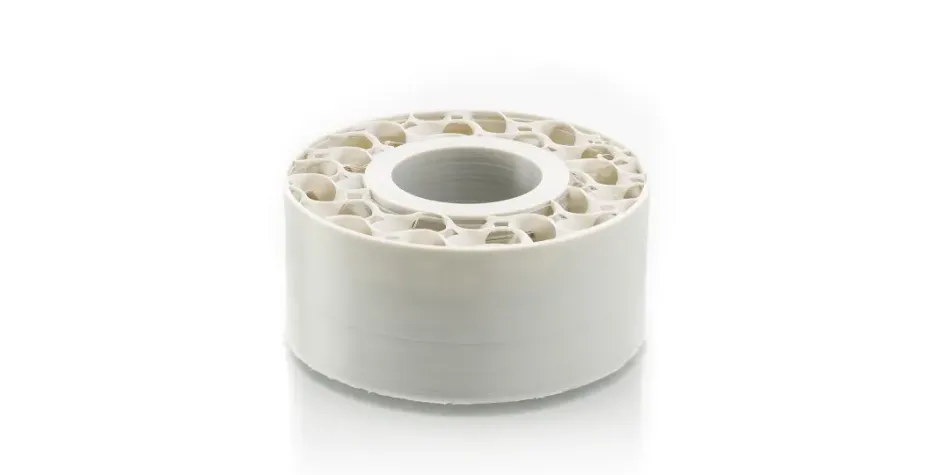 "At DSM, we have done extensive research on 3D printing with flexible materials," Daniëlle Glasbergen-Benning, Application Development Specialist Additive Manufacturing at DSM, said. "The main challenge frequently seen with flexible materials is the filament getting stuck in the printer, therefore interrupting the printing process. A common culprit is the buckling of the filament and grinding at the transport wheel. Arnitel® filaments have a surface that is lubricated in order to reduce surface friction and interruptions during the printing process, while keeping interlayer adhesion in the printed part intact."
 Lubrizol
Lubrizol Estane® 3D TPU F98A is a high-clarity fast printing Shore A 98 polycaprolactone-based TPU (thermoplastic polyurethane) delivering excellent mechanical properties with low warpage and shrinkage
Lubrizol Estane® 3D TPU F94A is a flexible Shore 94A polycarbonate based TPU (thermoplastic polyurethane) with superior temperature performance, retaining its mechanical properties longer in thermo-oxidative conditions (tested up to 175 ºC)
Lubrizol Estane® 3D TPU F70D is a semi-rigid Shore D 70 polyether based TPU (thermoplastic polyurethane) at low temperatures while providing UV stability with high transparency
"Lubrizol's ESTANE® 3D TPU F series range from Shore A 70D down to Shore A 94 with different, greater levels of flexibility (compared to other rigid engineering polymers) as we lower in absolute value the hardness of the TPU," David Pascual, Global 3DP Marketing Manager at Lubrizol, said. "TPU inherent structures enable printed parts to be flexible, based on a property called Shore hardness, which determines the flexibility or hardness of a material."
Jabil
Jabil TPE SEBS 1300 95A is an engineered elastomeric material that is comparable to TPU but does not require drying to process, has excellent bed adhesion, and excellent lay-flat and low warpage that enables very easy printing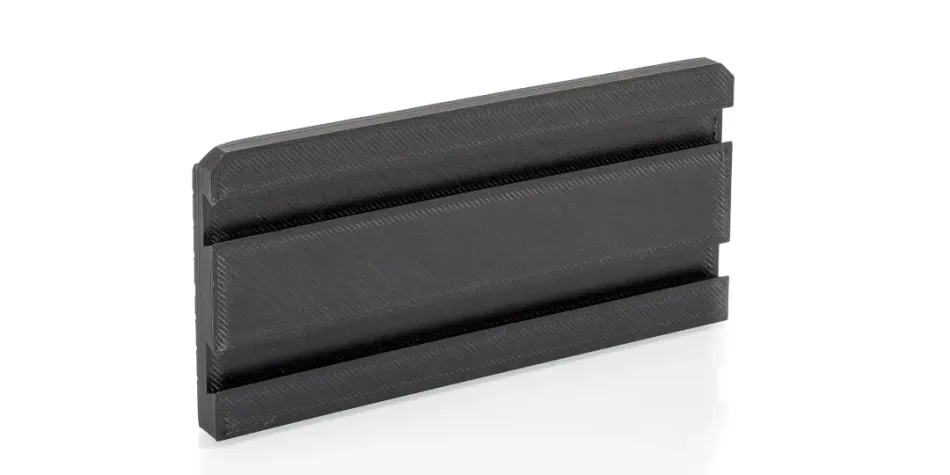 Huntsman
Huntsman IROPRINT™ F 80213 is a polyether-based thermoplastic polyurethane (TPU) with shore A 85. Key features are high elasticity, abrasion resistance, cut and scratch resistance, and good low temperature performance. Being polyether-based, it offers good hydrolysis resistance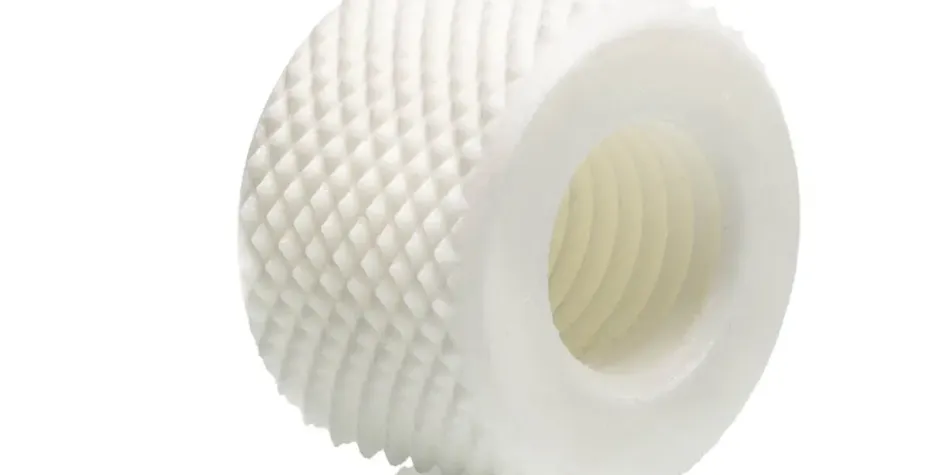 Interested in learning more about Ultimaker's flexible material partners? Visit the flexible materials page on the Ultimaker Marketplace.