Fe+male Tech Heroes Role Models 23 - Nicole Hoebink: 'Diversity only works when paired with inclusion, equity, and good leadership'
Director of Installation and Maintenance for VodafoneZiggo, Nicole Hoebink lives "happily" in Den Bosch with her husband and her 14-year-old son. Walking their dogs is one of her favorite activities to relax and clear up her mind. Nicole has a background in economics.
Director of Installation and Maintenance for VodafoneZiggo, Nicole Hoebink lives "happily" in Den Bosch with her husband and her 14-year-old son. Walking their dogs is one of her favorite activities to relax and clear up her mind. Nicole has a background in economics. She describes herself as very customer-centered and explains she has always been concerned with the customer and everything that revolves around it. Her approach for successful customer service? "I work with my team to motivate them because I believe that people truly make a difference when contributing to a great customer experience." For her, diversity and inclusion are critical, as long as they are paired with good leadership.
You have had several interesting working experiences before VodafoneZiggo. How long have you been in your latest role?
I started my career in banking. Quickly I realized that I loved working with people, making things better, and delivering outstanding results. After that, I worked for a big kitchen company, where I had to implement a customer service.
My start at VodafoneZiggo is actually a funny story. When I accepted Vodafone's offer, in 2016, as Head of Customer Services for B2B and B2C, we already knew about the upcoming joint venture between Vodafone and Ziggo at the end of the year. So I often heard: "Nicole, you had a great job, and now you are moving to a company that is going to have a major change soon. You might not even have a job after that. What are you doing?" But, typical me, I thought that integrating two massive forces like Vodafone and Ziggo was a great challenge, and I wanted to be part of it and learn from it.
The Director of Customer Operations asked me to apply for the function of Installation and Maintenance Director. I was not even sure what this meant. Now, I oversee all Technicians, Supply chain, Order Fulfillment and Support departments.
I love it if I can influence things to make them better - and that's what I've been doing for four and a half years now.
Give us some examples of challenging aspects of your daily tasks and how you tackle them.
It is tricky to stay connected with all the technicians we have all over the Netherlands (our team has more than 1000 technicians), so we must create means for that. Most of the day, they are alone with the customer. So we developed a special app to ensure that they have easy ways to reach out to us.
Another challenge is that the population of technicians is getting older, which means they sometimes have a hard time performing their tasks - digging in the ground to restore damaged cables, for example, is not easy work. So we came up with what is called the Exoskeleton. The Exoskeleton is a wearable device that works in tandem with the user. It supports shoulders and legs. We have many technicians who are fully able to work again. It doesn't replace going to the physician as it doesn't repair anything on your body. But it helps you move better without pain.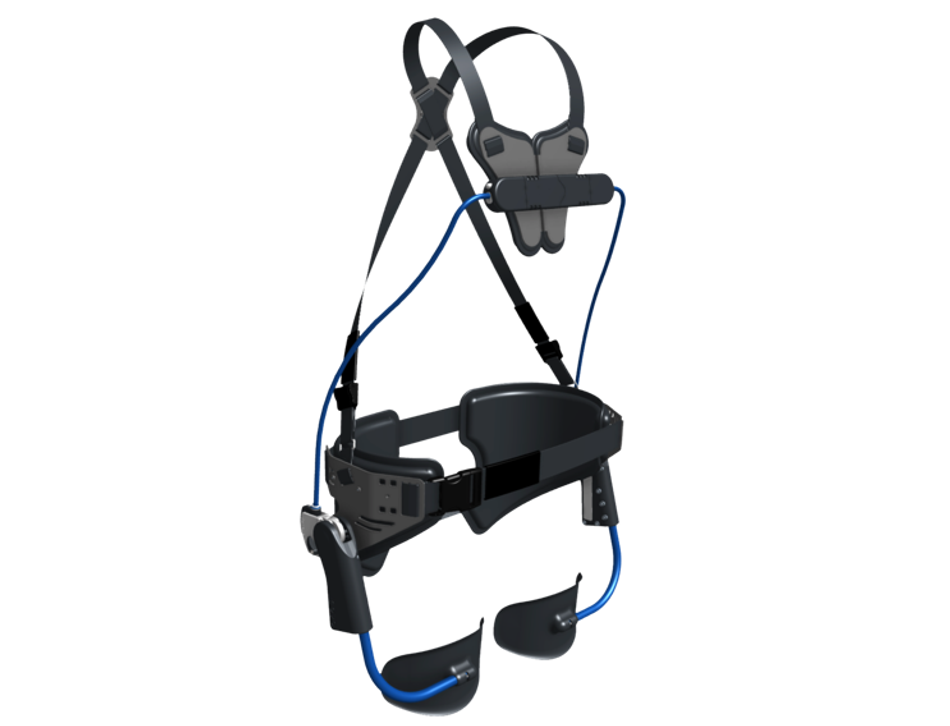 How has the pandemic affected your work?
It was undoubtedly the most challenging situation ever. We just became indispensable: telecom providers are responsible to keep people and vital services connected. There was a massive need in both in technical capacity and customer assistance. With established home offices, children taking online lessons, and leisure reduced to virtual sessions, people naturally used more connectivity in their homes.
However, servicing customers in a lockdown was a challenge. We needed to make sure customers and our colleagues were safe whenever there was onsite assistance needed. We organized several online sessions with my teams to update everyone, make sure they were safe, and inspire them, reminding our technicians they were basically the most important people in the organization at that moment, as they were the ones in the clients' homes helping them.
Understandably there were still some worries on how to minimize any risks for customers and colleagues. So we quickly organized a remote assistance department because, in several cases, the customer just needs some guidance, and the necessary aid doesn't require a visit. This way, we avoided direct contact between our technicians and the customers as much as possible.
How is it for you to be a female in a male-dominated field?
I don't see it as a problem or a challenge nowadays. In the beginning, I experienced difficulties, sure. The kitchen company I mentioned was very traditional, and I was one of the first women to hold a management position there. It was my first experience, and I had to work very hard to prove that I was more than capable to do this job. But once I did that, they were great and started giving me new projects and challenges. It was nice to see that it is possible to change opinions on this matter.
If you are not that expressive, it can be tricky, because it is true, you have to work very hard in meetings, for example, to get people to listen to you. Within VodafoneZiggo, about 95% of all technicians are male. But when you engage in a friendly manner and make clear what to expect from you and what you expect from them, there is no problem.
How can leadership enhance diversity in the workplace?
Diversity is essential, at the same time the differences in character, thinking, and experiences are also important than the focus on a specific gender, color, or religion. Those are the things that make a great team, from my perspective. Coming from different backgrounds and different characters and perspectives ensures that people have distinct points of view.
Even though the team of technicians are mostly male, I still feel like I'm in a very diverse environment because I automatically see different personalities and histories when we work together.
Diversity only works when paired with inclusion, equity, and good leadership that listens and gives people space and freedom to contribute to the team. Good leadership also motivates team members to be openminded to investigate their own biases and blind spots and educate themselves. If you create a culture where people listen and are listened to, are open for feedback, and look at their blind spots, you can do great things together.
Who has been your biggest inspiration or role model throughout your career?
Some people were important throughout different moments of my life. My father encouraged me to go out there, learn, and be open to doing new things. He was the one I could always call to chat about my working or private life and discuss the challenges I was facing. Then, there was this friend who inspired me to look differently at things and broaden my horizons. And there was a boss of mine whose conduct made me think, "wow, that's the kind of attitude that can have a real impact in the world."
I owe a lot to several different individuals regarding how they inspired and empowered me to be a better version of myself. Actually, everywhere I am, I try to look at people and observe how they act and communicate to see if I can learn from that. Any person can be inspiring for you in their distinctive way - you just have to be attentive.
What would be your advice for other aspiring females in the tech environment?
First of all, stay close and true to yourself. Second, listen: really, sincerely. Be curious, open, understanding. Be there to engage and inspire them. Furthermore, I always make sure that when I make a promise, to a colleague or an organization, I live up to my word. That makes you a reliable person, and I think that's very important.