EVENT: Simulate at the Speed of Design 2023
Learn about how to reduce the risk and cost of late design, and manufacturing changes at the free Altair Virtual Global Event on June 28, 2023.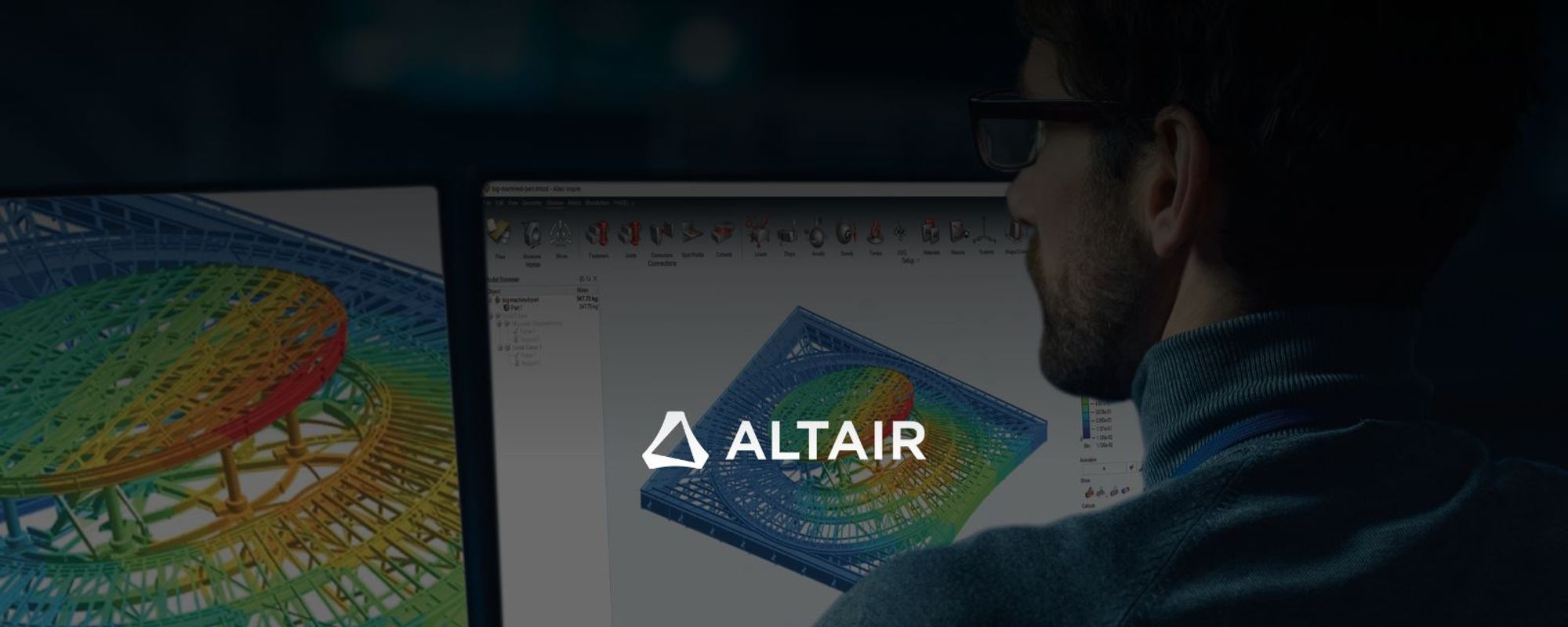 Accelerating product design with simulation
When applied early in the development cycle, simulation (CAE, FEA) technologies can rapidly accelerate the creation of high-performance, profitable products. But choosing and implementing the right simulation solution effectively can be challenging when you have limited resources.
If you are considering implementing simulation (CAE, FEA) for the first time or utilize CAD embedded simulation tools but running into challenges with speed and accuracy or want to take the next step and explore multi-physics analysis, the free virtual event Simulate at the Speed of Design event on June 28, 2023, maybe for you.
Learn from your peers and Altair's experts how a mixture of software, support, and know-how can help you be more efficient and effective in developing new products.
Why should you attend?
Learn how small and medium organisations, are deploying Altair simulation (CAE, FEA) solutions such as Altair® Inspire™, SimSolid® and SimLab® to reduce the risk and cost of late design manufacturing changes.
Topics covered in the event
Presentations from small-medium business (SMB) customers of Altair and Altair Channel Partners, on their transition from CAD embedded simulation and how they successfully implemented CAE, FEA simulation in their product development workflow.
Generative design, Concept development, topology optimization or design for manufacture in Altair® Inspire™.
Rapid structural analysis in Altair SimSolid® for parts or large assemblies.
Drop test, thermal, CFD, fatigue or combined multiphysics analysis in Altair® SimLab®
Manufacturing feasibility, Process simulation with Inspire Cast, Inspire Form, Inspire Mold, or Inspire Print3D.
Sessions will feature live audio translation into English, French, German, Spanish, Italian, Portuguese, Japanese, Chinese, and Korean.
Individuals working in the design department, including engineers, design managers, and heads of the design department
If you are using 3D CAD and considering adopting simulation tools (CAE, FEA) for the first time
Anyone experiencing difficulties with the speed and accuracy of CAD-embedded simulation (CAE, FEA) tools
CAE Engineers, analysts, and the head of the CAE department
If you are interested in exploring multi-physics analysis and looking to take the next step
Managers of related departments who rely on the CAE department or outsource simulation services
Register now:
Event highlights
The Simulate at the Speed of Design Event has events crossing the AMER, EMEA and APAC timezones. Check the full agenda on the event homepage.
Keynotes and Firesides
Highlights of the agenda include keynote addresses from Ravi Kunju - Chief Product and Strategy Officer at Altair as well as a fireside chat with Michael Larner from ABI Research about SMB's Challenges to Adopting Simulation-Driven Design. The Fireside is moderated by Ujwal Patnaik, the Director of Product Strategy and Pricing at Altair.
Exploring Multiphysics - How Design Engineers can Simulate like a Pro?
Through examples and best practices, these sessions will demonstrate how Altair SimLab based easy-to-use Multiphysics solutions can inject innovation into your development cycle.
Of note is the session, titled, Expert Chat: Handling Multiphysics Workflows with CAD associativity in Altair SimLab. Guna Krishna, Senior VP of SimLab development at Altair, hosts the session and Ujwal Patnaik, Director of Product Strategy and Pricing at Altair will moderate.
More about Altair:
Altair is a global technology company which provides software and cloud solutions in the areas of simulation, high-performance computing (HPC), and artificial intelligence (AI). Altair enables organizations in nearly every industry to compete more effectively in a connected world while creating a more sustainable future.
Read more about simulation tools from Altair to streamline the product development cycle by accelerating product design, performing structural and multiphysics analyses, and ensuring manufacturing feasibility here.