Essential tools for every 3D printing professional
To get the best from your 3D printer, you need to be armed with the right tools for the job. From removing support material to improving build plate adhesion, here's a list of must-have tools, all designed to make your life easier.
To get the best from your 3D printer, you need to be armed with the right tools for the job. From removing support material to improving build plate adhesion, here's a list of must-have tools, all designed to make your life easier.
The essential 3D printer owner's toolkit
There are certain tools that most 3D printer users possess. These vital pieces of equipment ensure that your prints run smoothly, and that you get the best results possible. You don't necessarily need to invest in them all at once – but over time, it's likely you'll end up adding them all to your tool collection.
Glue stick
Build plate adhesion is an important part of creating great 3D prints. Glue sticks come in particularly handy when you're trying to get your print to stick – simply cover your print bed with soluble glue, and the adhesion will improve immediately. Some people favor hair spray, but we'd personally recommend glue, as you can be more precise with the application, plus there's less risk of accidentally spraying the gantry or moving parts. For material-specific adhesion guidelines, check out this support article.
Spatula or palette knife
On occasion, you might find that your 3D print has stuck a bit too well to your build plate. When this happens, a spatula or palette knife normally solves the problem. All you'll need to do is ease it gently under the print and carefully lift it up.
Over time, you'll probably get a collection of different palette knives. To start with, we'd recommend getting a palette knife that's stiff, and one that's flexible. Titan's stainless steel scrapers have a tapered tip, which we find works particularly well.
Deburring tool / knife and cutting mat
A deburring tool is great for cleaning up modeled holes, and for removing small pieces of plastic from your printed parts, especially brim. You'll also need knives to tidy up your prints, as they seldom turn out completely perfect. A deft flick of the knife can remove unsightly plastic blobs or filament strings, making the end result look smoother and cleaner. We recommend investing in a knife with exchangeable blades (such as an X-Acto knife), and a cutting mat too.
Pliers
Pliers have a variety of uses, from print core maintenance to fixing your 3D printer. Look for a good quality pair of pliers with a rubberized, slip-resistant grip. You're likely to need more than one type – we'd recommend needle nose and wire-cutting pliers (which are particularly useful for snipping away support material or trimming filament).
Blue tape
Masking tape is one of the most basic tools you're likely to own, and also one of the most widely used. Adding masking tape to the print bed is a simple, effective way to help your 3D printed object adhere to the print bed. It also makes removing the finished print far easier, and it protects your print bed from scratches.
Make sure you choose masking tape with a width of at least 50mm (2 inches). When the tape's wide, it means you'll need fewer strips to cover your print bed – something you'll be grateful for if you need to resurface your print bed on a regular basis!
Magnalube and Unilube
Sometimes, you'll need to lubricate the X and Y axles, just to ensure they keep running smoothly. The best lubricant to use is Unilube, and all it takes is a single drop to resolve any issues with dryness. For the Z trapezoidal leadscrew, use Magnalube.
It's important not to use WD40, as this affects the axle coating and can cause damage to your printer. Read more about it here.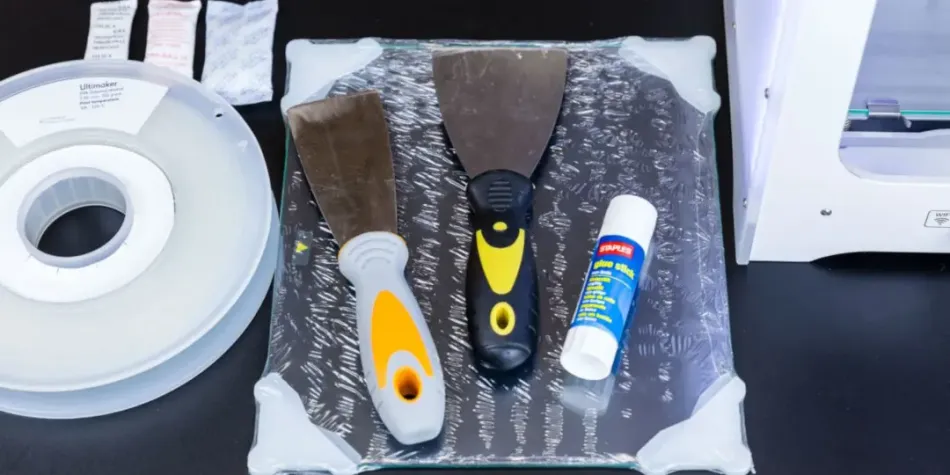 Digital caliper
A digital caliper has many applications in 3D printing. It's useful for checking the precision of your prints, and you can also use it to dimension parts to replicate in CAD software. Calipers are also handy for checking filament measurements – as filaments aren't often manufactured to exact measurements. Simply measure it at a few different positions, average the readings, then adjust the filament diameter in your slicing software if necessary.
Analogue calipers work too, but don't offer the same precision.
Tweezers
Tweezers are useful to have to hand whenever you're printing. They're great for plucking oozing filament from the extruder nozzle before it starts printing (which means no more burnt fingers). They're also handy for cleaning up your print afterwards. We'd recommend purchasing a set of tweezers in various shapes and sizes, to ensure you're covered for every eventuality.
Sandpaper
It's a good idea to have a selection of sandpaper in a variety of different grits. These will all prove useful when you're post-processing your 3D prints. Our recommendation? Have a selection from coarse (220 grit) to fine (1000 grit), and invest in well-known brands such as 3M, as they're likely to last you longer than cheaper, inferior types.
Screwdrivers / hex key screwdrivers
Most people already own a good selection of screwdrivers and hex keys. If you don't, it's worthwhile getting some, as you'll periodically need to re-tighten the gantry screws and the stepper motors of your 3D printer. Hex nuts and bolts are widely used in 3D printer assembly, so it's also a wise idea to have a set of hex key screwdrivers and wrenches.
Adhesion sheets
Adhesion sheets are compatible with most materials, and boost adhesion to the build plate. They're a good replacement for a glue stick, as they're easy to remove and can be used multiple times. Another advantage is that they've been specially developed to cope with high temperatures, unlike masking tape. However, it's important to check that the sheet is applied correctly, as air bubbles mean you won't have a flat printing surface. You can find out how to apply the sheet here.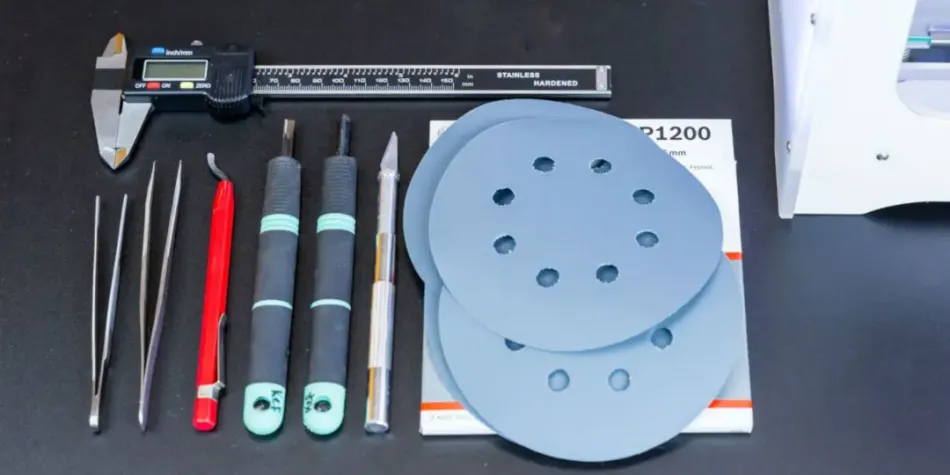 Desiccant and re-sealable bags
3D printer filament absorbs water over time. This causes degradation, that eventually leads to complications during printing. To avoid water absorption, simply store your filament in a sealed container or plastic bag, and add some desiccant to ensure all moisture is removed from the environment. Silica gel works perfectly. Here are some more storage recommendations to help you. For a more automated solution, the Ultimaker S5 Material Station was developed to store and deliver material in optimal conditions for 3D printing.
Permanent marker
Permanent markers (such as Sharpies) are useful for marking 3D prints, especially when you're running multiple prints of the same model, but with different slicer settings. Simply note down the sequence and settings for each print on the finished objects, and you'll be able to tell them apart later on. Even leading architects do this: The team at Killa Design draw on their models to note where their design can be improved.
Advanced 3D Printing Kit
The Advanced 3D Printing Kit for Ultimaker 2+ contains two 0.4mm nozzles, two TFM couplers, 25 adhesion sheets and a door. These keep your 3D printer running smoothly for longer. The nozzles and TFM couplers are convenient replacements, the adhesion sheets are great for keeping your models in position, and the door keeps warmth inside the printer, which prevents certain materials from warping and delaminating. Find out more here.
Other useful tools
The following tools might not be as essential as the list above, but they're certainly useful to have around. Obviously, it depends on what you'll be using your 3D printer for, as some are more suited to particular jobs than others.
Flashlight. If your 3D printer already has integrated lighting, you won't need this. Otherwise, it's a useful tool to have, even in well-lit areas. The inside of an enclosed 3D printer can be dark, which makes it different to judge print quality on detailed models. A compact LED light works perfectly.
Paper towels. Paper towels are always useful for cleaning and drying your build plate, and best of all, they're cheap too!
Pencils and paper. You'll inevitably need to jot down dimensions and make sketches while printing, so it's a good idea to have paper and pencils to hand at all times.
Wire cutter. Wire cutters are excellent for removing support and creating a cleaner, neater finish.
Dremel. A Dremel is a handheld, high-speed rotary tool, which features a range of accessories. These accessories let you undertake a variety of applications, including cutting, sanding, carving and grinding. When you're 3D printing, it can be used to remove support material, sand down rough edges, or polish 3D prints made from metal-containing filaments.
Extra filament. It's always useful to have an additional filament spool to hand. A spool lasts a while, but won't keep you printing forever! Also, it's nice to have a variety to choose from, depending on your requirements.
Extra glass plate. If you are printing 24/7, having a spare glass plate could really speed up your workflow. It allows you to quickly swap glass plates when starting a new print, instead of having to wait until the build plate has cooled down to remove the print.
Dissolving kit (bucket of water and pump). You'll need to be able to remove your water-soluble PVA after printing – and a bucket of water does the job nicely! A pump ensures PVA supports dissolve faster.
With the right tools, the chances of producing a flawless 3D print are greatly increased. A 3D printer and a computer do most of the hard work, but it's the tools that polish and perfect the models afterwards!