Leveraging direct additive manufacturing of medical device components to fight COVID-19
Materials company is eager to use its AM technology to help solve critical manufacturing challenges and supply-chain issues associated with the COVID-19 pandemic.
COVID-19 CALL TO ACTION
Are you are actively working on manufacturing ventilators for COVID-19?
What are the specific ventilator/respirator components that need to be made today? (comment below, or email covid-19@polyspectra.com )
Can you forward this article to someone who is actively working on increasing ventilator capicity?
---
The COVID-19 pandemic emphasizes the need for distributed, reconfigurable manufacturing technologies to mitigate the catastrophic consequences of insufficient inventory, and slow response times of traditional manufacturing processes to respond to exponentially increasing demands.
The crisis presents the urgent and unmet need to develop AM technologies for direct manufacture of medical device components with materials properties exceed those made from thermoplastics. Investments in production-grade AM for critical polymer has the potential to save countless lives worldwide and reduce the societal impacts of today's global pandemic and furture emergencies.
A recent effort, in Italy, to manufacture a desperately needed ventilator pump highlights the potential land the limitations of today's 3D-printing technologies. This team reverse-engineered a critical ventilator valve component as a stop-gap measure to save patient lives, but the team leader conceded "that his 3D-printed versions might not be very durable or re-usable".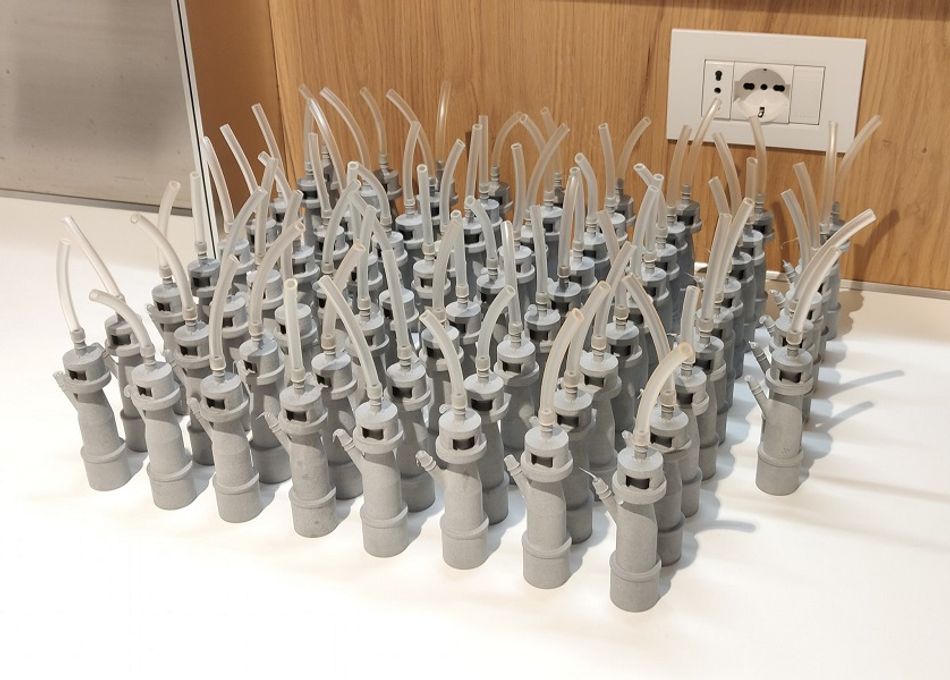 3D Printed ventilator pumps from Italian volunteers
The reality is that today's polymeric materials, even when used in the most advanced AM platforms, are not rugged enough for end-use in medical devices.
Extrusion- and powder-based AM technologies with engineering-grade thermoplastics yield parts have compromised working temperatures, mechanical performance and surface finish compared to conventionally manufactured parts. Light-activated processes, such as stereolithography (SLA), can print isotropic, accurate parts with excellent surface qualities, but today's photopolymers are brittle, thermally unstable, and age too quickly for production applications.
polySpectra is a company that makes functional materials for advanced additive manufacturing. They've created a new family of Cyclic Olefin Resin (COR) photopolymers. Their first product line, COR Alpha, demonstrates a combination of high toughness, impact resistance, chemical tolerance and temperature resistance – competitive with molded engineering polymers. COR Alpha can enable AM of parts for challenging industrial and consumer applications because the polymers result from a fundamentally new chemistry for AM.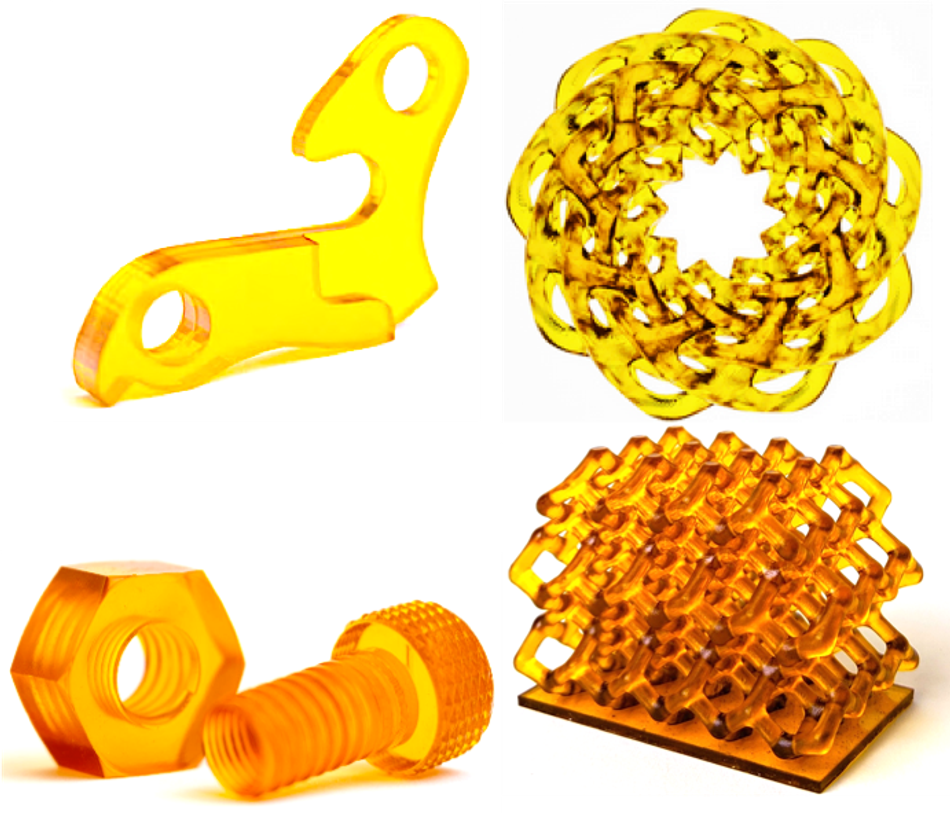 COR Alpha enables direct AM of engineering grade components.
polySpectra is eager to use its AM technology to help solve critical manufacturing challenges and supply-chain issues associated with the COVID-19 pandemic. They are seeking support to qualify their AM technology for the manufacture of qualified medical device components.
They intend to partner with manufacturers, medical device designers and engineers, R&D laboratories and federal agencies to accelerate the qualification of COR Alpha.
The seek both in-kind and financial support to accelerate application-specific qualification efforts, AM process scale-up and initial 3D-printing of end-use components which will help medical professionals around the world to better respond to the current crisis. Together, they hope to simultaneously to help alleviate immediate supply-chain challenges, and to build a more resilient supply chain network for medical device components in the long term.
Check out their full document here.
---
polySpectra Covid-19 Compiled Efforts - Public Links
Compilation of the calls for help, organization efforts, and shared files around 3D printing parts for the Covid-19 crisis.