Community Q&A with Arduino CEO Fabio Violante
Fabio has been leading Open Source Hardware and Software platform Arduino since 2017. The Wevolver community asked him their most burning questions.
In 2017 Fabio Violante became the new CEO of open-source hardware and software company Arduino. Their technology is designed to make electronics more accessible to artists, designers, hobbyists, and anyone interested in creating interactive objects or environments. We set up a talk with Fabio and invited the Wevolver community to ask him their most burning questions via our social media channels. From all submitted questions a selection was made of the most informative, frequent, or interesting questions. Below you'll find Fabio's answers.
1. What have been the most interesting/creative projects you've seen developed using your components?
It's very difficult to choose a single project: we have 28+ million users on arduino.cc, 900K+ Arduino Forum Users, 17M+ IDE downloads/year, 1.1M+ Users of Arduino Create Cloud IDE and 4000+ Libraries Available for Arduino.
One example though stands out - the Fukushima Daiichi nuclear disaster shocked the world. Before March 2011, it was very difficult to find radiation meters on the market, and almost impossible to obtain one at a price affordable for most citizens. So, the Tokyo Hackerspace decided to develop a radiation sensor shield for the Arduino platform, which they choose due to its affordability and seeming ubiquity. The goal of the radiation sensor board was to help people in Japan measure the levels of radiation in their everyday life following the nuclear disaster. The design of the board was open hardware and the source code was released in general public license (GPL)..
2. How will Arduino evolve? Are you planning an IoT platform?
Arduino is well known in the maker and education markets, plus there are thousands of companies that already use our boards in a professional market. We are focused on supporting new and existing professional users to further leverage our technology into their business.
We are working to transfer the productivity and creativity that makers have enjoyed with Arduino into the business world. Helping companies transform their business models with IoT, by providing robust hackable and understandable HW and SaaS platforms for IoT. In this respect we created a specific business unit to focus upon this market, supporting PRO users by creating new products and upgrading the existing ones (e.g the new Nano family that embeds several connectivity options at a very affordable price) with their needs in mind. We are opening our supply chain to professional users so that they can go from idea to finished products with no hassle. Arduino has all the ingredients required and strongly believe we are the right choice of partner to go forward with.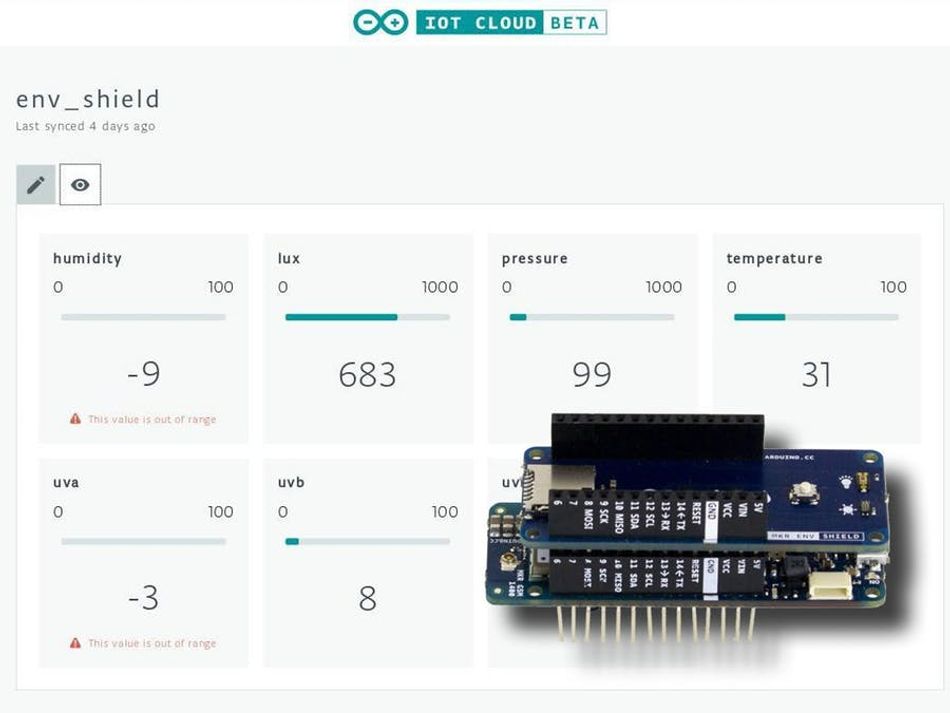 This IoT project enables users to host their environmental data on Arduino's IoT Cloud © CC BY-NC
The Pro business unit provides solutions that combine the whole Arduino offer. Starting with the hardware that has a strong focus on security, continuing to the cellular connectivity provided by Arduino sim and Lora Gateways, and landing in the Arduino IoT Cloud - the final pillar required for an end to end solution. Our challenge is also to enable makers to master and use new technology and programming paradigms to prepare for the AI disruption.
On the second question, yes we launched our IoT platform earlier this year with the aim of simplifying the IoT experience for makers and professional users. It is one of the biggest investment areas in R&D for Arduino.
Amongst its key features, the IoT platform provides the capability to manage devices, provision security certificates, and generate most of the code that goes on the sketch that goes on the board thereby dramatically reducing the development effort for the users. The Arduino IoT cloud provides a full set of APIs to interact with devices and data. Furthermore, we provide widgets and UI components that users can leverage to build their own IoT dashboards. You can try the cloud right now (it is still beta until the end of the year), but stay tuned as we are continuously releasing new improvements and features on a weekly basis. Later this year we will also release the beta of a mobile app that is the perfect companion for your IoT projects based on Arduino Cloud. We are also releasing voice integrations for the most popular systems on the market.
3. Do you have plans for industrial-grade Arduino's?
The current lineup of boards and shields, especially the MKR and Nano family are ready and used in vertical markets across the professional and light industrial world, such as agriculture, smart cities, process automation, etc. We are already looking to add more computational capabilities to the boards and are also working on multiple connectivity options for field busses through specific shields and carrier boards. These efforts will enable more advanced use cases like AI and Machine learning on the edge, which are more and more a requested topic. We are also developing professional-grade products with extended temperature ranges and longevity policies that are suitable for demanding environments and applications.

The Arduino MKR family was created for makers and engineers to quickly prototype IoT projects. What sets the MKR boards apart from other Arduino boards is the 67.64 × 25mm MKR family form factor, the integrated connectivity in most of them, and the potential for projects of varying levels
4. What technologies and companies are currently in a small market, but a large one in the future?
High potential growth is around long-range, low power connectivity and companies involved in this will see strong growth. We are seeing movement around NB-IoT/CAT M and LoraWan and Arduino has boards ready for both these technologies. We work closely with both the GSMA Association and Lora Alliance to catch the potential and define the future; providing the best and smoothest transition path to these technologies for our professional customers (but also for makers).
Another area that is underexplored by makers and most pro users in the embedded world is the FPGA (field-programmable gate array, red), this is mainly due to their complexity. In this area, we are actively working to enable anyone to use this wonderful technology by lowering the barriers to entry. We started by releasing the Arduino MKR Vidor 4000 board and soon we will be opening the beta of our FPGA composer, a tool that will revolutionize the way people exploit the power of FPGA as an "infinite" peripheral.
Other relevant areas that we see as a tremendous opportunity in our space are: open source power electronics applications like for example very sophisticated motor control that allows "unthinkable" vehicles and robots to be created - Arduino can be the brain of this revolution. Also, radars and crazy new MEMS sensors are becoming very affordable due to the wide adoption of automotive and mobile phone industries. We envision a brilliant future for companies that can carve creative and easy to use solutions based on these technologies.
5. How do you see education changing within the next 10 to 20 years; How do open-source coding platforms, Arduino, and other futuristic ideas & skills take part in shaping tomorrow's generations?
Arduino Education developed an educational path of STEM/STEAM programs, kits and services from middle school to university. We want to foster new ways of learning, empower educators and students by providing solid STEM/STEAM content foundations, full training, support and accessible innovative technologies. We see Arduino as a tool for any student to unleash innovation and creativity.
Arduino Science Kit Physics Lab designed for scientific exploration for middle school teachers and students.
If we look at the future classroom, we see technology as a system to enhance many of the processes that currently limit a seamless interaction between teachers, students, and their families. Technology will help us to access knowledge in better ways right at the time we need it. Assessing the student's learning process will be easier and more personalized. For example, it will be possible to make cross-age study groups, where students will join based on their interests, and educators will have access to tools that will help them see at once the student's progress and needs. Student mobility will be a simple matter of transferring a file between schools.
About the idea of open source, and other futuristic ideas taking part in shaping tomorrow's generations: we think that any technology shapes humanity. Future generations will benefit from the current climate of development and the sharing of ideas. They will get access to better systems that will help them in making decisions, simulating possible outcomes, and implementing optimal solutions to problems.
6. How come it's so difficult to get Arduino's in Africa (Kenya)
Arduino is currently available in about 16 African countries with very small sales numbers, but we are starting to have positive signals that we will certainly be exploring during 2020. It is a large continent and the differences are quite significant. Nigeria, South Africa, Ghana, Tanzania, Morocco, and Egypt are the most mature markets.
The real issue is logistics, whose impact on the value chain makes costs to access technologies extremely challenging. This is a huge constraint for Amazon too, but we believe that an enabling element will be local marketplace development projects like Jumia (https://www.jumia.com.ng/) which currently operates in 14 countries and originated from Nigeria.
---
Final word
We would like to thank the community for all the submitted questions, and Fabio for answering them. In the future you can expect more Q&A sessions with key figures in the hardware industry.
To learn more about Fabio Violante, click here to see his LinkedIn profile. To visit Arduino's website and learn more about their products, click here.