Biomedical Instruments and the Future of Digital Healthcare
Introducing the Improving Lives with Digital Healthcare Series: Modern biomedical instruments enhanced by the latest digital technologies can make healthcare more accessible, personalized, and proactive.
This is the introductory article in an 8-part series featuring articles on Improving Lives with Digital Healthcare. The series focuses on electronic systems that enable innovation in the healthcare industry. This series is sponsored by Mouser Electronics. Through the sponsorship, Mouser Electronics shares its passion for technologies that enable healthier futures for all.
Improving Lives with Digital Healthcare is a new series by Wevolver and Mouser Electronics that gives an insight into the state of the modern healthcare systems. It explains the role of wearables, surgical robots, brain-computer interfaces, flexible electronics, and immersive technologies in transforming healthcare.
At the core of all this are biomedical instruments. These devices are essential for carrying out a number of different medical tests and treatment procedures. This article covers the fundamentals of biomedical instruments and how digitizing them is transforming healthcare.
What are biomedical instruments?
The branch of technology that deals with the measurement of physiological parameters is known as biomedical instrumentation. It is a field that brings together healthcare and engineering to enable doctors and other healthcare professionals to offer different medical services.
Developments began in biomedical instruments with the thermometer's invention over 400 years ago.[1] Since then, many devices (like a stethoscope) have been developed to measure different physiological parameters. But things started picking up pace after the development of x-rays in the late 19th century. Advancements in digital systems further led to improvements in biomedical instruments. The healthcare industry has witnessed several breakthrough technologies in the past 20 years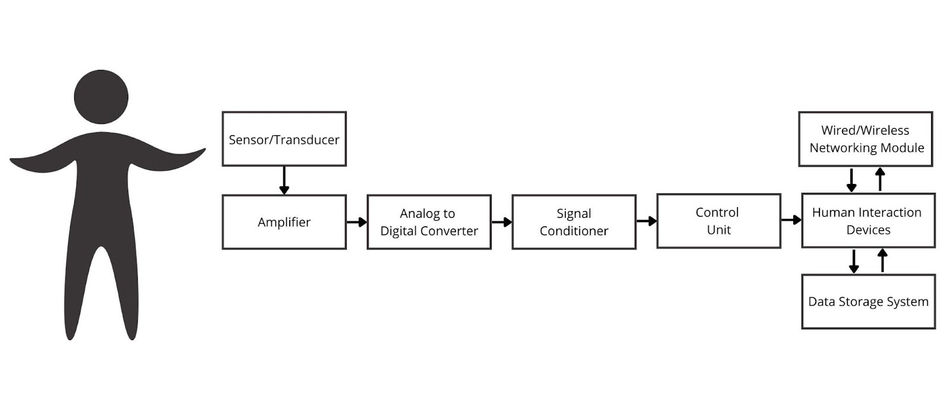 Fig. 1: Block diagram of a typical biomedical measuring instrument
The list of devices that fall under the category of biomedical instruments today ranges from something as simple as a thermometer to a highly-complex brain-computer interface. Commonly used medical devices such as electrocardiographs (ECG), nebulizers, pulse oximeters, x-ray equipment, wheelchairs, etc, are all biomedical instruments.
Performance parameters of biomedical instruments
To ensure the data collected by the biomedical instruments is reliable, they are tested in different operating conditions. Here is a list of some vital performance parameters used to judge the reliability of biomedical instruments:
Accuracy and Precision: Accuracy refers to the closeness of the measured values of an instrument to the actual value of the subject. Precision, on the other hand, is the measure of the repeatability of the subsequent readings. A biomedical instrument must possess both qualities.

Frequency Response: A biomedical instrument must be able to perform in a predictable way for a wide range of frequencies.

Isolation and loading effect: The physical parameter under observation should not get affected by taking measurements from the instrument. At the same time, the instrument can also ensure electrical isolation between the measurement circuit and the test subject.

Linearity: Variation of the output signal must be proportional to the change input. Any deviation in linearity must be compensated with suitable calibration techniques.

Sensitivity: The instrument must be able to detect small changes in the physiological parameter being measured.

Signal to Noise Ratio (SNR): SNR is the strength of the measured signal compared to the noise present around it. SNR ratio should be as high as possible for an instrument to work well.

Stability: The instrument must be resilient to external disturbances and should be able to recover from any such disruption within an acceptable time limit.
The future of digital healthcare
Digital technologies like wearable devices, surgical robots, brain-computer interfaces, flexible electronics, immersive technologies, etc., all contribute to accelerating healthcare innovation. While the upcoming articles will cover these topics in detail, here is a list of some benefits that these technologies bring to the healthcare sector:
Increased patient comfort: Comfortable experiences make recovery quicker for the patients. One of the core ideas of advancements in healthcare devices is to maximize patient comfort by ensuring they don't experience stress and anxiety during their treatment.

Treatment compliance: Compliance in the context of medical treatments is nothing but the act of closely following the plan. Patients and doctors must adhere to the procedure and medications for the treatment to be effective and recovery to be fast. Health trackers and other medical equipment employ different ways to remind the medical service providers and patients to follow the treatment plan.

Interoperability: Enabling data sharing between different devices and making them compatible with each other can help maintain a holistic approach to healthcare. From a service provider's perspective, this allows them better understand the patient's needs.

Anticipatory and Proactive: Wearable devices that let users monitor multiple physiological parameters also help to analyze this data to warn users about any potential indicators of an underlying disease. By making early diagnoses, the healthcare system is becoming anticipatory and proactive.

Personalization: Capturing user behavior with the help of mobile and cloud technologies can enable healthcare service providers to offer tailored treatments for patients. Understanding the patient's unique needs is the central idea of personalized healthcare.

Accessibility: The presence of cloud infrastructure and wireless communication technologies in healthcare devices ensures the patient's health data is securely stored and accessed from anywhere.

Improving the quality of life: All the developments that take place (or are yet to take place) in the healthcare sector are about improved quality of life for the patients and the healthcare service providers.
Improving Digital Healthcare with Molex Electronic Systems
Today's complex medical devices need durable and reliable cable solutions that withstand exposure to challenging environments, repeated vibration and mobility, rough handling, and even repetitive sterilizations. Molex designs and manufactures medical-grade electronic components for the most demanding surgical, patient monitoring, on-body sensing, electrophysiology, and emergency medical applications.

Fig. 2: Connectors, passives, antennas, sensors, wires, cables, power plugs, and several other categories of electronic components by Molex are available on Mouser Electronics.
Visit the Molex Manufacturer page on the Mouser Electronics website to check out the complete range of products and resources by Molex.
Conclusion
To operate effectively, the healthcare system needs biomedical instruments. As the healthcare industry undergoes a rapid digital transformation, biomedical instruments need to evolve by incorporating the latest sensing, networking, and processing technologies.
This is an introductory article to Improving Lives with Digital Healthcare, a series based on an e-magazine by Mouser and Molex. It has been substantially edited by the Wevolver team and Electrical Engineer Ravi Y Rao. Future articles will introduce readers to some more interesting applications of electronics in healthcare.
About the sponsor: Mouser Electronics
Mouser Electronics is a worldwide leading authorized distributor of semiconductors and electronic components for over 1,100 manufacturer brands. They specialize in the rapid introduction of new products and technologies for design engineers and buyers. Their extensive product offering includes semiconductors, interconnects, passives, and electromechanical components.

References
[1] CROSWELL, DARREL W. (1995). The Evolution of Biomedical Equipment Technology. Journal of Clinical Engineering, 20(3), 230–. doi:10.1097/00004669-199505000-00018