3D Printing Trend Report 2022
The report shows the 3D printing industry growing after a pandemic-related slowdown.
In its latest 3D Printing Trend Report, the online manufacturing platform, Hubs, provides a comprehensive overview of the 3D printing market in 2021 and identifies the key trends that will shape the industry in 2022 and beyond. This article is a summary of the report's key takeaways.
Generally speaking, 2021 was a critical year for the 3D printing industry, especially after the economic slowdown caused by the COVID-19 pandemic. Fortunately, the Trend Report cites various signs that the industry is in recovery and is getting back on track to meet pre-pandemic growth levels.
An indicative sign of growth and recovery is that the estimated global 3D printing market size for 2021, about $15.1 billion, slightly surpassed Hubs' 2021 market size projection from its 2020 report. While the 2021 report estimated growth of 19%, the market estimates put the year-on-year growth at 19.8%. The report also estimates the market will increase in value by 21% to reach $18.3 million by the end of 2022. Another clear sign of recovery is that the CAGR rate for the whole AM industry is forecast to be 24% over the next five years, significantly higher than the 19% CAGR estimated in the 2021 report.
Specific segments in the 3D printing industry, such as metal 3D printing, which was hard hit in 2020 by the pandemic (experiencing virtually no growth between 2019 and 2020) saw renewed growth in 2021. Specifically, the polymer and metal segments grew by 16.2% from 2020 to 2021. The report does acknowledge that the growth has been slower than pre-pandemic expectations, with metals lagging behind polymers slightly.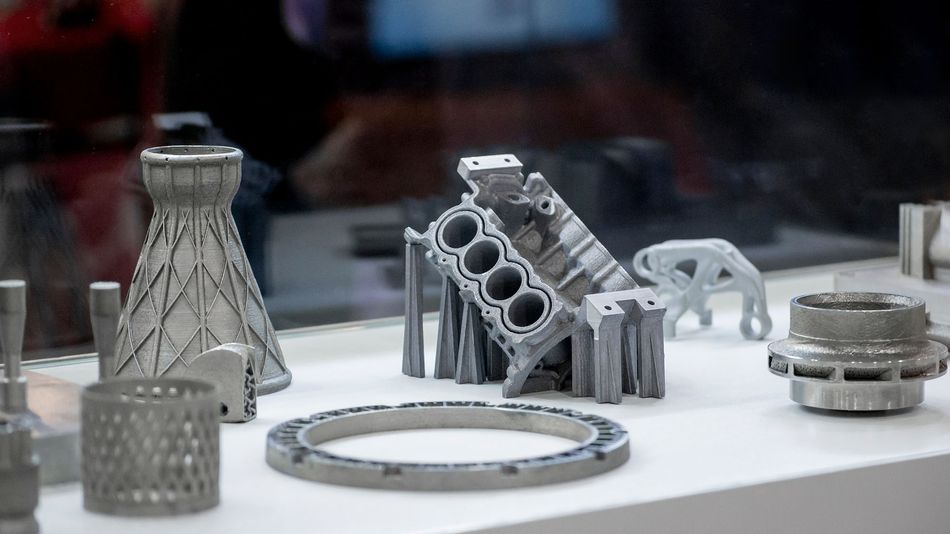 3D metal printing saw growth for the first time since 2020.
Factoring in the Pandemic and Sustainability
A dominant theme in Hubs' 2021 Trend Report (analyzing 2020), the ongoing pandemic continues to impact the 3D printing market and is therefore still a key topic in the 2022 Trend Report. Notably, the pandemic was not only a challenge for the industry in terms of slowing its growth: it also presented a unique opportunity, with 3D printing quickly positioning itself as a solution to global supply chain problems triggered by COVID-19 through the production of PPE.
Even though pandemic-related supply chain problems somewhat subsided in 2021, the idea that 3D printing can be used to alleviate the impacts of current and future supply chain disruptions—through local, on-demand production—has persisted. Similarly, awareness of 3D printing has increased: Hubs reports that the beginning of the pandemic coincided with an all-time peak in Google searches for the term "3D printing". In terms of 3D printing usage, Hubs reported in last year's survey that 33% of respondents increased their usage of 3D printing as a result of the pandemic. In this year's survey, nearly 68% of respondents reported more 3D printing use in 2021 than in 2020.
Sustainability continues to be an important trend, though perhaps less in practice than in theory. Over 90% of Hubs' survey respondents cited sustainability initiatives such as the Paris Agreement as having only a minor impact on their operations. However, a large minority (over 40%) listed materials management as the top sustainability concern.
The Era of Production
Once exclusively a prototyping solution, 3D printing is finally finding its footing as a production process for high-quality, end-use parts. That being said, most 3D printing users today are still primarily using the technology for prototyping. In Hubs' survey, 62% of participants responded that prototyping was still the main use of the technology; 8% reported using the technology mainly for producing jigs and fixtures; while nearly 30% use the technology primarily for aesthetic or end-use part production. This is a marked increase compared to the 21% that used AM primarily for aesthetic and end-use parts in 2020.
These survey results indicate that 3D printing markets and technology will continue to mature. While it is evident that 3D printing will continue to be used as a prototyping technology for accelerating product development cycles, it's also clear that the technology will be used more in combination with traditional manufacturing processes—such as tooling—and for end-use applications.
Finally, the report suggests that 3D printing for production is a fast-growing trend. Among the respondents using additive manufacturing primarily for aesthetic or production applications, 56% specialized in one-time or custom parts, while 36% were using 3D printing for repeat orders. This is indicative of the trends in production 3D printing applications that Hubs lays out: low-volume production, mass customization, and serial production.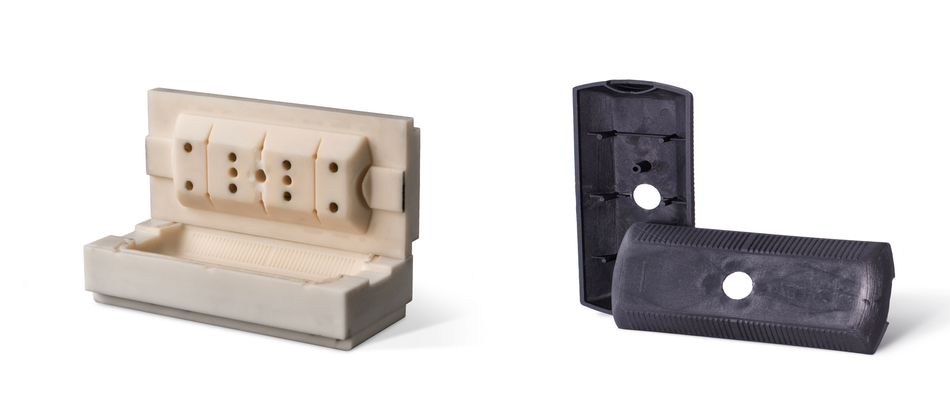 3D printed injection mold alongside an ABS part it created. Image credit: Hubs.
2022 and Beyond
In its Trend Report, Hubs also looks to the future of the 3D printing industry, taking stock of the challenges and opportunities that will shape the evolution of 3D printing in 2022 and in the years to come.
Automation will be key to driving the cost of AM down and increasing industrial viability in particular for pre-and post-processing. Presently, post-processing still largely relies on manual labor, which complicates scalability from several perspectives, including cost and efficiency. Not only will scaling be viable with greater automation, but it will also reduce costs associated with post-processing significantly.
The cost of 3D printing materials is inherently tied to their limited availability. As more materials (including polymers, metals, composites, and ceramics) are developed, qualified, manufactured, and consumed, the costs of making them will start to decrease. 44% of survey respondents said that the development of new materials and in particular material composites would be the top development in 3D printing in 2022. New, more advanced materials will also pave the way for new applications for 3D printing.
"New materials and material composites, lower pricing and mature post-processing options will also make it more viable to integrate 3D printing into production cycles. As the technology keeps developing, it will provide an even more competitive alternative to injection molding for low-volume plastic parts. What's even more exciting is that advanced material composites, combined with the ability to produce highly complex geometries, will open up new manufacturing possibilities that have been impossible to unlock with traditional technologies."- Filemon Schöffer, Co-Founder and CCO of Hubs.
Finally, Hubs looks at an undeniable trend across the 3D printing industry: market consolidation. With multiple high-profile mergers and acquisitions in 2021, including Desktop Metal's acquisition of EnvisionTEC and ExOne, and Hubs' own partnership with Protolabs, there are indications that the market is starting to settle and mature.
Read the Full Report
The Hubs 3D Printing Trend Report 2022 is based on data from three main sources: an industry-wide survey conducted by Hubs, industry market reports from leading analysts and research groups, and news and media. The survey includes 3D printing adopters from various sectors, including design, industrial engineering, manufacturing, consumer products, automotive, electronics, aerospace, and more.
Download the Hubs 3D Printing Trend Report 2022 here.
About the sponsor: Hubs
Hubs, formerly 3D Hubs, is an online manufacturing platform that provides engineers with instant pricing and immediate access to a global network of manufacturing services. Hubs was acquired by Protolabs in 2021, and the two companies are joining forces to support engineers better than ever before.