The Rock Engineering Challenge
Show the world what you can create with cutting-edge single-board computer hardware.
We invite engineers, entrepreneurs, inventors, and developers to submit an idea for a part, product, or system that takes advantage of the ROCK single-board computers.
The first 500 valid entries will receive a ROCK board of choice worth $45 - $159.
Simply tell us what you are working on, and we'll send you a piece of cutting-edge hardware to bring your ideas to life.
The most-cutting edge entry will be rewarded with a grand prize of a $50,000 partnership with electronics company OKdo to scale up their project idea.
The challenge is now open until April 12th, 2023.
Who can enter?
The challenge is open to all OEM's, startups, research teams, and students working on innovative SBC applications.
How to Enter?
Submit your entry via this form. You will be asked for a comprehensive idea description, details of your team, and images or video that support your idea.
The ROCK SBC and CM series
Developed in collaboration between OKdo and Radxa, ROCK boards provides class-leading capabilities, hardware, and performance in a similar form factor as other popular SBC boards.
The ROCK series offers professionals, startups, and industrial OEMs a range of single-board computers that are robust, customizable, low-power, and high-performing.
The ROCK boards are particularly suited for commercial applications that need a powerful and customizable board and the ability to scale, including but not limited to robotics, smart home devices, medical devices, automation, IoT, and environmental monitoring.
Introducing the ROCK 5B
The powerful features of the ROCK 5B and its ability to be customizable bring substantial financial and environmental benefits during the current supply chain challenges. The ROCK 5B enables professional design engineers to leverage cutting-edge technology for developing high-volume end products.
Read more about the ROCK 5B here.
The ROCK 5B at a glance:
Based on the powerful Rockchip RK3588 SoC
Arm® DynamIQ™ Quad Cortex® A76, Quad Cortex® A55 CPU, and Arm Mali™ G610MC4 GPU
8GB 64-bit RAM and eMMC socket
Power on/off button for performing quick, easy, and safe shutdowns without the risk of corrupting storage
The first SBC supporting up to 8Kp60 resolution tailor-made for advance multimedia applications
Built-in Real-Time-Clock, Dual HDMI and USB C port
Micro-HDMI input port supporting up to 4Kp60 resolution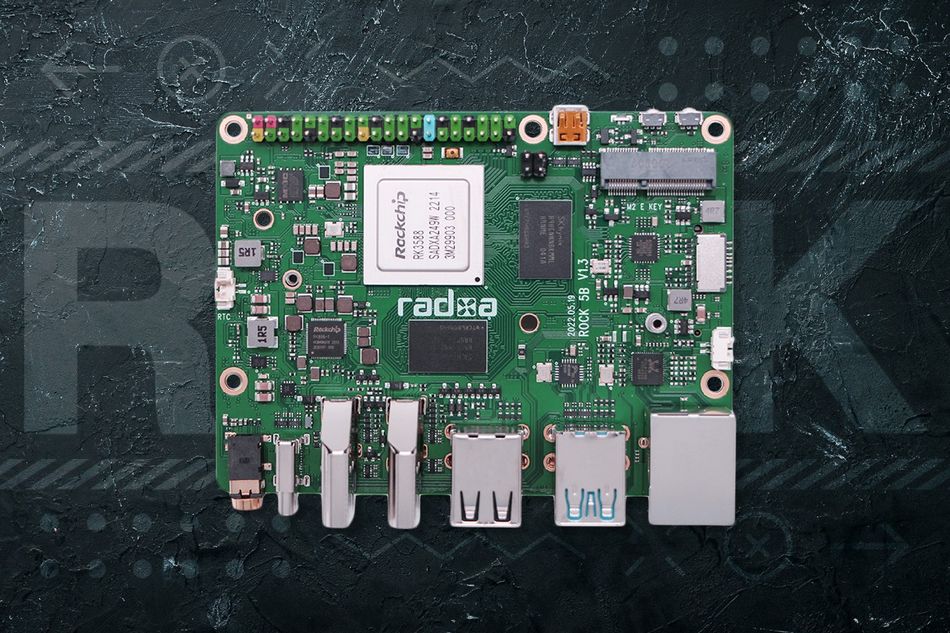 The ROCK 5B is the first SBC supporting up to 8Kp60 resolution tailor-made for advance multimedia applications. Image credit: OKdo.
The ROCK 4C+ at a glance:
Based on the powerful Rockchip RK3399-7 SoC
Arm® big.LITTLE™ dual Arm Cortex® A72, quad Cortex-A53 CPU and Arm Mali™ T860MP4 GPU
Power on/off button, integrated fan control, external antenna & audio jack
Bluetooth 5.0 with BLE, Gigabit Ethernet and Wireless LAN
Learn more about the ROCK 4C+ here.
The ROCK 4SE at a glance:
Based on the powerful Rockchip RK3399-7 SoC
Arm® big.LITTLE™ dual Arm Cortex® A72, quad Cortex-A53 CPU and Arm Mali™ T860MP4 GPU
Expandable with eMMC module or SSD through m.2 connector
Onboard RTC, WiFi, Bluetooth, Antenna, Audio jack (headphone and headset), 4K HDMI port
Learn more about the ROCK 4SE here.
The Prizes
Hardware prize
The first 500 valid entries will receive a ROCK board of choice.
Eligible submission criteria
Clearly articulates how the project can use a customizable, industrial-grade, mass-producible SBC.

The submitted idea is not related to the creation of weapons or illegal material.

The entrant is located within RS Shipping limits. (Check your region here).
Grand Prize
The winner of the OKdo Single Board Computer Challenge will enter into a partnership worth $50,000 with OKdo to develop their entry in a way that enables them to scale or improve their current model.
The partnership may be a combination of technical, design, business advice, prototype development, or other manufacturing assistance. The package will be tailored to give the winner the resources and support they need at their specific production and business stage. This includes but is not limited to:
Hands-on Support and Access to Resources:

Support in technology selection.

Support to design for manufacturing.

Support to scale your production.

Support in providing a cost prognosis for production and prototyping.
Exposure to OKdo's Professional Network:
Exposure to potential customers.

Access to experts in the community and jury.

Global exposure in various media outlets.
Community Winner
The Wevolver Community Winner is decided through a public poll of the finalists. The winner will receive an honorable mention at the awards ceremony and be pitched to the senior management of OKdo and its partners for a chance at establishing partnerships. Further, the winner will be interviewed for an article published on Wevolver.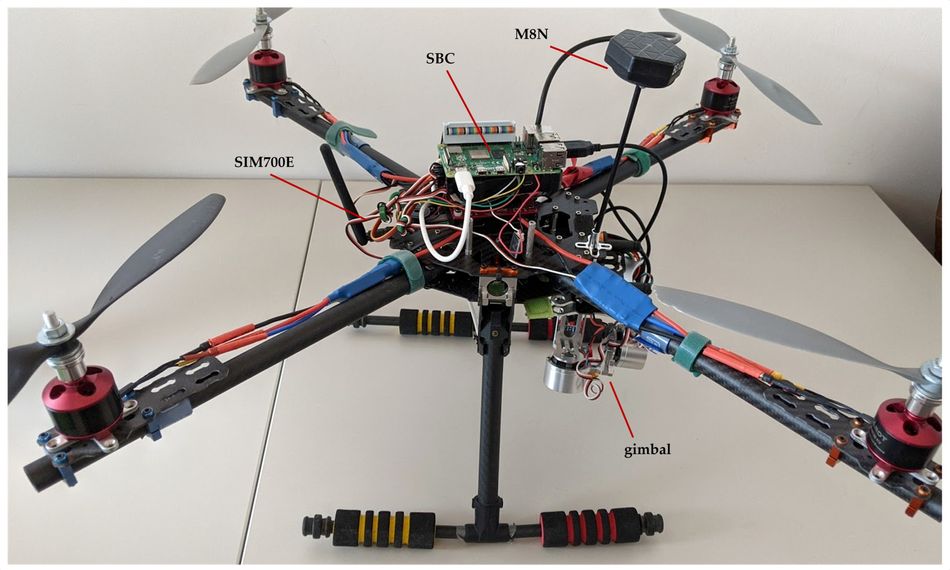 The ROCK 5B can be used to develop advanced UAVs. Image credit Chodorek et al.
Meet the Jury
All entries to the challenge will be reviewed by the expert jury composed of engineers, business leaders, and designers.
Richard Curtin: SVP Innovation & Partnerships - RS Group | Co-Founder & CTO at OKdo

Matt Johnson: CEO of LAIIER

Majenta Strongheart: Director, DesignLab at Supplyframe

Rachel Gordon: Communications Manager at MIT's Computer Science and Artificial Intelligence Laboratory

Bram Geenen: CEO and founder of Wevolver.
Judging Criteria
The jury will reward projects that push the boundaries of SBC application. Successful designs will meet the following submission requirements:
Uniqueness and Impact on Industry:
Does the project address an area previously identified or underutilized?

Does the project propose to use a ROCK board in an innovative application or use case?
Scalability:
Is the current team and product scalable with the injection of resources?
Commercial Feasibility:
Is there a proven business case?

Did you already test your product or prototype with customers?

Do you have recurring sales?

Are you looking for finance opportunities to scale your business?
Key Dates
| | |
| --- | --- |
| Challenge Launch | January 12th, 2023 |
| Challenge Close | April 12th, 2023 |
| Finalist Announcement | May 2nd, 2023 |
About the sponsor: OKdo
OKdo is a Uk-based company that delivers a unique combination of software, development support, and manufacturing services to inspire and enable customers to generate new ideas and turn them into commercial reality. They are on a global mission to deliver the imagination, creativity, and technical expertise our customers desire.